Buenos Aires – Dereck Foster is the wine and food writer for The Buenos Aires Herald, the major local English language paper. In general, I enjoy reading his columns, especially when he waxes eloquent about meals savored in the past, restaurants of bygone eras, and the glories of food and wine. He's published a lovely little paperback guide called Food and Drink in Argentina that is indispensable to anyone who wants the basic rundown on what to expect on a visit here – though, given the nature of the restaurant world, many of his restaurant recommendations are decidedly out of date. He's hinted via e-mail to be publishing an updated version soon.
Every now and then he makes a pronouncement, especially in the wine world, that is unfortunately off-base. This past Sunday, in a long discourse about the wines of the San Juan region, he turned to one of my favorite grapes, the Petit Verdot. Originally (and still in very small percentages) one of the five red Bordeaux blend grapes, more and more this wine is seen on the market as a single varietal – from France, Italy, and the U.S. Also Argentina… but, Mr. Foster proclaims "I have made a fairly exhuastive survey of the wineries of Argentina and I have been unable to trace even one Petit Verdot on the market. Other than the one he was out to review, the Casa Montes "Don Baltazar".
I hate to dissent, but I'm going to have to, at least for the sake of my local readers who might have read such a thing. Apparently Mr. Foster hasn't walked into his local supermarket or wine shop here, where sections of Petit Verdot selections are commonly available. Plugging the grape name and country into Google yields listings of Petit Verdot from major wineries such as Viña Alicia, Alta Vista, Finca Amalia, Lagarde, Leoncio Arizu, Norton, and Luigi Bosca. On this blog I've reviewed the Rodas Petit Verdot from Bodegas Esmeralda. I do wish my fellow food and wine writers would check their facts before making all or nothing sorts of assertions.
—————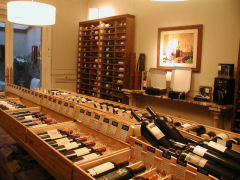 I was wandering in Palermo Chico a bit yesterday afternoon and happened across a wine shop I'd heard about but not been to – Terroir, Buschiazzo 3040 (you'll have to put up with the music through the website's introduction, then you can click to the right four times on the sound setting in the upper left corner to turn it off if you wish). The shop is a wine lover's dream, especially, of course, for Argentine wine. It looks like it's closed from the outside, but just ring the bell, they'll let you in. The store is beautifully laid out, and one of the two owners, Alejandro, gave me a tour of the facilities. A modest selection of imports from France, Spain, Australia and the U.S. is available,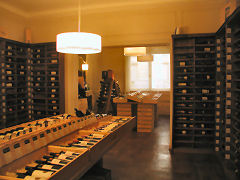 but the focus is on multiple vintages of the top wines produced here. And, indeed, they've got an impressive selection – some 630 selections, many sought after by collectors here and elsewhere. Prepare for a little sticker shock – not that the wines are high priced for Buenos Aires, but many of these wines are simply not available elsewhere and their limited availability, especially in older vintages, is reflected in the prices. The shop also has a good selection of hard to find producers of wine at a more modest price level, the nice thing is, it's not just the usual suspects.
—————
On a regular basis the discussion of point and star systems and the like in regard to wine ratings and notes rears its head. It's come up again recently on several wine blogs out there, and it's of note to me at the moment because of my involvement in the tasting panels for the next edition of Viñas, Bodegas y Vinos, the relatively new annual South American wine guide. I may as well weigh in on the discourse.
First, I have no objection to point systems. They are a quick and easy reference for people who are, perhaps, not comfortable with their own palates – especially those who are new to the wine drinking world. They quantify the wine writer's opinion in easy terms. It's not so easy to read a tasting note and say, "Hey, that sounds good." Plus, even more than a numerical score of some sort, tasting note verbiage is highly subjective, and often highly obscure. What tastes like whortleberries to me may taste like cloudberries to you.
The problem with rating systems lies not in their innate characteristics, but in their interpretation. And that interpretation may come at different points in the process. Obviously, there is the view of the final consumer. For some, the thought of drinking a wine that scored less than 90-100 points, or has less than four or five stars, is unthinkable. For others, some sort of relation between price and score is important.
The hardest part for the consumer is very simply not knowing what went into that final rating. For example, were the wines tasted "blind", i.e., the taster(s) not knowing what they were. And what are their scoring criteria? Were wines tasted by one person or a panel? Some examples:
The Wine Spectator, easily the largest distribution and probably most influential consumer wine magazine out there, has a long detailed explanation on their website of how their tasting process works. But there's no indication of how they arrive at their score of up to 100 points. How much is allocated to the color and look of the wine, the aroma, the taste, the structure, the overall harmony? There's no way for a consumer to know. Helpfully, the score ranges are divided into quality sections as well, though the actual score is what is reported in the magazine:
* 95-100 Classic: a great wine
* 90-94 Outstanding: a wine of superior character and style
* 85-89 Very good: a wine with special qualities
* 80-84 Good: a solid, well-made wine
* 75-79 Mediocre: a drinkable wine that may have minor flaws
* 50-74 Not recommended
Now, keep those ranges in mind as we look at some of the others…
Decanter, published in the U.K. and one of the top quality magazines in the wine world, uses a star-system, but gives no indication of how they arrive at their decision of stars. They rate from five down to one stars, which reflect: "Decanter Award winning wine, Highly Recommended, Recommended, Quite Good, and Acceptable", respectively. Below one star doesn't make it into their magazines – an important note, as, for example, the Spectator above, includes notes and ratings from wines that are unacceptable.
Wine Enthusiast, another major consumer magazine in the U.S. also uses a 100 point scale, but only reviews wines that receive 80 points or higher. Wine & Spirits, another, and one for which I have sat on tasting panels, uses a 20 point scale and only reviews wines above a certain point level, which is much more traditional in the wine world, having been developed by the University of California – Davis as a score card for winemakers. Robert Parker, at The Wine Advocate did not introduce point systems as many seem to think, he merely was the first to use a 100 point scale. His system is slightly more complicated – wines start off at 50 points and receive up to 5 points for their look, 15 points for the nose, 20 points for the taste, and 10 points for overall impression and ageability – his score ranges are 96-100 for extraordinary, 90-95 for outstanding, 80-90 covers barely above average to very good, 70-79 for average, 60-69 for below average, and 50-59 unacceptable. Wine X uses 1 to 3 Xs. The Michelin Guide also uses a simple 3 level scale of stars – but it's based off a 100 point scale – 3 stars (outstanding to superb) for wines 91 points and higher, 2 stars (excellent) for wine from 88-90 points, 1 star (good to very good) for wines from 85-87 points, and no stars for anything 84 and below – how do you range from good to very good in only 3 points? Contrast that to the use of the 100 point scale at the Spectator and its ranges of quality levels.
But here's where the rub comes in. How are those separated? Where does an interpretation come in?
I'm running into that at the wine guide. We are using a 100-point scale, but what's reported in the guide ranges from 1-5 stars. Watch where the ranges go… 1 star ("wine") is 60-70 points, 2 stars ("good wine") is 71-75 points, 3 stars ("very good wine") is 76-79 points, 4 stars ("excellent wine") is 80-82.5 points, and 5 stars ("exceptional wine") is 82.6-100 points – that top end is a pretty amazingly wide range of points – especially when the final consumer only sees the star rating. In fact, in order to drop below 60 points a wine has to fail on virtually every aspect of its character (I don't think we've yet disqualified a wine) – and the point allocation is divided between eight categories of clarity, color, intensity of nose, quality of nose, intensity of taste, quality of taste, finish, and overall harmony. Because of the way the points are divided up, wines start with 78 points, defined as "very good" – they get 15 out of 15 points automatically for their look and color, which may not be lowered unless you can point to an obvious flaw; they get 22 out of 30 points for the nose, which can go up or down; they get 26 out of 36 points for taste, also adjustable, 6 out of 8 for finish, adjustable, and 9 out of 11 for harmony, also adjustable.
A mere two extra points moves a wine into excellent, a mere 4.6 points to achieve exceptional. Needless to say, it's a system skewed in the favor of having South American wines look good to the consumer. This is, by the way, a new system, in previous editions, there were ten categories. The minimum point value in each category, if a wine failed, was 6 points… that's a total of 60, and they used the same star system, which meant that it was impossible for a wine to receive less than one star, even if it was undrinkable vinegar! Admittedly between 60 and 70 it is only defined as "wine", but sometimes even that's questionable. It might explain some of my disagreement with the quality of the highly rated wines in past editions!