Atlántida – Saturday dawned, the stormclouds, rain, and winds disappeared, no evidence of cyclone alerts. Laura, my companion for the first three days, took a day off to spend with her family, and José Luis, INAVI's foreign trade director, picked me up at my hotel so that we could head to points east. A bundle of energy, cellphone at the ready, well more actually constantly in use, he proved a lively companion for the day. Though early, we started off with a conversation about Mercosur, the international trade organization that is made up of Argentina, Uruguay, Brasil, Paraguay, and more recently, Venezuela. The conversation started because we were talking about the ease of getting imported wines in South America, something that, generally, isn't easy.
The nutshell version: Argentina allows pretty much any imports, but tacks on a 50% import tax, making most of them prohibitively expensive, including those from other Mercosur countries; Uruguay, the same, but with only a 20% import tax, foreign wine is much more affordable, and therefore much more readily obtainable; Brasil, strong prohibitions and regulations regarding virtually all imports, though they do bring in a lot of wine from both Argentina and Uruguay, as they have a bit more leniency in regard to their Mercosur neighbors; Venezuela, too soon to tell;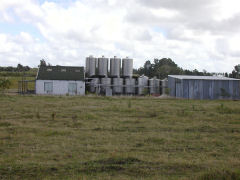 Paraguay, the wild, wild west, with virtually no import restrictions or taxes, a basically rural country, and used by many as a "pass-through", as José Luis pointed out, they bring in some 200 million liters of wine, but only consume about 2 million – the rest being in essence snuck across the border into Brasil as contraband, much to the consternation of various importing and distribution agencies. It made for interesting conversation as we wound our way along the coast. (By the way, I have not verified any of this information, I'm strictly going on the basis of this conversation.)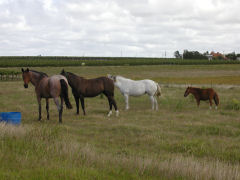 At the far eastern end of the Canelones province is the city of Atlántida, a middle-class resort community popular with Uruguayans and others who find the priciness of Punta del Este, a bit further down the road, a bit excessive. It's also where a good portion of the film of Miami Vice was shot, as the old Spanish style of the homes reminded the producer of the beach homes of Havana. Heading into the back roads, we found ourselves at Viñedo de los Vientos, the winery of the winds. Pablo and Mariana are a fun-loving, free-spirited couple, back-to-nature, and that whole thing; love living in a rural setting, entertaining visitors from around the world who pop in to taste their wines.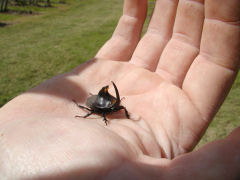 Our visit was punctuated by frequent local visitors, mostly Italians, who dropped by in their cars with a spot of cash and an empty jug or two to fill with basic table wine from the large tanks that Vientos keeps going just for this purpose. The vineyards were planted by Pablo's grandfather in 1947 when he came over from Piedmont, but other than a little wine for home and neighbor consumption, the grapes were sold off to other wineries until 1998 when Pablo and Mariana built the winery and their home onsite. Now, some 60% of their grapes are used for fine wines (5,000 cases a year, this isn't a big operation!), and the balance is still sold for bulk table wine.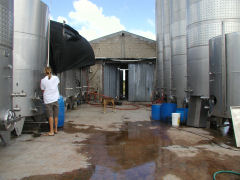 Pablo and I wandered the vineyards and talked about everything from vines to beaches in San Diego to speculation on why the Japanese and Chinese keep horned beetles as pets (Vientos' vineyards are stocked full of them, they help keep insect pests under control). We tasted grapes, tasted wine direct from the fermentation tanks out by the sheds – this is a truly rural operation – though modern technologically, the fermentation tanks are outdoors, a few dozens of barriques inside the shed for aging purposes. Pablo takes a different approach to winemaking than a lot of folks these days, one he learned from his grandfather. Rather than fermenting grapes of different varieties separately and then blending afterwards, he prefers to ferment the grapes together, even if picked at different harvest times, adding one grape to another and continuing the process.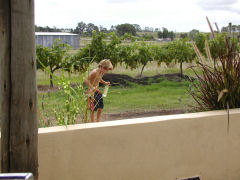 He feels he gets better integrated flavors that way – and having tasted the wines, I'm inclined to agree with him, he's certainly doing something right! While we ambled, Mariana and an assistant cooked up a storm in the open kitchen, regularly protesting that they were just "throwing something together" because they just weren't that good at it. We'll get to that in a minute. One of their sons scampered through the fields, playing with the horses, and then heading down to the winery and begging two bottles of ice cold Gewurztraminer "juice" from one of the winemakers, his favorite hot weather quaff. That's family in the winemaking world. José Luis headed off for a bit to handle some INAVI business, returning in time for lunch.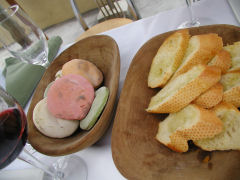 Since we tasted the wines one by one, each paired with a different one of those thrown together courses, I'm going to present them that way. Sitting out of doors, on the edge of the vineyards, we started off with a basket of breads baked by one of the neighbors – crusty, olive oil soaked Italian country bread, and delicious mini-pitas (a popular bread in Uruguay), plain and flavored, with roasted red peppers, beets, and spinach. Needless to say, regardless of how the food turned out, this was promising to be a wonderful afternoon!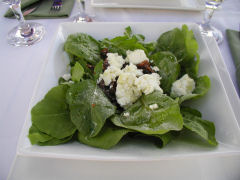 A fresh, bright salad of arugula leaves topped with sun-dried tomatoes and freshly made goat's cheese from another neighbor. The whole salad seasoned with a simple drizzle of also freshly made local olive oil and a dusting of Fondor. Fondor, in this case, is not the world of orbital shipyards from Star Wars, it's a seasoned salt mixture from Brasil, from the Maggi company, a subsidiary of Nestle. Delicious stuff, and Mariana gave me a jar of it to bring back home and play with! We sampled the Estuvel 2004, a blend of 60% Gewurztraminer, 30% Chardonnay, and 10% Moscato Bianco; a delicious summer quaff, aromatic, spicy, notes of roses and ripe pears, a hint of brininess from the clay, sand, and quartz soils and the influence of the salt water in the water table.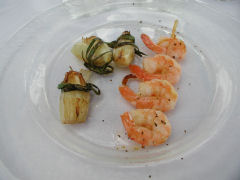 A simple skewer of grilled shrimp, hot off the parrilla, a bit more of that fresh olive oil and a sprinkling of mixed, cracked peppercorns, accompanied by grilled onion quarters tied up with cute little strings of chives. Oh yes, we just toss this off when we don't feel like being creative. Yum! A bottle of Angel's Cuvée Blanc de Bianco 2004, a limited release (1,100 bottles) of blended 80% Chardonnay, 10% Trebbiano di Romagna, and 10% Viognier, aged for six months sur lie (on the yeast) in French barriques showed beautifully developed flavors of orange blossoms, ginger, apples, and white pepper, really quite good.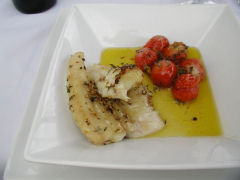 Okay, this was the winner for me, not that everything wasn't pretty spectacular. Mariana had stuck two earthenware dishes in the wood burning oven to slow cook. One was filled with fillets of small cazón, a type of shark, poaching slowly in olive oil and hot peppers, the other with cherry tomatoes and herbs, also filled with olive oil and slowly cooking until they burst. That's my kind of cooking! Not being afraid of the red wine with fish world, Pablo popped a bottle of his Tannat 2004, juicy flavors of fresh blueberries, orange peel, and that touch of brine, still somewhat young and clumsy, but up against the spiciness of the dish, perfect.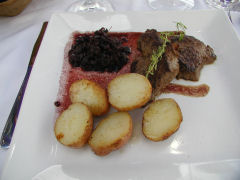 This is lomo, or sirloin, cooked on the grill to a delectable medium rare and served with roasted potatoes and braised onions. White onions are chopped fine and then sauteed with bits of pancetta and fresh thyme, and then the mixture is braised in the aforementioned Tannat wine until the onions have absorbed most of the liquid. Could that get better? A bottle of Eolo Gran Reserva 2002, Eolo being the god of the winds, 80% Tannat and 20% Ruby Cabernet (a cross between Cabernet Sauvignon and Carignan, the only plot of Ruby Cabernet in Uruguay), only the "free-run" juice, i.e., the grapes aren't pressed, but just allowed to burst as they ferment under their own weight, and aged 12 months in barrique. Bright blueberry flavors tinged with licorice, ginger, eucalyptus, and a mixed bag of spices, truly delicious, and once again a great pairing with the food.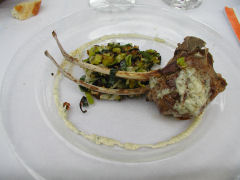 Double lamb rib chops, stuffed with locally made roquefort cheese, and accompanied by sauteed green onions (Mariana does love her onions!), because we, of course, had barely had anything to eat. Another winner, and a bottle of the Angel's Cuvée Ripasso de Tannat 2004. Ripasso is a style of wine from Valpolicella in Italy where dried grapes (raisins) are added to already fermented wine and refermented, adding richness and a new layer of flavors. Blueberry, eucalyptus, cinnamon, soft, great length, smooth as velvet, this is an easy competitor up against any top ripasso from Italy.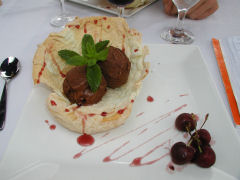 Finishing with a knockout punch isn't a bad way to go – here, homemade bitter chocolate gelato in a pastry shell (when does she have time???) served with fresh cherries from yet another neighbor. A bottle of the Aloyone Tannat Dessert Cuvée, a late harvest style dessert wine (Aloyone was/is the daughter of the god of the winds, above), white chocolate practically leaps out of the glass, fresh blueberry pie following closely behind, and finished off with a touch of honey and vanilla, truly spectacular.
Whether it was just the setting, or the mix of food and wine as we went, or the truly delicious food (I want to be the kind of home cook who doesn't know anything about cooking and just whips off a six course lunch) heightening the whole experience, this was, I must admit, my favorite winery visit, and a great way to wind down the tour of vineyards. Let's see, I owe Mariana a recipe for braised rabbit with morcilla sausages and bitter chocolate…