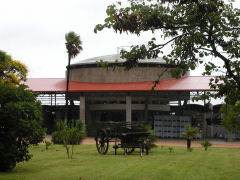 Juanicó – It's kind of fun to find out little interesting tidbits of history as you travel around. For example, did you know that France was in such bad shape during World War II that they turned to Uruguay for help? At the time, Uruguay was a country that had been built up by many wealthy European expats, and they lent a hand to the French people in the form of food (primarily beef), wool, timber and agricultural products. Unable to repay its debt directly, the French government showed up in 1946 and built this amazing 2,000 acre gravity fed winery – an architectural curiosity (take away the red roof in the picture, which is a very recent addition, and it looks a bit like a giant concrete UFO on stilts), showed the Uruguayans how to make wine and how to distill the wine to make… Cognac.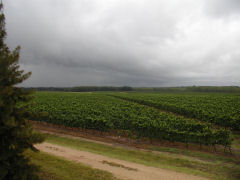 And yes, Cognac, a controlled appellation name in France and worldwide – with one exception… Uruguay. Uruguayans are allowed to produce brandy, from the classic Ugni Blanc grape, and call it Cognac… and even ship it to the European Union! At one time, this property was dedicated to the growing of Ugni blanc and production of Uruguayan Cognac.
In 1979 the winery was bought from the Uruguayan government by the Deicas family, who uprooted and replanted the vineyards with various other varietals (there is still a smallish plot of Ugni blanc grown, but they no longer distill their own brandy). Primarily a "bulk wine" producer at 70% of their production (which totals more than 4.4 million liters), the Juanicó winery; named for the first Spanish owner who bought the property in 1830 – the railway station and then the town grew up around it and took on the same name; in fact, the railway station and the police station for the town literally flank the gates to the property.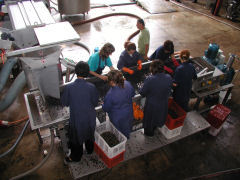 They buy quite a bit of their grapes from other growers under a managed vineyard program, as, of the 2,000 acres only about 500 are currently planted with grapes. According to the Export Manager (yes, we got treated to another team of marketing folks, though these guys were a bit more knowledgeable about the vineyards, facts, and figures), a charming and loquacious gentleman from London, the winery is "semi-organic" in that they do spray to prevent botrytis (a type of rot that affects grapes in a humid climate), but other than that leave everything to natural balance – things like insect control via other insects and birds, complete waste recycling onsite. (There is only one certified organic winery in Uruguay, La Cruz, a small, 75 acre vineyard.) Despite their size, and all the equipment, the work for the fine wine is still done by hand, like this seven-person manual sorting line to pick out the rotten grapes and stems.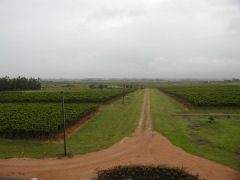 Juanicó is actually two separate properties, a mile or two apart. The main vineyards are planted to a wide variety of grapes, including an entire section devoted to experimentation. The winery is also located there. The second property, shown here, is significantly smaller, and is planted specifically to Tannat. This property is a joint venture with the Magrez family (Château Pape-Clement and others in Bordeaux) to produce a wine called Cru Garage, after the garagistes in Bordeaux. While they currently don't actually make the wine in a garage, or even in a small winery, the idea is a much more handcrafted, high quality wine. The house on this site is being renovated, along with its garage – and the plan is to turn the latter into an onsite winery and make the wine completely separately from the main production.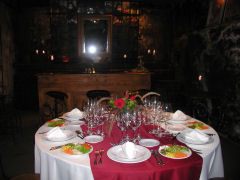 For lunch we launched into a pretty much classic asado or mixed grill, thankfully not with quite the range of the usual version as we had more visits to make and time was growing short. We ate at this beautiful table in the cellar of the main house, starting off with cheeses and meats, a salad that could have been a meal in itself, followed swiftly by a delciious selection of chorizos and mollejas (sweetbreads), then lamb shortribs and slices of lomo, or sirloin, and moving on to a slightly underdone but quite good apple tart served with vanilla ice cream and a mixed berry sauce.