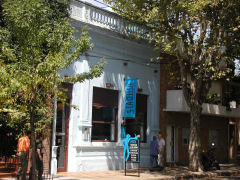 Buenos Aires – It may have just been coincidence, or it may have been because he knew I'm heading to Uruguay next week, but my new friend, whom I shall call "Pierre" to protect his identity, chose an Uruguayan parrilla for our lunch yesterday. He's a local food and wine writer and restaurant reviewer, and it was on his list of places to check out, so off I went to meet up with him in Palermo Viejo at La Celeste, Medrano 1475 Bonpland 1944. "Celeste" means both heavenly and sky-blue, and the owners are clearly going for a bit of each, from the exterior color to the Uruguayan flags draped throughout the interior, to a clear passion for what they're doing that says "we do it better." [Closed]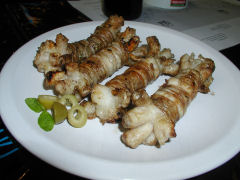 A conversation with our young waiter revealed that other than a few items which we'd noted as unfamiliar, most of the menu, which looked pretty standard parrilla-esque, was indeed more or less what one could expect at any local parrilla, just better. We decided to delve into the specialties of the house, beginning with a bottle of one of the two available Uruguayan wines, the Don Pascual Tannat 2004, a full-bodied red, ripe and ready for drinking with grilled meats. That meant shortly thereafter being confronted by a plate of chotos. I've had, and liked, many a time, chinchulines, the grilled small intestine of a calf or cow. The young man said we could expect the same, only from a chivito, or young goat. Well, I'm not so sure – unless the intestine of a goat has multiple branches, there's something not quite correct here. I'm not – and I did a lot of fruitless online looking and I'll ask next week when I'm in Uruguay – exactly clear what they are. Honestly, anatomically they look more like a trachea to me, but that would have all sorts of rigid rings on it, which these didn't. I found one reference to them as "rolled and grilled braids of small intestine" without reference to goats – it certainly fits the picture better – otherwise goats clearly have a strange digestive system.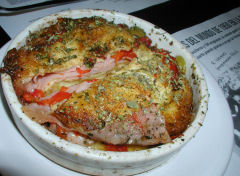 This was followed up shortly by one of the more interesting provoletas that I've had. There's little better in this world than a nice slab of grilled or fried cheese. This particular dish, a provoleta rellena takes the usual thick slice of provolone and splits it, filling the inside with sliced prosciutto, green olives, roasted red peppers, and a sprinkling of herbs and red pepper flakes, and then cooking the whole thing on the parrilla and under a broiler. It's a particularly delightful version of provoleta that I'd be happy to have again and again!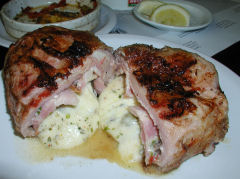 The classic Uruguayan dish off the parrilla is the pamplona. In some ways it is unfortunate that this followed directly after the provoleta rellena – as it's somewhat of a repeat. It was still excellent – available in pork, chicken, and veal versions, this one being the pork version. It is rolled slices of the appropriate meat, wrapped around a filling of mozzarella, green olives, roasted red peppers, and a sprinkling of herbs and red pepper flakes. In other words, other than substituting mozzarella for provolone, and wrapping the whole thing in a slice of meat, it's much the same dish. The pork version was tasty, though a little fatty for my tastes – really a heart attack waiting to happen – I'd still eat it again, though I think I might be more tempted in the future to try the veal or chicken.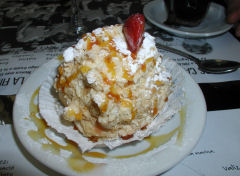 We finished off with the more interesting sounding of the two Uruguayan desserts – the Postre chajá de Paysandú. Now I'm not sure the Pierre would agree, actually being of British extraction and all, but to me it suggested an English trifle. Buried deep beneath this mound is a sponge cake, it's topped with a peach flavored whipped cream, a thin layer of meringue, and then the whole thing drizzled over with caramel and a sifting of powdered sugar.
—————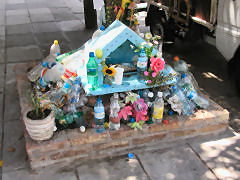 Out wandering around in the Palermo Viejo neighborhood I came across this sight at the corner of Thames and Santa Rosa. Whether it's meant to be some sort of artistic statement or a shrine of sorts, I have no idea. There was no sign. It has a small shrine looking center to it – sort of an open dollhouse with a bed in it on which is a figure of a woman. It is surrounded by bottles of water and soda – each of them with a small amount of liquid remaining. They were carefully arranged, all sort of leaning in towards the house and the tree that backed it, but as to its purpose, I am at a loss.