Buenos Aires – One more stop on The Great Empanada Tour! On the recommendation of a couple of folk, I headed out to Belgrano to try some Bolivian empanadas. Actually I headed out to go somewhere else entirely, but it was closed for lunch, and then I remembered this recommendation. It wasn't exactly a recommendation either, since it came from a couple of Argentine friends, they don't like spicy food, and they told me to avoid it because it was spicy food. Sometimes you have to know when not to take a suggestion. And so I didn't, thus finding myself at La Paceña ("from La Paz"), Echeverria 2570, for a casual sampling yesterday afternoon.
This is a small, family run place – I gathered that mom was in the kitchen, dad was running the front, when he wasn't tending to the flowerbed or fixing the delivery bike outside, and the roughly thirteen year old son was being the waiter and server. The ten year old daughter seemed to be more just hanging out, waiting for her school bus. The room is long and narrow, the tables are wood topped with dark red formica, the chairs in the same colors, but with vinyl. One wall displays an array of gorgeous photographs taken by a friend of the family from the area around Lake Titicaca, on both the Bolivian and Peruvian sides. It has just moved up to near the top of my list of places to visit this year! Back to the flowerbed a moment – in addition to being quite pretty, and well tended, it has two signs. The first, translates as "Don't Mistreat, Don't Steal the Plants Please." The second, which I got a good giggle over, "Don't let your dog piss on us. Thank you, The Flowers."
I had no idea what to expect on the menu, and it turns out to be quite simple. There is a selection of empanadas, a couple of stews, and small pizzas. I decided to just go with empanadas for lunch. Right off the bat I noted one difference. In addition to an array of the usual shapes of empanadas displayed on the menu was a selection of amarreños, that were pictured as long, narrow packets. I asked, and was told by my pre-teen waiter that the only difference was in the shape. A couple of oddly named choices stood out. I should have guessed that "Al-to-ke" stood for albahaca – tomate – queso (basil, tomato, cheese). I don't think I should have known that puka-kapa was a blazingly spicy hot cabbage and onion filling (one local reviewer recommends this one only for los valientes, the valiant). But when you're thirteen, you have to roll your eyes every time an adult doesn't know something, right?
I admit that the lad gave me fair warning when he brought my plate of five choices (empanadas: carne picante, pollo picante, puka-kapa; amarreños: al-to-ke, verdura). He said, look, here's a knife and fork, these aren't like Argentine empanadas, they're very hot, and they're very juicy inside. I was wearing a light colored shirt, so it was just a guarantee that by the end of lunch I was wearing streaks of spattered juices. The dough on these empanadas is quite different from any that I've seen. It's very thin and very dense, in some ways reminding me of a slightly chewy eggroll wrapper. It's somewhat bland on its own, but it's so thin that it's really just there to hold in the spectacularly good fillings.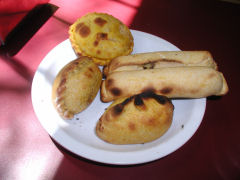 I started with the amarreño verdura, packed with, in essence, delicious creamed chard and spinach, and creating some lovely green spatters. Next, the other amarreño, the al-to-ke (more properly, and on my take-home menu, al-to-que), gooey with melted cheese, chopped fresh basil, and oh, not pieces of tomato, but in essence awash in stewed fresh tomatoes, and spurting fountains of red across my chest. I safely managed the puka-kapa, which turned out to be the spiciest of my three picante empanadas – the filling isn't so juicy, it's sort of like someone took sauerkraut and spiked it with chili oil – I didn't see any bits of chilies, but the flavor was sure there. I ordered a second bottle of water on this one (points by the way for keeping their glassware chilled!). On to the spicy chicken – mildly juicy, filled with chicken, not filler, and mildly spicy, with little flecks of pepper flakes. Finally, the spicy beef, packed with ground beef, black olives, and a whole lot of chopped chilies, and adding just a hint of meat juice to my shirt pattern.
Midway through lunch dad put on what I can only guess was the greatest hits of Queen album. More thirteen year old rolled eyes, but dad was rockin' out. If you need a spice fix, now you know where to go! I can't wait to go back and try some of the stews.