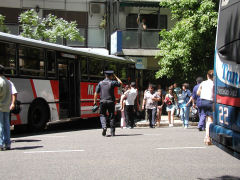 Buenos Aires – This is going to be a bit of a rambling post, mostly just catching up on a variety of things over the past couple of days since returning home. My apology isn't for the length of the post, it's really not that long (one of my best friends says my restaurant reviews are verbose, but then he goes and avidly reads the reviews in the New York Times and New York Magazine, both of which run far longer than any I've ever written). We'll get to the apology. (There, that was verbose. Live with it.) I'm going to start with the bus accident. I wasn't in it. Nobody was seriously injured as best I could determine. I'm amazed, given the way folks drive here, especially the bus drivers, that there aren't more accidents. I just happened on this one, where the main bus in view apparently slammed directly into the side of the bus off to the right as it was turning, then careened on across the intersection and the street, jumped the sidewalk and plowed into the front of a local shop. It garnered quite the crowd as the police interviewed witnesses both on and off the bus, to me the most interesting part of it all was the number of folk calling out their opinions about what must have happened. It was like a scene from a movie – most of them hadn't been there, but they were all speculating, and it was a wildly vocal conversation ricocheting throughout the crowd.
—————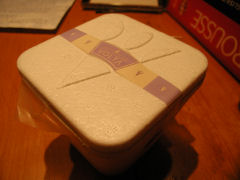 The Great Ice Cream Hunt continues. I can see this is going to be a process of visits and revisits, it may even require a group tasting one day to compare. I'd already upped the ante from very good to excellent with a visit to La Comarca. We've now moved a shade further into the excellent category. Un Altra Volta, Santa Fé 1826, just off the corner of Callao (and three other listed locations, this one is apparently new), has me captivated for the moment. I like its gleaming white and chrome layout, somehow or other they've managed to take a look that should appear like a hospital sanitization chamber of some sort and make it seem both futuristic and inviting.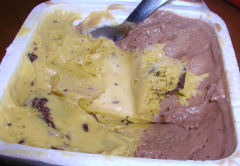 The gelato is spectacularly good. I'm currently completely enamored with their Sambayón Granizado, a rich, creamy, egg-yolk and rum based sabayon with chunks of bittersweet chocolate. A close second for the moment is their Chocolate Volta, a dark chocolate blended with hazelnuts, though they've been out of their Chocolate Selva Negra, a dark chocolate with amarenas (liqueur marinated bitter cherries), that sounds even better. I even love their takeout containers, lovely little square boxes, sealed with a logoed purple and yellow tape strip. And they go the extra step of a little sheet of plastic over the top of the ice cream with a small chunk of dry ice on it to keep your gelato frozen while you head for home.
By the way, the nutshell difference between gelato and ice cream…? Gelato has no air whipped into it, even top of the line premium ice creams have some, and lower quality ones have lots. Gelato does not generally contain cream, it uses whole milk, and contains more eggs. This results in a treat that is lower in fat (generally 3-6% versus ice cream's 11-15%) but denser in texture, more intensity of flavor, and it's served at a slightly warmer temperature to make it soft enough to scoop, yet, because of the egg versus cream thing, it doesn't tend to drip all over as quickly. Maybe I should rename this The Great Gelato Hunt, or maybe as long as I'm in Buenos Aires and speaking some form of Spanish, The Great Helado Hunt.
—————
Okay, on to the apology, of sorts. A few weeks ago I reviewed El Cuartito, an old-fashioned pizza parlor that numerous folk have recommended to me directly or on various chat boards. I dismissed their opinions, gave my own, and basically trashed the place. I stand by the review. The apology comes in that it seems that many of the folk were actually thinking of (and a couple actually referred correctly to) an entirely different place called Las Cuartetas, Corrientes 838, near the Obelisk. Confusion seems to reign rampant between the two, with descriptions of parts of one mixed with parts of the other. Let me be quite clear here. For anyone who was referring to Las Cuartetas, which I'm about to describe, I apologize for trashing your opinion. The pizza is fantastic. The best I've had in Buenos Aires to date. For anyone who was referring to El Cuartito, you're very simply eating at the wrong place.
The place itself is, if possible, less inviting than El Cuartito (which, by the way, means "small room," which it's not). You will be greeted by two shop windows flanking the doorway and a fading sign with the name (which, strangely, means "quatrain," as in the literary form – they seem to use it to mean "quarters," referring to pizzas that are done that way – like a traditional Italian quattro stagioni, but that would be Los Cuartos) . One window is filled with packaged fruitcakes and bottled liqueurs (I think this is their holiday display), the other, a dingy refrigerated affair, with desserts, of which I wouldn't be tempted to sample. The "local wag" I referred to in my earlier post talks about "hundreds of tables filled with people…" methinks he doth exaggerate a tad. With a couple dozen tables at most on the main floor, even if there are a few more than that upstairs (which wasn't open, so I couldn't see), there are probably no more than 60-70 tables for two, total. Maybe a dozen people were eating there last night. The walls are dirty off-white and sickly green, along with mottled burnt orange tiles. Tables are dark red plastic laminate over pressboard. Harsh flourescent lighting, bright enough for an operating room; bright enough to prevent my flash from going off. Decor is clearly not high on anyone's priorities here.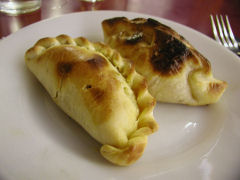 Neither is service, which begins with a shill at the door trying to entice folk inside (okay, shill is probably the wrong word, as the end product is actually worth it) and continues with a waiter who greets you in bored tones with "Do you have pesos? We don't accept anything else. What do you want?" How about a menu and a smile? You took the job, dealing with tourists is part of it. Oh, wait, we're not even tourists. We ordered a couple of empanadas to start, got different ones than we ordered; the criolla turned out to be a ground beef and olive one, passable at best, the other, a ham and cheese, was really quite good. A half-bottle of wine that had clearly gone bad elicited nothing other than a blank stare from the waiter, for 4 pesos I shoved it aside and just figured I'd subtract it from what little was remaining of his tip… which would have left him paying me at that point.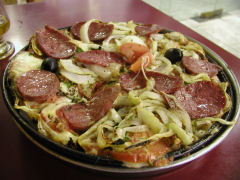 I was, at this point, not expecting much, and was already mentally preparing to shove the forthcoming pizza into a trashcan where I was sure it belonged. Then, a true deep-dish pizza, still sizzling from the oven, was unceremoniously dumped placed on the table. Even from just the smell I could tell I was in for a treat. The crust was near perfect, a little crispy and crunchy on the bottom and edges, soft but not doughy above. Plenty of toppings – thick slices of ripe tomatoes, rings of onions, longaniza sausage, herbs, spices, garlic, and… good quality, gooey, stringy, and not oily, mozzarella cheese. I think we finished off the pizza before he'd made it back to his waiter station. I'd recommend getting this superb pizza to go, but pizza like this just isn't the same not piping hot right out of the oven. You'll just have to be prepared to tolerate the setting.