Buenos Aires – I'm not sure that I've mentioned it before, in fact I'm fairly certain I haven't, but I consider pizza to be Nature's most perfect food. I have evidence for that as well. We could start with the FDA's (or is it the USDA's) food pyramid – a base of grain, lots of vegetables, a bit of meat, and a generous helping of dairy – proof positive, with the certification of the government of the United States of America. We could approach it from the balance of fat, salt, caffeine, and sugar – all one needs is a soda to go with the pizza, which is appropriate; unless of course you want to make it a beer or wine, in which case you can balance fat, salt, alcohol, and sugar. I'm sure there are more ways to justify my position, but let's face it, pizza is king of the hill.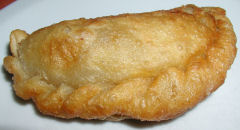 Continuing down my list of places to check out I found myself yesterday at Güerrin, Corrientes 1368, near to the Obelisk (Guerrin is Genovese dialect for a "Robin Hood type person"). This is yet another location that has been touted as "the best" in the city. A very different style of pizza from that of Las Cuartetas which I loved a couple of weeks ago, I think Güerrin makes an equally first-rate pizza. First, of course, I had to sample an empanada – here they are offered both baked and fried – tasty, though my one caveat is that given the volume of food that is being churned out here, they are kept piled up on platters, already heated, and grabbed by the waiters as needed. This means that other than those on top, the ones that have spent any time down the pile have steamed a bit and gotten a trifle, well, limp. I'm not sure what time of day one needs to come to get one hot and fresh out of the oven or fryer, the place is jammed with people – the front area is standing room only, with literally 3-4 dozen eaters jockeying for position at rows of high center communal tables, or balancing their plates next to the cash register, or on the coffee station, or anywhere that remotely has open space. I'd hate to be a waiter here. I preferred to sit at a table, and the two level dining room holds an easy 150+ people, most of the tables were full at 2:00 in the afternoon! Decor is odd – tables are dark wood with salmon colored formica inlay, and the chairs have vinyl, burgundy colored seats with a damask pattern impressed into them – a sort of vague attempt at a formal look.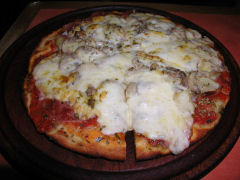 The pizza itself arrives hot and fresh. First, however, you have to navigate your way through the menu, an unwieldy affair that contains eight, count them, eight pages of listings of different pizza combinations that are offered. Top that with that you can then choose from any of those ingredients and combine them to your personal tastes. There are legion vegetables, sausages, hams, beef in variety, cheeses, and different sauces (this is the first place here I recall seeing a salsa blanca for a pizza). I went for a combination of prosciutto, mushrooms, and provolone cheese. This may have been the first place I've ordered a mushroom pizza in Buenos Aires and received a pizza topped with canned mushrooms. I'm not fond of canned mushrooms, though these were better than some. Still, I loved the pizza – crisp, relatively thin, slightly smoky crust, generous toppings, cooked through perfectly – and at a mere 8″ in diameter, for a "pizza chica," a perfect size for one (if you're hungry), though I probably should have skipped the empanada.