New York City – After our little "Eve" pary having been such a classic of the genre, I accepted an invite from my friends Warner and Jean out in Brooklyn, for which I still have a valid travel visa, for a possibly slightly more traditional Xmas day dinner. I didn't do any of the cooking, I just relaxed, drank, and ate! We started off with an array of hors d'oeuvres sufficient to feed the ravening hordes that were sure to be beating down the door. The six of us did our best, but surrendered less than halfway into them, knowing what was to come. But the selection of prosciutto with melon, two different kinds of paté, mozzarella slices with tomato and basil, spicy brasciola, and cheeses certainly whetted our appetites for what was to come. And to come shortly thereafter was a salmon carpaccio with a bitter greens, radicchio, and caper salad which was just plain yummy!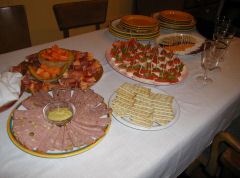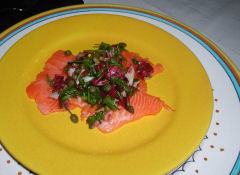 Just getting underway, and only slightly stuffed at this point, it was time for our "mid-course" of pasta tossed with a spicy arrabiata sauce, mussels, clams, and shrimp that was absolutely delicious. And because at that point we were unable to move fast enough to get away, we had no choice but to accept the plates of rosemary and garlic marinated lamb chops, dandelion greens, and roasted carrots. Needless to say, we finished it all, and then of course downed most of a pineapple upside-down cake…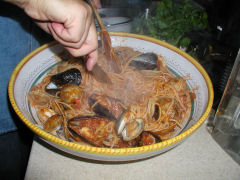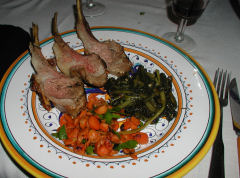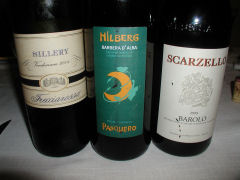 Clearly we needed something to wash it all down, and my friend Warner, who is in the wine business, didn't disappoint, with a trio of wines from the import company that he works for. First off, the white, the Frecciarossa Sillery 2004, a Pinot Noir that's been vinified as a white wine. Crisp, clean, refreshing, with berry fruit flavors and a touch of minerals, quite good. This was followed by the Pasquero Hilberg Barbera d'Alba 2002, a "cult" favorite among Barbera afficionados, with its ripe, rich, rasberry and black cherry fruit, a bit of spice, and a nice amount of smokiness. We finished off the dinner with the Scarzello Barolo 1999, a smoky, leathery, dark plum traditional styled Barolo that was excellent with the lamb! And because we clearly hadn't had enough to eat or drink, he pulled out a bottle of Warre's Optima 10 year old Tawny Port – nutty, lightly spicy, and a touch of raisins and dates, a nice way to end the evening.