Buenos Aires – I saw my friend Nestor, who produces various wine "accessories", the other night at the housewarming party and we got to talking about food markets. That's what foodies do at parties. I was wondering if there was some slim chance that someone in Buenos Aires was importing white truffles from Italy. 'Tis the season, and my friend Tom in New York sent me a couple of food porn shots. Nestor didn't think it very likely, given the expense, and import taxes, but suggested that if anyone were to have them, or know about them, it would be the Italian market in the food market in Belgrano. Food market in Belgrano? Why has no one told me about this?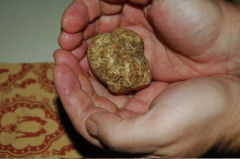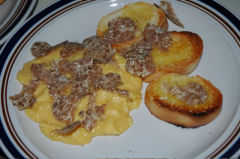 So off I went yesterday to the Feria Modelo Belgrano Mercado Belgrano, Juramento 2527, just off the corner of Ciudad de la Paz. It was closed. Well, only for a short while. Turns out it's open in the mornings until 1 p.m. and then again from 5 p.m. until 8:30 p.m., Monday through Saturday. I had two hours to kill. Luckily, Belgrano is a great shopping neighborhood, including for food.
Casa Polti, Juramento 2499 2455 (and now a second spot in the Mercado Belgrano, above), on the corner of Ciudad de la Paz, is an impressive little spice, herb, and dry goods shop. Shelves lined with jars of various powders and leaves and stems. Sacks on the floor filled with seeds and nuts from all over. A wide array of sauces from around the globe. Just to give you a sense of some of the oddities – tomato powder, fig syrup, squid ink, and cacao husks. A lot of what they have seems oriented around medicinal use, but there's plenty to choose from. Truffle oil, but no truffles.
Tonel Privado, Ciudad de la Paz 2129, right next door to Casa Polti, is one of a ten-shop group of wine stores. They're specialty is higher end wines, though they have a decent range at more affordable price levels as well. They've also got a decent selection of imported wine from France, Italy, Spain, and Australia. Want a bottle of 1994 Château Margaux? A mere 1,920 pesos (2-3 times the price in New York). Cos d'Estournel 1997? 660 pesos (4-5 times the NY price). Such is life with imported wine here. Interestingly, truffle oil here as well. No truffles.
La Comarca, Juramento 2492, just off the opposite corner. Attached to a small restaurant called Bavaria, that advertises a specialty in the cooking of Eastern Europe (no menu was posted, so I can't tell you what they have), is this small ice cream shop. And we've moved up a step from very good to excellent in the great ice cream hunt here in Buenos Aires. The chocolate amargo was spectacularly good, and they have a nice selection of other flavors, including a couple of specialties that I sampled, my favorite being amore – a blend of dulce de leche ice cream with caramelized almonds and grated dark chocolate. No truffle ice cream, thankfully.
Between those three shops and a bit of wandering around in bookstores and other shops, I managed to make it through my two hour wait. So it was back to the Feria Modelo Belgrano, which was re-opened. I was greeted immediately by this shop, Valenti, which will, I'm sure, become a regular place for me. It's immediately to the left on entering… [I later found out that this is a chain of gourmet food shops with branches around the city, including one a short walk from home.]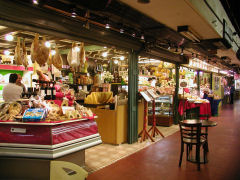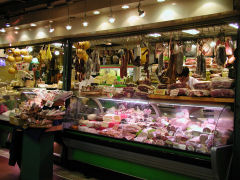 They have a huge array, as you can see, of cheeses and meats, and other "delicatessen" products. Almost everything is imported. You can find cheeses from Italy, Spain, France, and England, and cured meats from all over Europe. This was the place to ask about the elusive white truffles. They didn't have any, but offered to make some calls for me and find out if there were any available in town, and/or how much it would cost to bring one in (okay, that would be outrageous, and way out of my budget, but it was nice of them to offer). I'm to call them or come back on Monday afternoon to find out the results of their inquiries. I picked up some cheddar cheese, and some of my favorite cured meat – jamón serrano, which if you've never had, you simply must.
Jamón Serrano is the hind leg of the white pig, obtained under proper slaughtering and quartering conditions and subjected to a process of salting/drying and curing under perfectly defined conditions. The result is a meat product with exceptional sensory and nutritional qualities.

Jamón Serrano is one of the cornerstones of Spanish gastronomy. It is Spain's most outstanding meat product, not only because of its high levels of consumption and deep-rooted tradition but also because of its high quality.

The word "serrano" in Spanish refers to the sierra, or mountains. Jamón Serrano is traditionally produced in mountain environments where the air is clean, the moisture levels just right and the winters cold. These are the traditional requirements for curing.

Excerpted from the link above, from Plaza de España Gourmet Food, LLC
The rest of the market is not quite as eye-catching to look at, but there are several excellent fruit and vegetable stands, and then, what I gather the market is famous for, numerous specialty butcher shops. One shop specializes in all things pork, another in lamb, another in poultry (quail, partridge, pheasant, turkey, duck, various breeds and ages of chicken), another in specialty meats (vizcuna, cuy, rabbit, armadillo, and others), another in fish and shellfish. There are roughly a dozen butcher shops, each with their own specialty.
Needless to say, this place is well worth the trip!