Buenos Aires – I promised weeks ago that I'd continue exploring the world of locro, the corn based stew of northern Argentina. I've spent quite a bit of time searching through recipes, talking to people who cook it at home, and experimenting with my own versions. I think I'm ready to present version 1.0.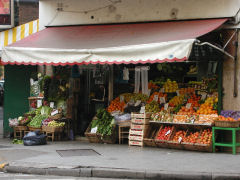 I began with acquiring good ingredients – key to any recipe. Back in New York, shopping for the best ingredients often meant searching out the small markets for quality. It also meant paying more than I'd pay in a grocery store. One of the things I like here is that the dichotomy isn't present. Not only are the quality ingredients available at local vegetable, fruit, meat, and fish stands, but they are almost universally less expensive than the grocery stores. Here, you pay for the convenience of everything being available in one spot, and sliced, diced, and packaged for your convenience.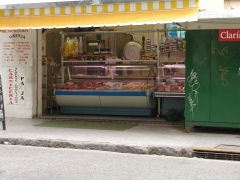 It's also kind of fun to get to know the proprietors and have them get to know you. When I explained what I was working on, the butcher down the block at the carniceria was delighted to discuss different options. We settled on a couple of slices of thick cut smoked bacon, a freshly made chorizo sausage, and a couple of pieces of osso buco. The lady I usually talk to at the verduleria made sure that I remembered to pick up potatoes, batatas (yams), squash, fresh corn, onions and tomatoes.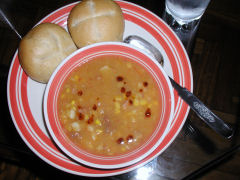 This is a fairly long, involved process, especially because the base ingredient of locro is dried white corn, or hominy. This needs to be soaked for at least 12 hours before cooking. There are lots of things to cut and chop. The results are completely worth it – absolutely delicious if I do say so myself – and I do. We each managed two full bowls before giving up, and Henry was quite pleased, so I have evidence!
1 cup dried white corn
2 ears of fresh yellow sweet corn, cut the kernels off the cobs
2 medium white onions, coarsely chopped
2 cloves of garlic, thinly sliced
2 ¼" thick slices of smoked slab bacon, cubed
1 chorizo or other slightly spicy sausage, sliced
2 1″ thick osso bucos, or similar cut
1 teaspoon ground cumin
1 teaspoon sweet paprika
½ teaspoon of ground black pepper
2 bay leaves
1 cup of butternut squash, peeled and diced small
1 cup of batata (white yam), peeled and diced small
1 large baking potato, peeled and diced small
2 plum tomatoes, cut in small wedges
salt to taste
chili oil

Soak the white corn in 2 cups of water overnight, at least 12 hours. In a large stewpot put the onions, garlic, bacon, sausage, and osso buco. Cook over medium heat until the onions are translucent. Add the fresh corn kernels, the paprika, cumin, bay leaves, and a little salt and the pepper. Continue to cook, stirring regularly, for roughly ten minutes. Add the soaked white corn kernels, water and all (may as well add in the extra corn flavor). Add hot water to pot to about 2″ above the level of the ingredients. Add the remaining vegetables, stir, and bring to a boil. Reduce heat and simmer, covered, stirring every 15-20 minutes, for at least two hours.

At this point, remove the cover, remove the bay leaves. Fish the osso bucos out, discard the bones, and cut the meat into bite sized pieces, then return it to the pot. Continue to stir over low heat – at this point you want to start using the back of a wide spoon or spatula to start pressing the ingredients against the sides of the pan. The idea is to have the starchy vegetables and tomato disintegrate into the soup. The corn and meat will tend to resist being mashed, which is fine. As you continue to stir, mash, and cook, the soup should gradually become thicker and thicker. Continue until it's a nice, rich, stew consistency. Add salt to taste.

Serve in bowls, drizzle a little chili oil over the top if you like things spicy. I like to make my own chili oil by soaking a teaspoon of dried chili flakes in a tablespoon of olive oil for 2-3 hours (while everything else is cooking). Serves 6 unless you decide to pig out like we did.