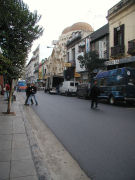 Buenos Aires – That's not "wunce", but "ohn-say", or "11". It's a part of the Balvanera neighborhood that is historically the Jewish quarter of the city. I'd read enough about the area to know to expect something quite similar to the Lower East Side of New York City. Much of it is very much like today's LES, much of it is more like that neighborhood was 20 years ago when I first moved to New York.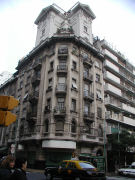 There's some wonderful old architecture, lots of crowded streets, and a huge amount of shopping. The shops are an interesting mix of lots of fabric stores, cheap clothing, middle eastern imports, and kosher food stores and restaurants. Street vendors are everywhere, hawking everything from groceries to packets of kleenex.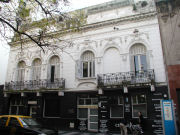 The area is also the where the famous tango singer, Carlos Gardel, really got started in his career. On some of the back streets you can find buildings that have been decorated to celebrate his life, and the world of tango.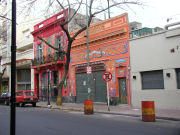 When I'd asked about cheap and interesting places to have lunch, friends had recommended the Mercado de Abasto (Abasto Market). This huge edifice was built in 1934, on the site of what had been one of the city's main wholesale markets since the late 1800s.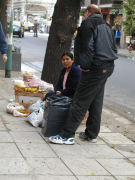 It continued to house that market until 1984 when it was converted to a multi-story shopping mall. My friends were sending me off to the food court in the mall. I guess it's just something "interesting" from their perspective. The food court, by the way, boasts three, count them, three McDonald's – one of which is certified kosher!
I opted instead to wander the streets for a couple of hours, and when I was hungry enough, dropped in to the first inexpensive-looking place I happened across. There was nothing remarkable about either the place, or the food.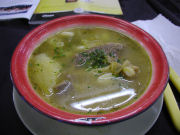 No printed menu… a point which was driven home when I asked for "un menú", forgetting that that's the local slang for "el menú completo" – basically a prix fixe 2-course lunch that's offered at many a venue. Rather than create a fuss, when the first course arrived moments later, a bowl of pasta and potato soup with a bit of beef in it, I figured I may as well give it a try.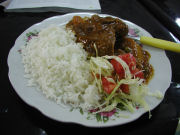 The soup wasn't bad, if a touch salty. The second course quickly followed. As best I could tell, it was a braised bit of flank steak, half a potato, lots of rice, and a dash of salad. Asking what it was turned out to be a useless effort – it was after all, simply "el menú completo". I can't say I was wowed by it, but I was hungry and polished it off quickly. Oh, and two courses plus a bottle of mineral water cost me a whopping 5 pesos… roughly $1.75.