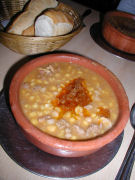 Buenos Aires – No, not "loco"… Locro is a delicious stew of corn, potatoes, squash, and a bit of meat, all marinated and slowly braised. It is classic cuisine from the north of Argentina, and also from the surrounding areas. (More as I get a chance to research it.) We dropped in at a little hole-in-the-wall, Ña Serapia, Av. de las Heras 3357, enroute to the Japanese Garden, to have a bite of lunch. Not, according to Henry, a particularly good locro, but I enjoyed it thoroughly. Somewhere along the line here I'll play with some recipes and come up with one to share!
Friday night we were invited over to the home of my new Peruvian friends. Dinner was simple takeout "Peruvian chicken", basically a roast chicken that is basted with soy sauce (big Japanese population in Peru). We also opened and shared a bottle of Finca la Celia Cabernet Franc 2001. This is a winery I wasn't familiar with, so, finally, something completely new! The wine was powerful and delicious! The current release is apparently 2003, so it was nice to try one with a couple of years of age on it – given it's depth, I'd guess the current release is way too young to drink.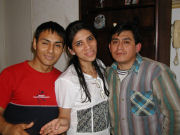 A cozy but inviting and warm apartment, which my friends kept pointing out to me was very small and cost them lots of money for what it is. An interesting note… I always hear as I travel about how Americans constantly talk about money – what they make and such. Interestingly, that seems to be one of the major criticisms of us here in Argentina. Strangely though, virtually all the locals I've encountered, both on this visit and my last, talk about little else than how hard they work and how little money they make. Maybe the difference is that in a culture where the economy is so depressed, when we talk about it, it seems like bragging?