I've kind of said what there is to say about the trip to Iguazu Falls in the last two posts. The Argentine side, given that we were staying in Puerto Iguazu, was a much quicker trip to get to, we didn't have to start out quite as early – though there was still an hour or so of running around picking people up from different hotels. But no frontiers to cross, just show up, pay the entrance fee, and head on in. It was a cloudy day at the start, and within a few minutes of arrival at the Falls it began to rain. And it rained, steadily, throughout the next couple of hours while we were there.
That limited the number of photos I took – I kept the camera under my poncho, but had to pull it out to take shots, and my camera's not waterproof. So be it. And, we had the boat ride this day – which plunges under the Falls. They give you waterproof bags to put your stuff in for the actual plunge (so we stripped down to bathing suits and t-shirts, putting the rest of our clothes inside, along with the camera. It would have been cool to have a way to take a video during the actual trip inside the waterfalls themselves. If we ever go back, I'd figure out something waterproof to be able to do that. Unfortunately, given the rain, we couldn't really dry off during the walk back after the boat ride, and they don't let you keep the waterproof bags for the walk back to the changing area – so that meant our clothes were just getting wet in the rain as we walked – Henry and I chucked it in, stood there on the pathway, stripped, and got dressed again and at least were moderately comfortable for the rest of the walk and return to the hotel.
There was another lunch buffet place, but our guide hadn't made reservations for the group, so we were left to fend for ourselves, having to argue our way into spaces as the place was fully booked – the other options would have been hotdog and sandwich stands in the park – which, in the end would have been better, because Fortin, the buffet restaurant, is ridiculously overpriced (for 2 it cost us 490 pesos for a trip to the salad bar and rice/pasta with sauce) and the food quality and variety were both poor at best. We had a few hours to burn after our return, our stuff had been safely stored through the day at the hotel – we retrieved the duffelbag, changed in the lobby bathroom in the hotel, then (now that the rain was just a light drizzle), headed a few blocks away for a bit of souvenir shopping.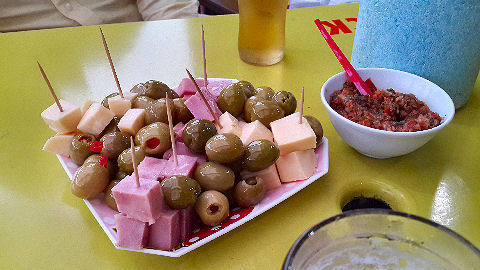 And, stopped at the market (video in the first post), at a little place called gela guela and had a little picada of ham, cheese, and really good olives – half of them stuffed with pickled garlic, the other half with pickled chilies (not pimiento as it appears at first glance). Then, the van picked us up, whisked us off to the airport, where we sat and waited for a couple of hours – our flight delayed by almost an hour – no announcements by Aerolineas Argentina and no one at their counter during the whole time, of course, so we had no idea what was going on (and the departure board actually showed us as "on time" and then "boarding" at the correct time, despite nothing actually happening).
Here are my wrap-up thoughts. If you can speak Spanish and/or Portuguese, don't do anything in Iguazu Falls through a tour company. Everything is easily accessible and customizable, and on your own schedule by simply making a deal with a taxi or remis driver for a few hours. They'll take you to the places you actually want to go, pick you up again later (you just exchange phone numbers and call them, or set a time to be picked up), and they don't take you to places you don't want to go. We didn't find that the guides, for all the money we were paying the tour company, added anything to the experience. I'm sure that's not true with all guides, but at least the ones we had – we were clearly just money making opportunities for them and the company. You end up, either way, having to pay all the entrance fees directly (note – on the Brazilian side they accept riales, pesos, dollars or euros, cash or credit; while, on the Argentine side they accept pesos only, and only in cash – they do "thoughtfully" provide ATMs right next to the ticket booths so you can withdraw cash at an exorbitant rate), and the taxi/remis driver prices are apparently comparable to the tour companies, but you get more control over where and when everything happens.
Americans (and probably some others) need to have a visa to enter Brazil, officially. Now, a lot of the time it's a non-issue, the border guards just aren't interested as long as you're not driving yourself across – they leave your guardianship in the hands of the tour company or the taxi driver. But, that's not a guarantee. I know people who have been refused admittance, and as I mentioned in yesterday's post, I know of one couple who were allowed to enter Brazil but then hassled when they tried to leave – the claim was they'd entered illegally (and because they didn't have visas, the guard who let them in didn't put an entry stamp in their passports). There is a Brazilian embassy office in Puerto Iguazu where apparently they'll do same day processing of visas, which is certainly a whole lot better than the usual "drop your passport off and leave it for 2-4 weeks" that happens at the Brazilian embassy here in BA and, from what I hear, back in the States as well. Since we didn't need visas, we didn't go through that process, so I can't promise anything one way or the other.