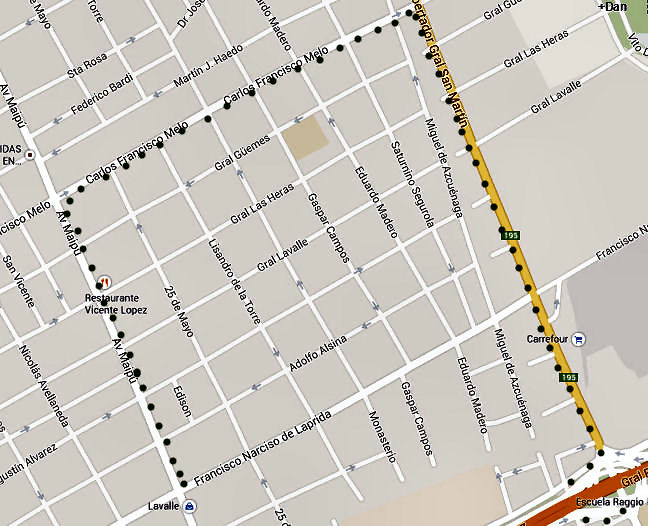 It was back to Retiro Station again (I have to remember that there are actually two separate terminals there – next time I'll go for the Belgrano line instead of the Mitre line) to go another round against the fates, or at least random.org's determination of it. The next train out, once again the Tigre line, station determined, Rivadavía, on the border between barrio Nuñez and the suburb of Vicente Lopez.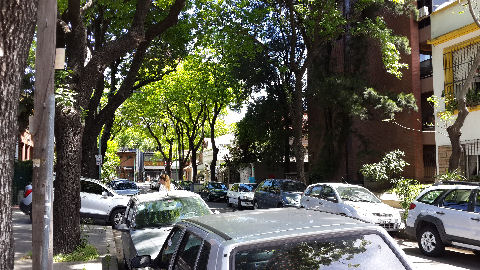 On arrival, unlike at Victoria station, there was no obvious direction to go. The station is kind of in the middle of a residential 'hood. I knew that the Parque de la Memoria was off to the east along the river, and that was a possibility to visit, but would also preclude much if anything in the way of eats. South and west looked to be residential, but at some point would probably hit something commercial, north meant heading along Av. Libertador, more or less – I went with a random select and north got the nod…
I could have used the pedestrian overpass to go up and over the station to get to Libertador, but decided to just use the streets on my side and at least wander a few blocks in the residential area before crossing under our "beltway", Av. General Paz.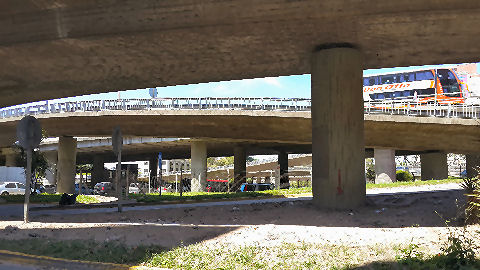 Then cutting back down to Libertador under the complex of highways heading off in various directions.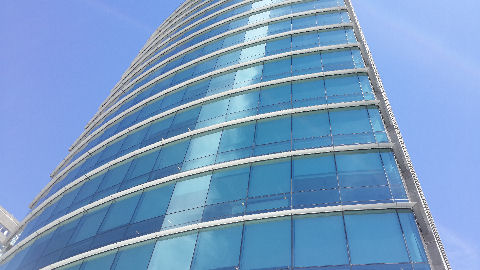 Libertador in this stretch is pretty much all corporate and government buildings. There is a big shopping center as well with a Carrefours and a Sodimac, but other than that, not much for the ordinary human to do but just keep walking.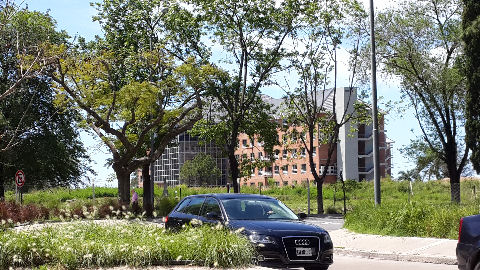 This, apparently, is some sort of complex for the education (including a housing complex, which I think is the main building in front) of "subofficials" for the navy.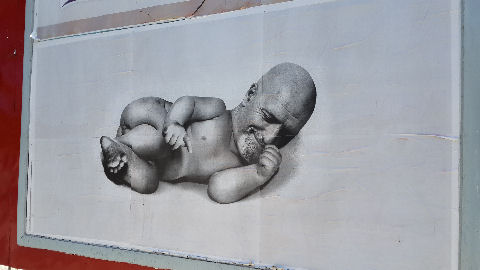 I don't think this is a comment on the above, though I'm sure it has some sort of political significance. I'm guessing it's some politician that I just don't recognize being made fun of…. Some help here?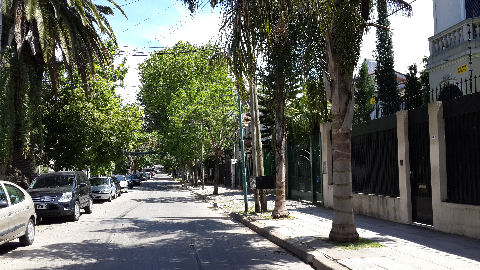 I realized that I was already at the next stop on the train line, they're only about 8-9 blocks apart, so I decided to cut "inland" and head along Carlos Francisco Melo street (he was a politican and lawyer, born 1873, died 1931, and during the last couple of years of his life was the director of the Biblioteca Nacional, the national library). At this point, I'd only passed 2 places that offered food and one of them was a kiosk. If Google Maps is correct, this building behind the gated wall with all sorts of security may be the Argentine branch of The Walt Disney Company, but one is never quite sure with Google Maps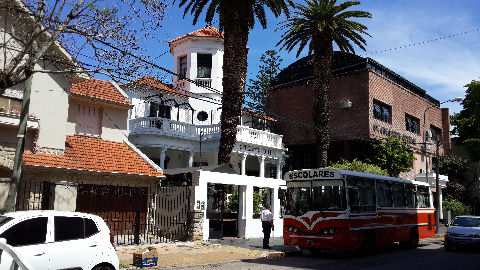 This part of Vicente Lopez is quite pretty, no? I have no doubt St. Gregory's College costs a pretty penny – it's an affiliate of Cambridge.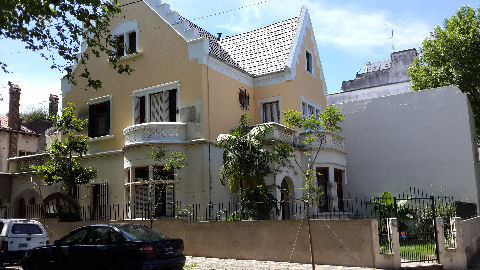 Still pretty. I did pass an interesting looking art museum complex, the Fundacion Romulo Raggio, but it was behind high walls, so I couldn't get a good photo, and despite, as it turns out, being during the museum's official open hours posted on its website, it wasn't open. To be visited in the future.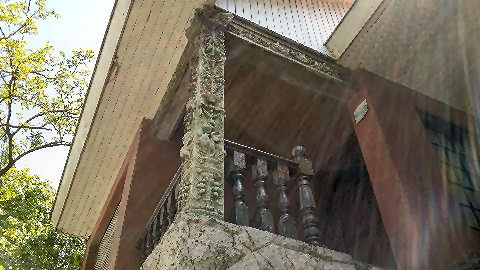 I liked this column. Period.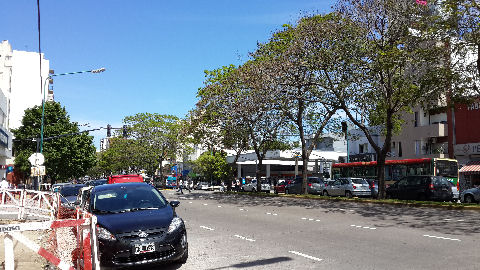 If I wanted food, it was clear that a commercial avenue was going to be necessary, and the next one up was Av. Maipú. It made sense to me to simply head back more or less south towards my starting point. Not that I was going to return to the station, being along the avenue it's easier to just take a bus back.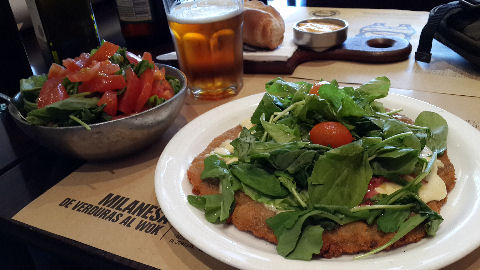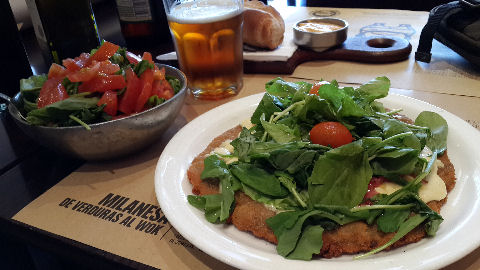 The random selector, unfortunately, landed me at a branch of El Club de la Milanesa at #663. Not unfortunate because there's anything wrong with it, they have perfectly acceptable milanesas, but I was just hoping for someplace that was really new. At least I decided to go with the fates again and let the random generator pick my milanesa for me – this is the "patagonica", which comes topped with some sort of smoked lunchmeat, mozzarella, argula, herbs, and cherry tomatoes. A side salad and hey, staying with the theme, a Patagonia Amber Ale, completed lunch. Then it was across the street to grab the bus back (and also noting that the noted gastronomy school, Mausi Sebess, is right there at #594, had I seen it before getting on the bus, I'd have stopped in to check it out).
Process to be refined, it's still not quite as interesting as I'd been hoping, but that may just be, well, random chance. I also have to take the regular camera, it's clear from the clarity of these photos when reduced in size that the quality or stability of my phone camera just isn't cutting it.