Every now and again (probably more often than that), I have email conversations with diners, or potential diners, that leave me mystified. Earlier this week a couple reserved for dinner for this week, only to cancel. Now in and of itself, that's not unusual, but their reason – they didn't like two ingredients that were on last week's menu (which I carefully explained to them was a different menu and not the one they'd be getting this week), and I wouldn't change it. That's right, they wanted me to change last week's menu, which they weren't going to be eating, because they didn't like two of the ingredients I was using, and they were both offended and furious that I wouldn't do it. Last week. Not their menu. Breathe… Focus… Center… This sort of stuff is why I gave up my potential career in clinical psychology – people are nuts, I believe is the technical term. Come on, last week?!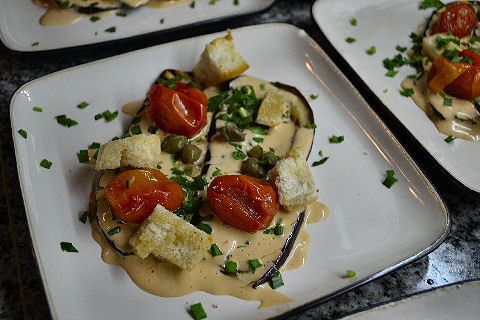 Eggplant tonnato – grilled eggplant, mildly spicy tuna sauce, capers, roasted cherry tomatoes, spiced croutons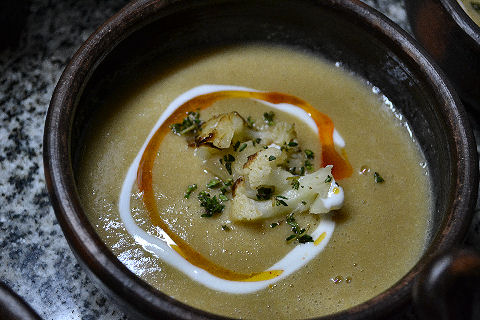 Hummus soup – chickpea soup flavored with onion, garlic, paprika, cumin, lemon, smoked chili, parsley, tahini; garnished with charred cauliflower, salted yogurt, smoked paprika oil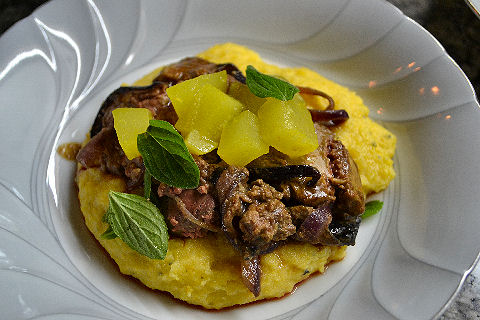 Higaditos al ajo – chicken livers cooked in a garlic and spice sauce (the same way we make mollejitas al ajo, just without the parboiling); creamy polenta finished with blue cheese; pear mustard pickle; oregano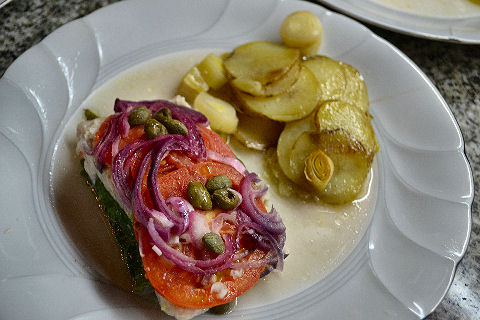 Patarashka – our version of this classic Amazonian dish – cod cooked "en papillote" with shiso leaf, tomato, red onion, capers, garlic, ginger, rocoto chilies; accompanied by potatoes and leeks confited in olive oil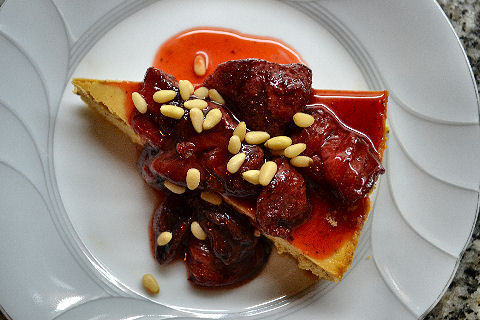 Dulce de Leche Cheesecake – made with our own homemade cream cheese and dulce de leche, spiked with Chinese five-spice; served with strawberries roasted with vanilla paste and brown sugar, and toasted pinenuts. The new dish for the week.