If you haven't been keeping up with us on social media, you may not have seen the announcements earlier this week for our next online cooking challenge. We decided on a couple of changes this time around. First off, we announced it a week ahead of time, so people who found it difficult to get everything ready in less than 24 hours would have a chance to participate (I've also been thinking, we've kind of timed things around a the time zones here in BA and in Florida, where the two of us who started things off are located – if there are people in other time zones interested where you'd still be at work or already be asleep, let us know – maybe we can figure out a time that works for more people.) Second, we've switched to using Google Hangouts for the video conferencing – it limits the number of people we can have, but so far we haven't had ten participating – if that changes we'll look for another option – but it does mean that you have to let me know if you want to be a part of it, either cooking or chatting, so I can invite you into the Hangout.
Third, and the biggest change, at least this go-round, instead of springing some surprise ingredients on each other the night before, Kevin suggested we try reinventing a classic dish. This time, he left the choice in my hands, though we batted about a few ideas and settled on French cuisine, and a fish dish. So I picked a simple, but delicious dish, Sole Véronique. The dish was created by Escoffier back in 1904, so it's got 110 years of history. It's worth noting, tangentially, that the two figures that everyone always points to when discussing "classic French cuisine" are Escoffier and Careme, who respectively were cooking at the beginning of the 1900s and the beginning of the 1800s. So we're not talking about chefs who worked hundreds and hundreds of years ago, creating those long standing French traditions – in fact, neither is particularly known for "creating" dishes, but rather, for codifying the already existing ones and getting them published in a form that was accessible to other chefs, and later, home cooks.
But, this particular dish was put together by Escoffier while he was working in London, at The Carlton Hotel, in honor of the successful run (496 performances) of the French operetta, Véronique at the Apollo Theater. At it's core, most people who make this dish tend to think of three elements – sole (or flounder or fluke) that's been poached in stock, butter or a combination; a white sauce, either bechamel, veloute or beurre blanc; and grapes. From there, the variations abound. Prior to the "competition", I thought I'd present the classic dish. Now, it's not the way I learned to make it decades ago, but I thought that I ought to actually try it the way that Escoffier himself spelled it out in his seminal work, Ma Cuisine.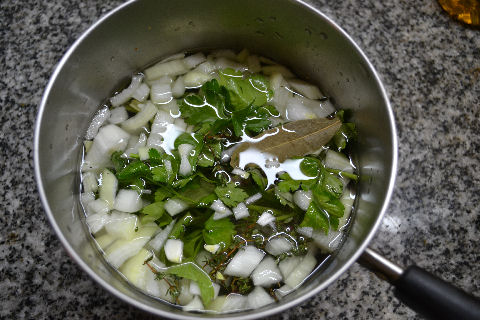 Make a white wine
court bouillon
: Simmer 1 liter white wine, 1 liter water, 3 oz chopped onions,
bouquet garni
, 1/2 oz coarse salt together for 30 minutes. Add a few peppercorns 12 minutes before the end of cooking. Strain. (I was only making court bouillon for this dish, so I made a much smaller batch.)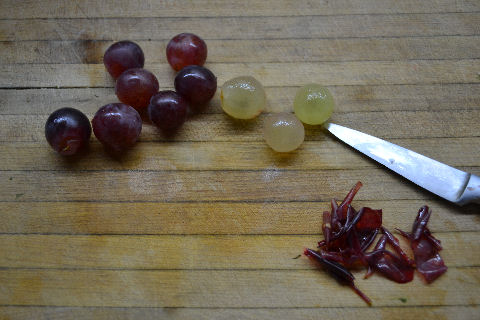 Peel and "pip" Muscat grapes. He doesn't specify cutting them in half, but most people do, and I wasn't about to try to remove the seeds without doing so. Nor does he specify how many grapes per fillet, I just did a few.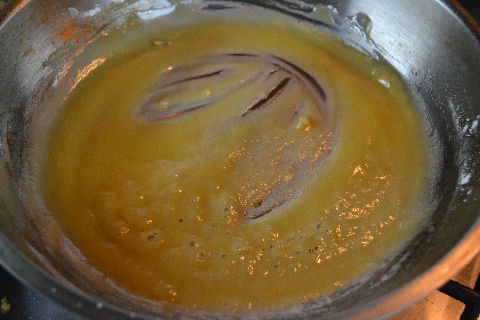 Make white wine sauce: Heat 1 tablespoon butter and 1 tablespoon flour together and cook for a "few seconds" without browning (I went for just short of a minute).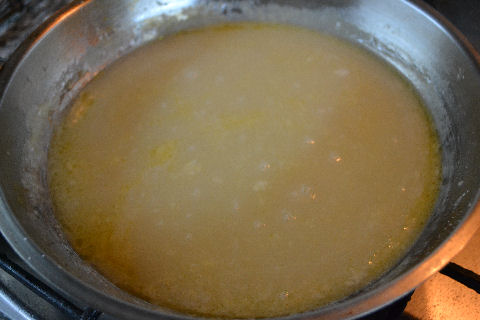 Add 250ml of the court bouillon slowly, whisking well. Simmer for 12-15 minutes until thickened and then strain into a clean pan.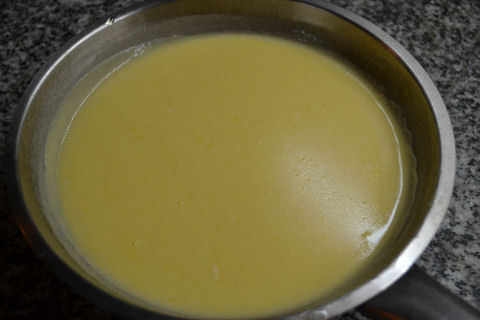 Keep hot without boiling and whisk in 1-2 egg yolks, 1 tablespoon of cream and 1 tablespoon of butter.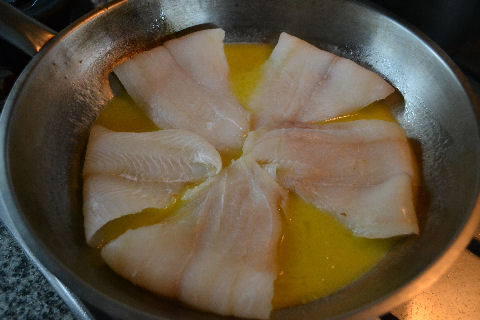 Fold fillets in half and season with salt and pepper (interesting that he folds them first) and poach in butter with 2 tablespoons of court bouillon. He doesn't specify but since I wasn't using enough butter to completely submerge the fillets, which he may well have, but would have been a huge amount of butter, I flipped these over after a couple of minutes of poaching so that the top fold would poach through.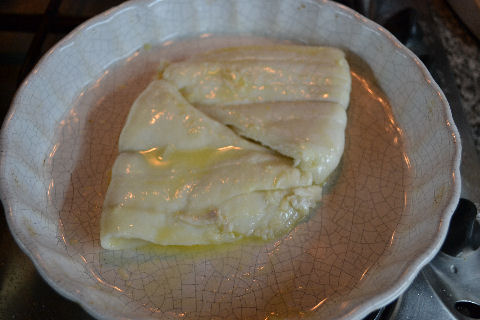 Move to a hot dish (I just stuck it in the oven for a few minutes beforehand).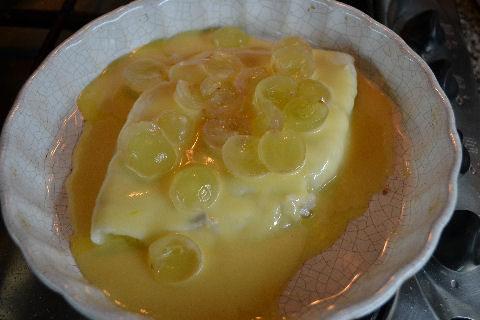 Garnish with the grapes, and coat with white wine sauce. I realize now, that I did that backwards, I put the grapes on top of the sauce, which is the way I learned to make it, so that they're more visible. But, he apparently created the dish with the grapes under the sauce.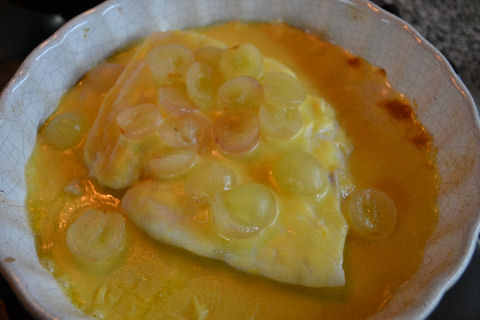 Broil for a few minutes just to give it some color – don't go too long, keep in mind that the fish is already cooked through. In fact, were I to plan this out rather than following his directions exactly, I'd probably use a torch instead, just to lightly color the top, and not take a chance of overcooking the fish.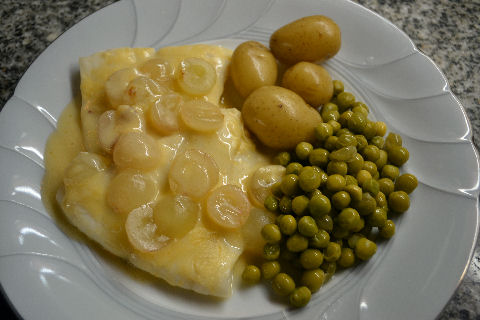 And that, my friends, is the whole dish. I served it up with some boiled Andean potatoes and fresh peas. It's rich and really buttery, but has some nice complexity to the flavors of the sauce – that court bouillon does wonders, and it's a really simple stock to make and have around if you're going to cook fish.
Just for fun, here are two other ways of doing it that I found on YouTube – one a relatively classic approach, and the two guys doing it are a hoot, and the other, a very upscale reinvented version of the dish – which is exactly what we're going for next Tuesday. Come join us!