While our first day in Miami started off with a bit of wandering and a whole lot of shopping, some casual food (more later, perhaps), the heavens opened up in late afternoon turning the streets into flood zones and pelting anyone who ventured outside with massive amounts of water. There was talk of a sort of pre-hurricane, and there's still talk of one headed this way in a few days, thankfully after we leave. We hope. Kevin, whom you've met in my writeups of our online video cooking experiments, and his wife, drove up from the Keys for the evening. Given the deluge, we decided to start the evening at a neighboring hotel, under a minute's walk away from ours, in José Andres' The Bazaar, 1701 Collins Ave in the SLS Hotel.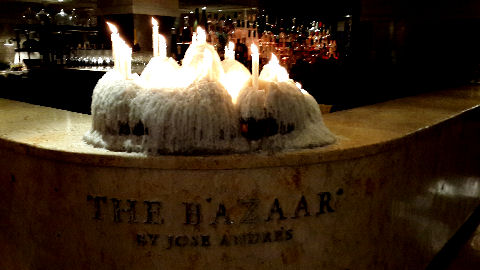 I've never eaten at one of his restaurants but always had it in the back of my mind to try one one day. So we thought we'd go for a round of cocktails, sample a few tapas, and then if the rain had died down, head somewhere else for dinner. Unfortunately, the rain did no such thing and so we decided to stay, splurge a little, and see what the hype is all about.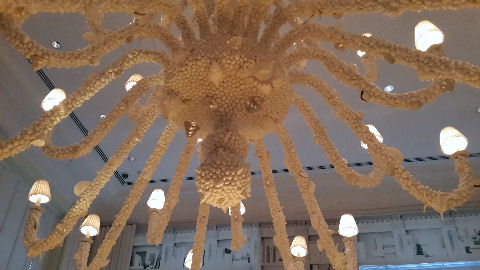 The room is oddly decorated. The center, where we were sat, is dominated by a massive kraken of a chandelier like Greg Brady's pukka shell necklace gone rogue. The walls are mostly black and white wallpaper that's meant to look like laden bookshelves. A few black and white photos, blown up to enormous size, are placed here and there. It's not attractive. And there's a general air of unease that at any moment the chandelier is going to attack.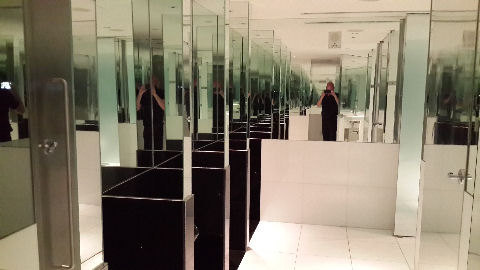 The bathroom isn't much better, pretty much every surface is a mirror. Enough said.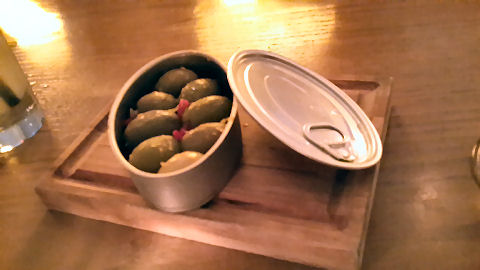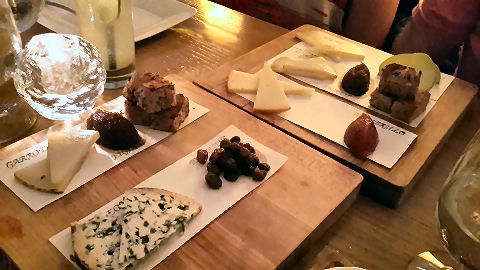 We thought we'd start with a cheeseboard and some olives. The latter were decent – lovely plump green olives stuffed with lightly cured anchovies and piquillo peppers. The former, not so much. Really skimpy pieces of cheese, odd accompaniments, mostly really, really sweet, and no bread – we asked for some, but by the time it arrived (it had to be toasted and come from "a different kitchen in another part of the hotel") we'd long finished the cheese. Also disappointing that our waiter hadn't bothered to tell us they were out of one of the five cheeses on the menu, so he just had them put a second portion of one of the others on it.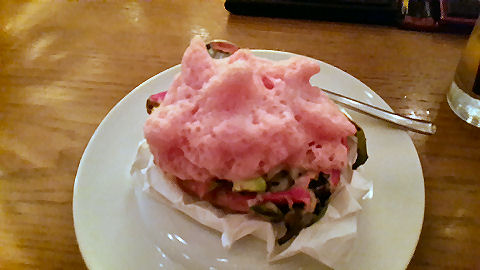 Our waiter was friendly enough, though a bit of a salesman. He started off by introducing the menu, which consists of "over 90 different tapas" (there are only 70 on the menu, though that's still impressive), and proceeding to recommend somewhere around 25 of them. Yeah, four of us, that's not happening, especially not for tapas plates that run from a low of $6 for a one person portion of gazpacho up to $50 for a quartet of tacos to share, and cocktails and wine by the glass that run from $16 to around $30 each. We thought the ceviche of tuna and dragonfruit with pecans, lemon, and hibiscus foam, served in half a dragonfruit, sounded interesting. Decent flavors, but no zip whatsoever – no citrus notes, no chili – just kind of tuna and pecans – flat tasting.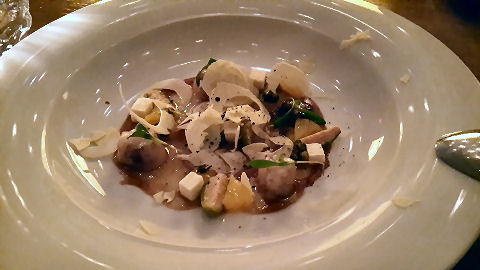 Immediately followed by bone marrow with "Caribbean white truffles" (which turned out to be shaved heart of palm), citrus, and a capon broth. What wasn't noted was the fact that the whole thing was doused in tamarind paste which overwhelmed every other flavor. Apparently, according to our waiter, the tamarind was the citrus. What? It still didn't work, not by a long shot, and our least favorite dish, flavor-wise, of the evening. This was the point where we checked to see if the rain had stopped and maybe we ought to be leaving….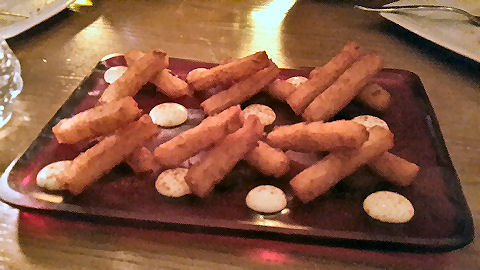 Thankfully, the evening looked up with the next plate, a minor reinterpretation of patatas bravas as absolutely perfect mashed potato french fries served with spicy tomato sauce and aioli. Delicious!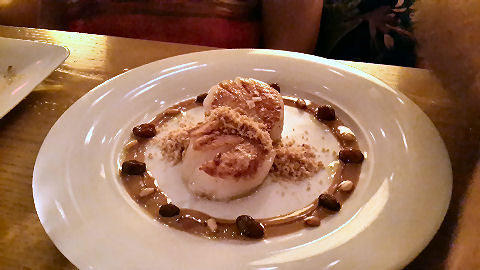 Likewise, the perfectly seared scallops with a reduced Pedro Ximenez sherry sauce, raisins, and toasted pinenuts. Another winner.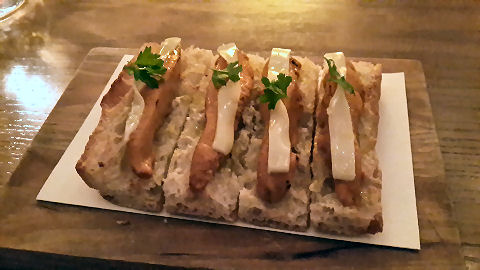 A bit of a dip with the highly recommended uni toasts, on more of the toasted bread from the distant kitchen, topped with butter, and supposedly cracked black pepper. No pepper in evidence, and flagging down the waiter, he looked at it and said that the food runners were supposed to grind some over the top (really? why? that kind of seasoning should be done in the kitchen). He brought a grinder, ground a little over the top, definitely improving the dish, but kind of bland.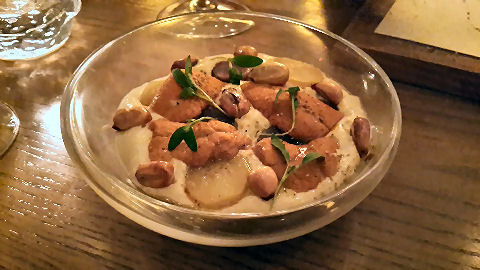 A reinterpretation of papas a la huancaina that just fell completely flat. Little andean potatoes in some sort of weirdly textured hot cheese glop, little spiciness, nothing that suggested huancaina sauce, and oddly topped with raw, cold, sea urchin.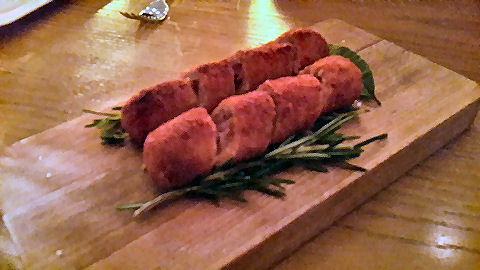 Looking up, however, on our last round of two dishes, starting with flamenquines – breaded and deep fried rolls of Iberico ham filled with a slightly liquid center of cheese, the whole thing deeply perfumed with rosemary and bay leaf. While it wasn't particularly "creative", since this is pretty much what flamenquines are, it was a favorite of the evening. Sometimes the classics are best not toyed with.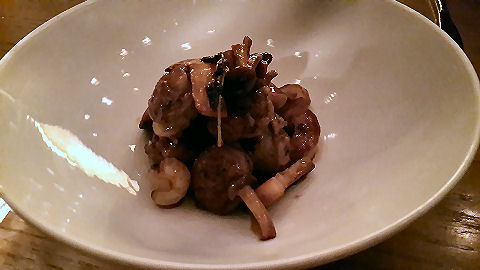 And, another delicious dish – butifarra sausage with mixed mushrooms and pearl onions, and an amazingly rich oloroso sherry reduction. Though, truthfully, we all sort of agreed the sausage was a bit lost and extraneous, we'd have liked the dish better without, perhaps with some of those little andean potatoes thrown in with the onions and mushrooms.
Overall – hate the room, the ambiance. Service was friendly, though a bit of upselling pressure, and there were just some inept moments that shouldn't have happened in a place of this supposed caliber. Food – mixed, some really quite good, but most just kind of "meh". Prices – the food isn't outrageous for Miami Beach and a top hotel – all ten dishes came in at $187, though a couple of them were pretty thin on substance. The bread, of which we ordered two plates, was $5 per plate – not noted on the menu, nor told to us by the waiter. The big hit here was the booze. Three of us had cocktails and wine, three apiece (and all quite good, and the former quite interesting, though the latter, the wine pours are really small, not much more than a couple of mouthfuls – probably about 2-3 ounces each), and one of us had just a lemonade, plus we had three bottles of water for the table (we weren't offered tap, which we should have asked for, and the waiter didn't tell us he was opening two more bottles as we went, he just did it without asking). That all tacked on a bit over $200 more. And, to top it off, the place adds an 18% gratuity onto the bill, which our waiter didn't tell us – it is, admittedly, on the menu we discovered, in really small print, though in the midst of a warning about pregnant women not eating raw fish dishes, and there's a note at the bottom of the bill, but, well below the place where you'd add in the tip – luckily we caught it just before adding a tip onto it. All told, the bill for four of us, came in at $518.
Would I go back? No. Plain and simple. No. And, as a note, we had dinner tonight with some friends in the wine and food biz and one of them had been and had pretty much the same thoughts as we did.