Throw out everything you know about making pasta. That was pretty much the advice given to me when I started looking into making my own ramen noodles. And, it's more or less true. In fact, as I was making these favorite slurpable noodles, all I kept thinking was, this is all wrong, it's never going to work.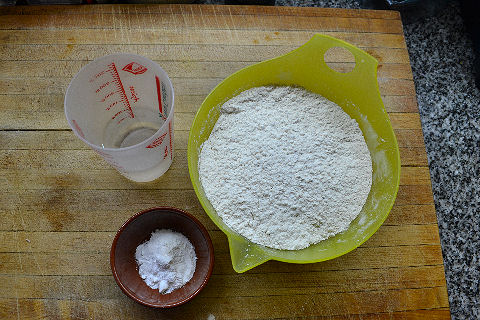 At it's base, it's not all that dissimilar to making Italian pasta, flour and water, but it also uses sodium bicarbonate, though not in its raw form, you have to bake it first – 120°C/250°F for an hour – which apparently makes it far more alkaline. Now, I've added bicarb to pasta before, but in raw form, and it adds a little snap to pasta and also gives them a little bulk – noodles puff up slightly as they cook, as bicarb is wont to cause, so I was curious to see what this alteration would do. No one seemed to be explaining exactly why you want really alkaline noodles.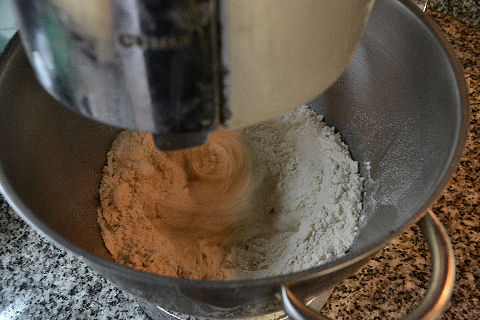 So you dissolve this alkaline bicarb – 2 teaspoons, in 100ml of warm water, and then mix it with the flour – 2 cups/220gms of it – and only 100 ml of water – with traditional Italian pasta I'd probably be using roughly 25-30% more liquid than that. I've tried three different methods – in the mixer with dough hook as pictured, in the mixer with paddle, and in the food processor with dough blade. I think I got the best results from the food processor method.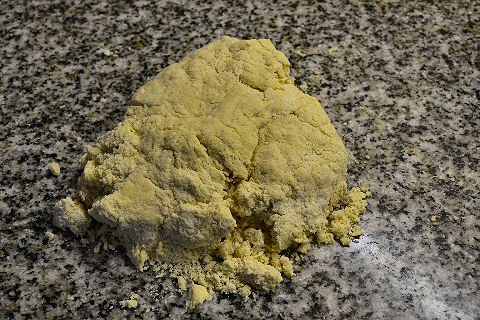 The dough that results is really crumbly. I was warned it would be and that I'd think there wasn't enough liquid in it to have it come together, but to have faith. Oh, it's also really yellow, which is apparently a byproduct of the alkalinity.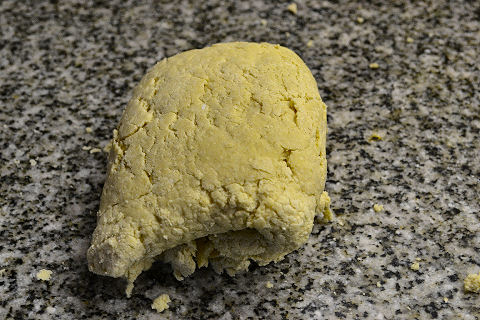 So I began to roll it out with a rolling pin, folding it back over on itself and gradually incorporating all the crumbly bits in. It's a lot of work, the dough is really, really stiff. It's like working with very hard clay. But…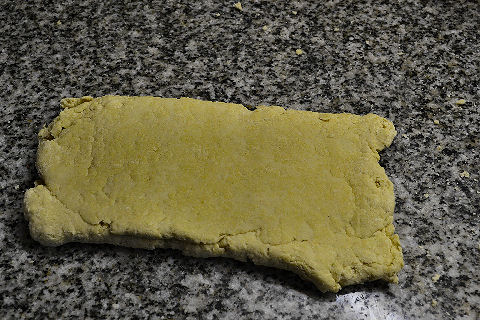 …gradually it all comes together into something more or less smooth, though not really. Not what I think of as a silky smooth pasta dough. But I was told to wrap it up in plastic and let it sit for 1-2 hours to hydrate the dough. And, at least at the end of that time it looks and feels a little more pliable.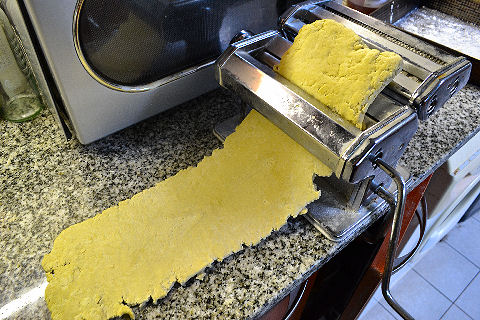 So then I started rolling it out through the pasta maker. It doesn't pass through very easily initially, in fact after now making ramen several times, I think I may have broken the machine – it stutters when it rolls. I may have to buy a new one, something isn't right.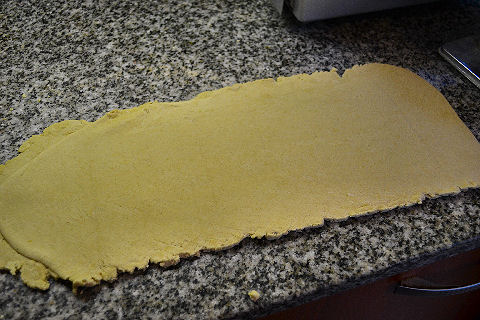 First you roll through at the widest setting, folding over once and rerolling it at the same, several times to laminate the dough. Then you start rolling it thinner and thinner. Now ramen noodles are not fine threads, so rather than the usual setting of 6-7 that I'd roll pasta to, I stopped at 5, which seemed about the thickness I'd want it to be.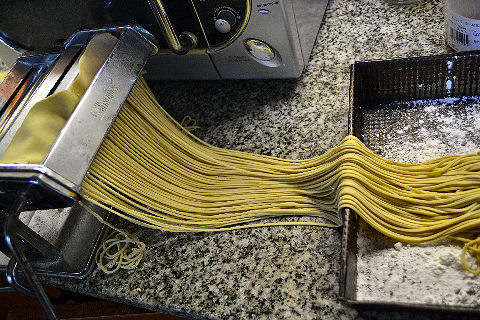 And then, through thinner noodle attachment – maybe slightly thinner than I'd really want to make them, but it's the closest attachment that I have. Amazingly enough, by this point, though the dough is still very firm, it's completely pliable and rollable. Not at all sticky, so you don't have to flour it as you go.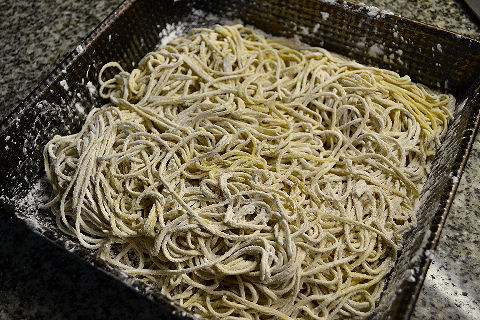 I was then admonished that if I wasn't going to cook it immediately, I should toss it with cornstarch to prevent it from sticking.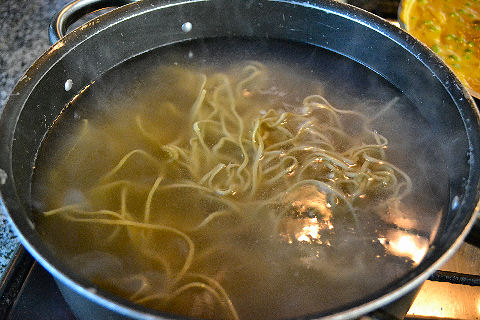 One thing I did discover is that you have to really shake off as much cornstarch as possible when cooking later on as otherwise the noodles get all gluey, and the water they're cooking in turns to a sort of slightly gelled goop. The noodles take very little time to cook, like a minute. Otherwise they lose their texture – experimenting a bit, by the time you've let them cook two minutes, they're like wet tissue. Oh, and the bicarb apparently loses its "puffing" characteristic, these stayed as thin as they were when rolled out.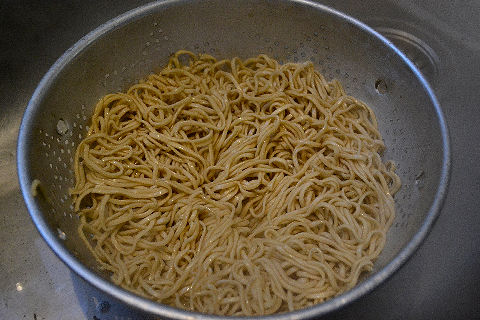 They come out pretty much perfect following this method, it's just a lot more work than regular pasta. I have been using them on this week's menu, though as the weekend winds down, I think I'd probably not use them as a pasta base, but just as a soup noodle. I think I'd also want to make them thicker – maybe stop rolling at 4 and use a wider cutter – they're just slightly too thin at this setting.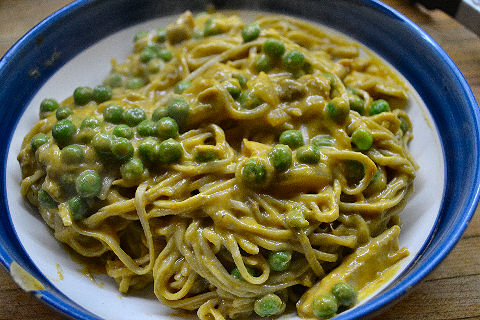 Still, for us, on my first experiment with them here at home, we topped them with peas and
aji de gallina
and were completely happy. They give that nice little slurpable bite that good ramen has.