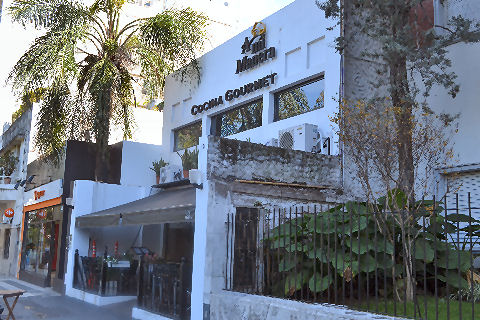 Casting about to try a new Italian restaurant on Sunday, I decided to leave it up to local palates. According to GuiaOleo, our local version of an online Zagat's guide, the best (well, actually second best, as the first best wasn't open on Sundays) Italian restaurant in town is A mi Manera, Baigorria 3237 in Villa del Parque. It's a bit of a hike, about an hour on the 124 bus from here, and that's after a ten minute walk to the bus, but it was a beautiful day, perfect for a jaunt. The bus conveniently left me off half a block away. The restaurant faces onto the pretty Parque Aristóbulo del Valle.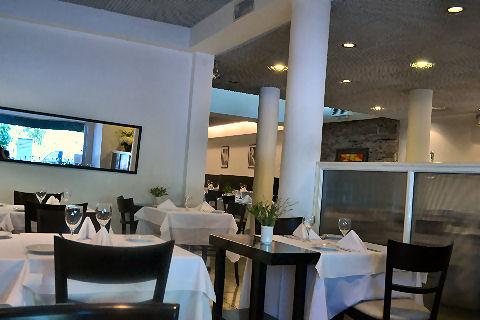 Surprisingly, for a Sunday afternoon, a beautiful day, and a, more or less suburban neighborhood with plenty of people out wandering around, the place was empty when I arrived around 1pm. Closer to 2 or 2:30 it picked up a bit, with maybe a half dozen tables coming in. The place is all white, other than the black chairs and black and white photographs, which feels a bit stark and sterile. I was greeted cheerfully by the maitre d' or manager, who suggested a table by the window (always, of course, it helps draw people in from the street to have people sitting in the window), but seconds later he was back to playing some sort of game on his phone, which is pretty much all he did the whole time other than when seating people. A good ten minutes went by before he noticed that no one had come to my table, and he yelled across the room for someone to wake up and do their job, and of course, went back to his game.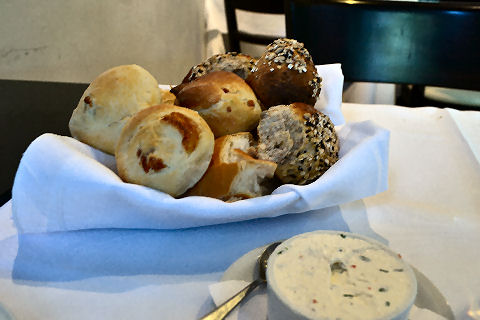 Nice selection of breads and seasoned whipped cheese brought to the table while I perused the menu. Points up for that, I like to have something to nibble on while I decide what to eat. Not something you want to do when you're trying to turn tables, but in the relaxed world of BA, it's a smart move.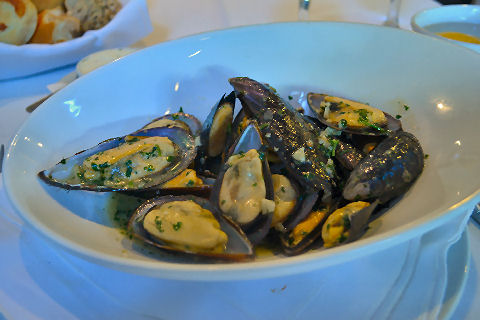 Apologies for the blue cast to the photos – the restaurant had a weird mix of halogen, incandescent, and fluorescent lighting, which made figuring out the white balance near impossible, even the auto balance setting couldn't cope. I decided to start with a bowl of mussels. Great flavors, cooked in white wine, garlic and parsley, but, the mussels were way overcooked, to the point of being mealy. I'd almost venture to guess they'd been precooked and then cooked again. Not overly happy with the dish – a shame, too, because the broth they were cooked in was great.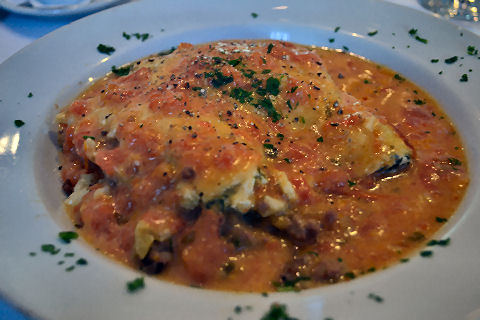 I've mentioned that I'm a big fan of lasagna when I can find it, and it's a rare dish here in BA. So when I saw it on the menu here, it made the main course decision easy. Great flavors, odd construction. There are only two layers of pasta, and one of them's not on the bottom. So at the base, there's basically just the tasty ground beef, more or less bolognesa sauce, topped with a sheet of pasta, then a layer of ricotta and herbs, another layer of pasta, and the whole thing ladled over with a fresh, quite good tomato sauce. For my aesthetic tastes, and to have it hold together a bit better – you can see it's sort of falling apart – I think it should have a layer of pasta on the bottom. But, delicious.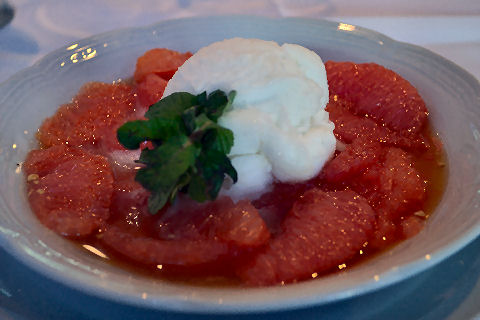 Numerous recommendations on GuiaOleo and FourSquare touted the grapefruit dessert, so as long as I was going with local recommendations, I ordered it. My waiter suggested that many people prefer a more plain "crema americana" gelato instead of the lemon that the dish comes with, to cut some of the citrus, but I love citrus and decided to stick with the chef's way of making it. This dessert by itself was worth the trip. And so simple, just beautifully fresh, perfectly trimmed pink grapefruit segments in a lovely spiced syrup, topped with intense lemon gelato. I'm stealing the idea.
Overall… The room is okay, a little stark for my tastes, but not off-putting. Service, other than the slow start and the manager playing on his phone, it was superb. I did note that all the other tables that came in were regulars, who not only got the usual peck on the cheek and hug greeting, but also got some extras, like a free apertif at the beginning, and some little plates here and there from the kitchen. To his credit, my waiter noted that I was noting, and at the end of the meal offered up a glass of champagne. But it clearly pays to be a regular here. Food, other than the overcooking of the mussels, absolutely great. Pricing, they add the archaic cubierto charge, here, 22 pesos, so at least not excessive, appetizers range from 50 to 100 pesos, main courses from about 90 to 150, and desserts hover around 50. Three courses, glass of wine, bottle of water, 350 pesos with tip, or about $44 all told. So, definitely, Recommended.