I once lived in a small, three room apartment in Hoboken, New Jersey, where the first thing I did on moving in was paint each room a different color. One a sort of hunter green, one a deep leather brown, and one charcoal. I was in a dark, earthtones phase. It was a trifle gloomy. I was 23. As I put on a couple of years, I learned about using colors as accents rather than overwhelming assaults. Not everyone grows out of that phase. Enter Lelé de Troya (Helen of Troy), Costa Rica 4901 in Palermo, recently "renovated", which I take to mean it got fresh coats of even more vibrant paint in each of its five rooms.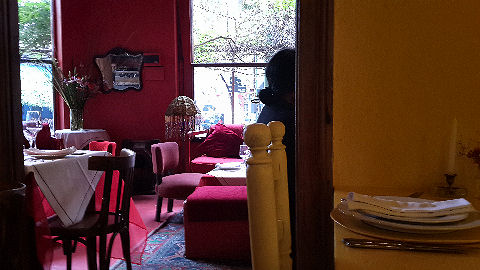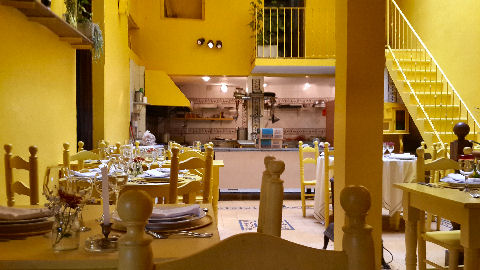 You enter in red, the bar and lounge, off to the right is yellow with the open kitchen, further along on the left side, green, and then blue, or perhaps it's the other way around. Upstairs, a strange amalgam of cantaloupe orange and soft violet. But we're not talking accents, we're talking near every available surface, right down to painting over speaker covers and wires. It's the rainbow taken to an extreme. It's an aesthetic choice, one that I can understand, if not quite get in a restaurant. No one, and no food, looks good under the harsh impact of a single color.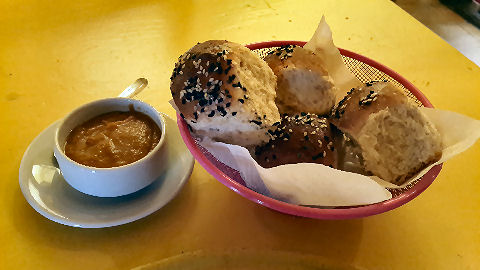 LdT is not a place for celiacs, nor those embracing a gluten-free diet, for whatever their reasons. Wheat is the apparent raison d'etre of the place, with the ovens turning out a steady stream of various breadstuffs. In fact, I'm not sure there's anything on the menu that doesn't involve either a slice or roll of bread, a pasta, or a crust. The breads are good, with a slight tendency towards a hint of sweetness in the various types. The menu leans towards Mediterranean, with a particular emphasis on Middle Eastern and Moroccan flavors.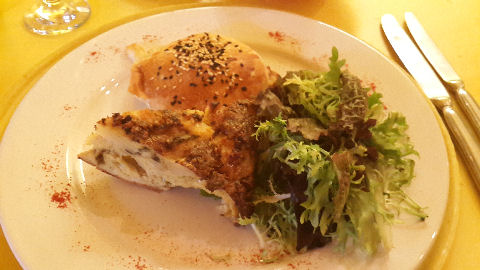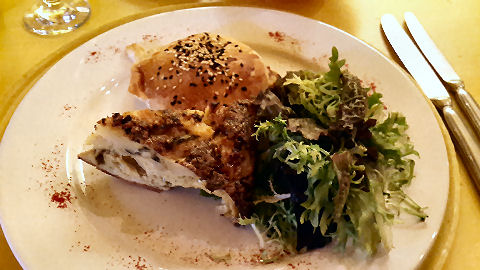 Remember what I said about how things look in a single color environment? The first photo is the unretouched version, the second is the best color balancing I could manage. The dish, mozzarella en carozza…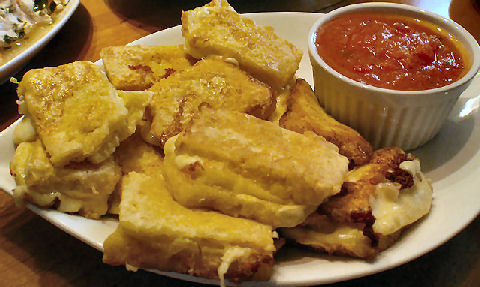 …well, this is my version of the dish, basically, it's a cross between a grilled cheese and french toast – mozzarella sandwiched between slices of bread that are pressed down around it, then dipped in beaten egg and fried. The Lelé de Troya version is a large seeded bun with a vague hint that there may be some mozzarella somewhere inside. There's certainly no gooey cheese oozing out, and the bread is clearly the mainstay. It's also, strangely, accompanied by a slice of tortilla de papas, a potato torte that has some sort of bread crust on top as well. A bit heavy, dense, and overwhelming all around, and given that I had a main course coming, I decided to stop not quite halfway through it all, except the salad, which was fresh and had a decent vinaigrette.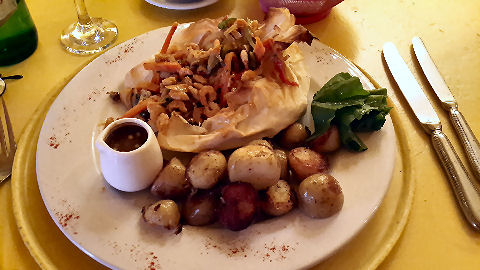 I suppose, given the proclivities of the chef, it should come as no surprise that the papillote de mar, "seafood in parchment", should sub layers of phyllo dough for the parchment. One of the few dishes on the menu that noted picante, I decided to see if it had any heat. Oh, it does. I have to admit, it's not often that a plate of food, especially here in Buenos Aires, the picante-averse capital of Latin America, takes me aback, but this one did. A mix of mussels, clams and shrimp in a sauce that was so fiery I could barely eat it. The dish needs some serious balancing, or adjusting, the idea is there, but it's just overdone, and the little creamer filled with a secondary hot sauce was certainly not necessary. I couldn't do much more than nibble at some of the seafood (which was fresh and cooked on-point), break into a sweat, mop my brow, eat a few of the accompanying potatoes, and give up.
I will say that service was friendly and even efficient. I wouldn't say it was particularly perceptive. When someone pushes away two dishes in a row, each less than half eaten, I'm not sure that asking them if they want them wrapped up to go is the first, and only, question to be asked. I'm not sure how to assess this restaurant overall. It's certainly not a place that would be on my list to go back to, but at the same time, I think that if someone's really into breads, pastas, etc., they might like it, as perhaps ordering the only spicy dish on the menu wasn't the best move. I've seen mixed reviews out there, and generally the sandwiches and pastas seem to garner the most positive, which I suppose might fit as their forte. So I'm going to give it an okay and just leave it there.