Just a quick post today on a couple of spots I visited outside of town. I'd originally just wanted to go to La Valle de la Luna, the Valley of the Moon, in the south, but other han hiring a private car as I mentioned yesterday, for $40 (a bit over 200 bolivianos), everything I found were combination tours with other places, some of them for more than a day. I finally found one tour company that had a short one day tour to there and Chacaltaya in the west. It's sort of a "fire and ice" tour, as the moon valley is essentially a hot desert, and Chacaltaya is a snow capped mountain. Now, mind you, I have no cold weather gear or hiking gear with me, so I specifically asked about what sort of visit it would be and the young lady assured me that there was no climbing involved and if I wore layers of a t-shirt a sweater and a light jacket, I'd be fine, but to bring along my coca leaves, because the altitude was much higher than the city. We shall see…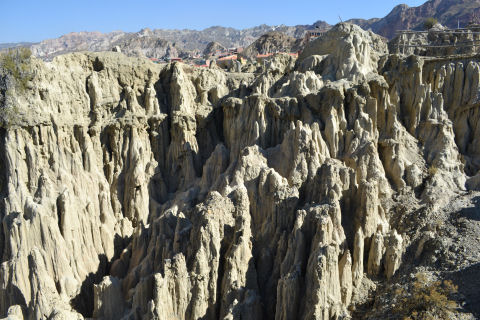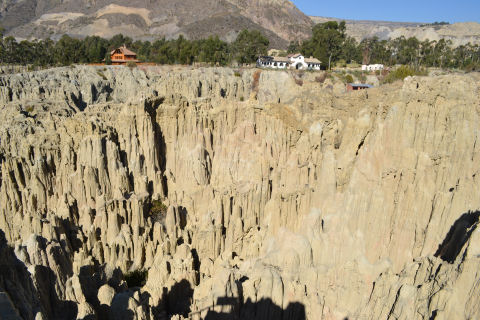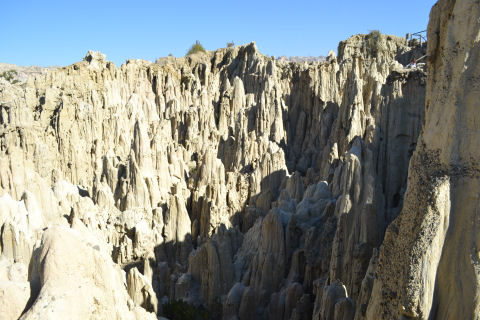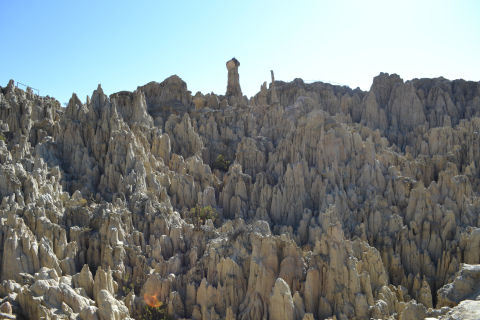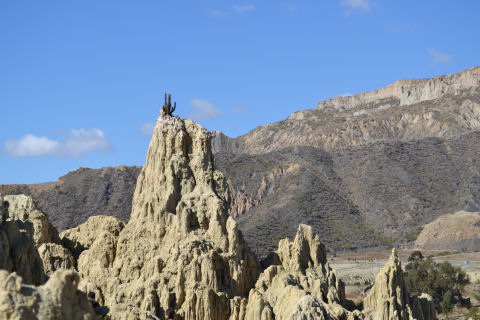 One of the reasons I hate package tours is that there are always logistical problems. I was ready, bright and early, at 8 am, showered, breakfasted, etc., for an 8:30 pickup. Which was a good thing, because they arrived at 8:05. Initially the guide grabbed me, and two young German men from the hotel next door and walked us down the block to the tour agency to set out. But then we waited half an hour for a group of two Swiss tourists and three Colombian tourists who had to be retrieved from their hotel, and then it turned out the driver had slept in and didn't show for another 15-20 minutes, and then we spent the next 45 minutes driving around the city to pick up a single German guy at one hotel and two folk from Barcelona from theirs, much of that time with the guide and driver trying to figure out where the hotels were, because they didn't know them. Finally underway, it was a mere 30 minutes to the valley. There, it was an easy wander for 45 minutes or so along the pathways, snapping photos. Stripped down to t-shirts in the blazing heat. The guide just sort of marched out ahead and we all straggled along, so we didn't get much of an explanation – other than an intro – these rock formations are the result of glacial and wind activity over the millenia. The guide told us that it had been open as a tourist attraction for just a bit over a decade, at which time it was designated La Valle de la Luna – I asked what it had been called before, perhaps a local indigenous name, she insisted it never had a name because until it was designated a tourist attraction, no one local cared about the place. I don't really believe her, but, whatever. Pretty to look at.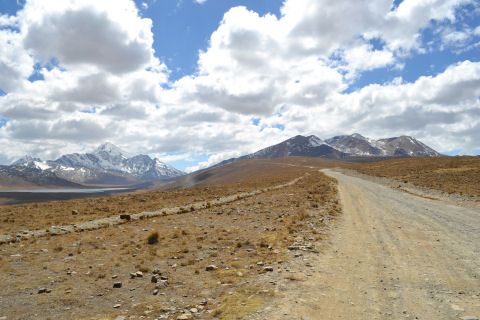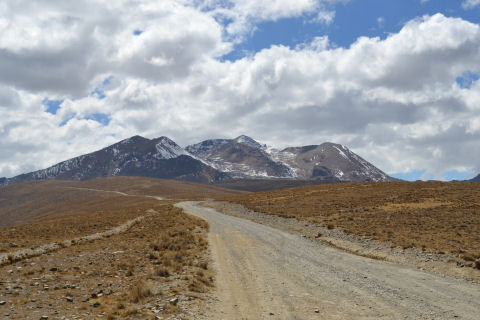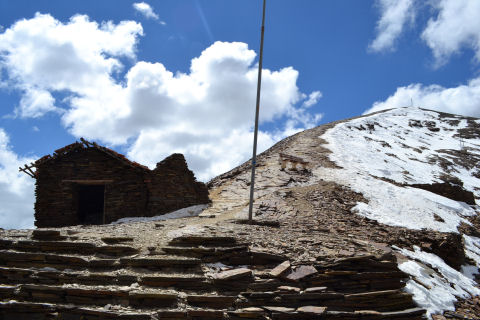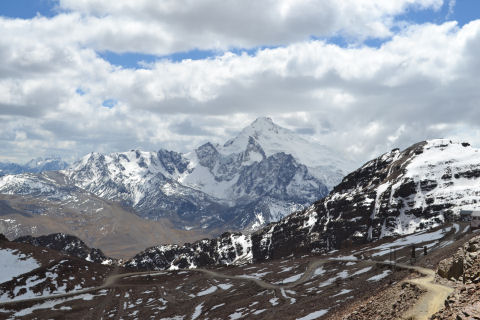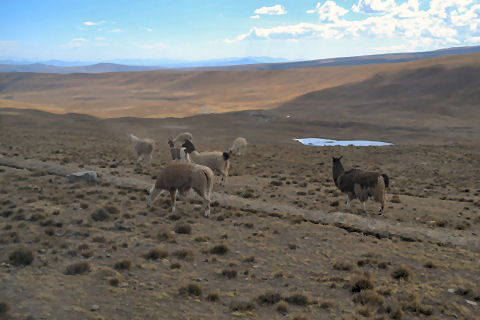 Chacaltaya is essentially just a couple of mountain peaks, there on the right. The further away, snow covered one on the left is the famous Potosi, where the silver mines were. Chacaltaya was famous until three years ago as the world's highest altitude ski slopes, but, climate change deniers, global warming has raised the temperature in the area sufficiently that it no longer gets enough snow, nor the type of snow, to maintain ski runs, so in 2010 the slopes were shutdown and it was turned into a tourist attraction. The second photo is a zoomed in photo of it, the third is what we encountered on arrival at the lodge. I should point out that most of the nine other people in the little mini-van were dressed for cold weather, and with hiking boots and such – though not everyone – the two Barcelona folk were quite fashionable, looking ready for an afternoon out on the plaza. Now, the hill in front of us starts out at a base at the lodge of 5300 meters altitude and goes up to 5420 at the peak, and with a slope that's about 45 degrees. And our guide said that behind that peak was another that went up to 5500. The two Barcelona folk and myself looked at each other and said, "no". The others, all in their 20s, clamored for the higher peak, and headed out, at a clip I wasn't even willing to tackle. I made it as far as that bench you can see (so I can estimate that I've been to about 5320 meters of altitude in my life, I have determined, however, that I'm more of a sea level kind of guy, beautiful as mountains are, I really just don't like the feeling of being at high altitudes), sat down and rested for 15 minutes, took some photos, went back down to the lodge and sat inside in the warmth for about half an hour until they kicked me out because they were closing up for the day, and then sat in the van chatting with the driver for another 45 minutes or so until the group returned (the Barcelona folk decided to give it a go and trudged after the group at their own pace, I considered it, but could barely breathe as it was, sitting there, so decided against it). We saw llamas on the side of the road.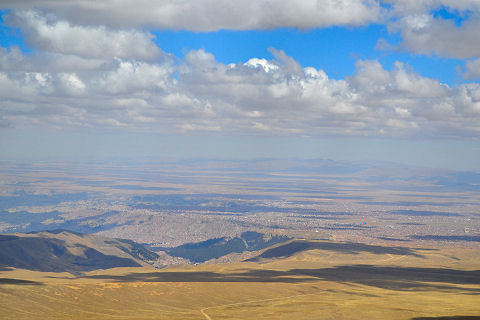 A different look at La Paz, from outside – you may have to squint a bit – but that flat plain to the right that essentially covers the whole area in the distance is El Alto – none of that existed in 2007. None of it. La Paz city is the bowl shaped depression to the left. Squint for perspective.
So, leaving La Paz this afternoon – headed out this morning to pick up a couple of souvenir type things. I think I'll finish off the city with two more posts, one on the food and one on just general impressions and scenes of daily life from my wanders.