A quick look back at last week's dinners – four of them, and with quite a few past guests returning to the table. We also had one night without power (2½ days actually, but only one dinner affected) – candlelit in both dining room and kitchen. Thank goodness for a gas stovetop and a couple of flashlights as well. Doubly thankful it wasn't an overly hot night and we didn't need the air conditioning.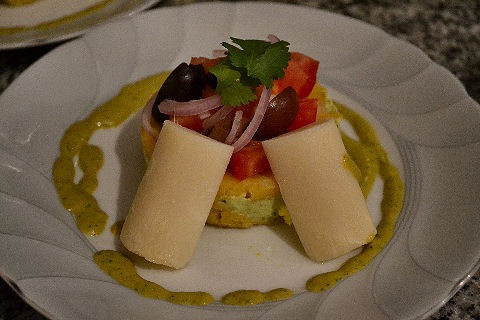 A heart of palm causa with a drizzle of ocopa sauce around it – the classic cheese, walnut, yellow chili and huacatay blend normally served over potatoes.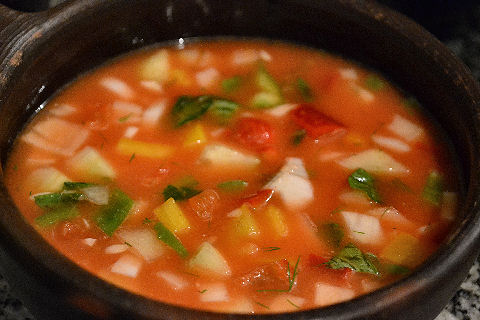 Watermelon gazpacho – a puree of watermelon, garlic, chili, red wine vinegar, olive oil, salt and pepper that's then stocked full of diced onion, various colored bell peppers and cucumber. Always a hot weather favorite.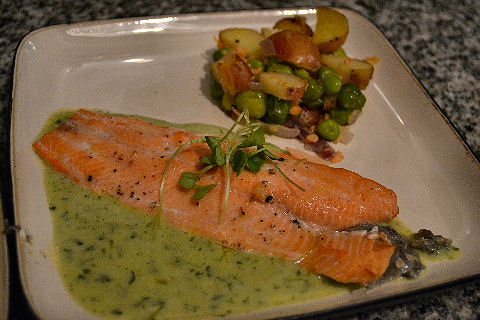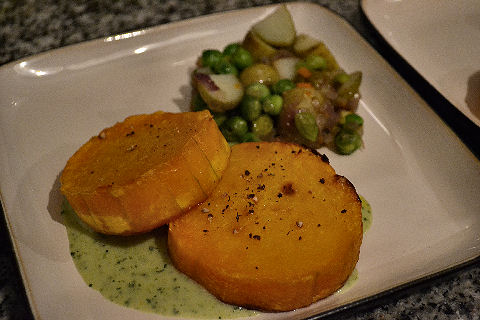 I still have never figured out why this sauce is called nieve andina, or Andean snow – snow's not green, not even in the Andes. Then again, I have this vague recollection that the herbs, cilantro and huacatay, are not traditionally blended into the thickened anchovy cream sauce but are scattered about on it. As always it pairs beautifully with oven baked trout and accompanied by a hash of Andean potatoes, peas, red onion, and smoked trout. A vegetarian version for a couple of guests – roasted squash, a portion of the sauce without the anchovies, and the hash without the trout.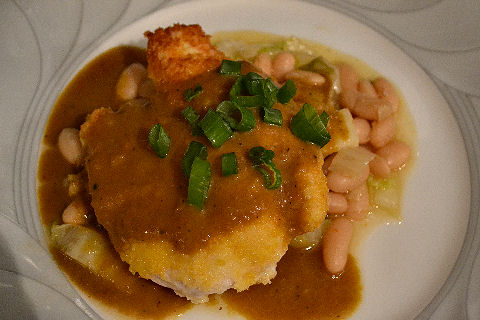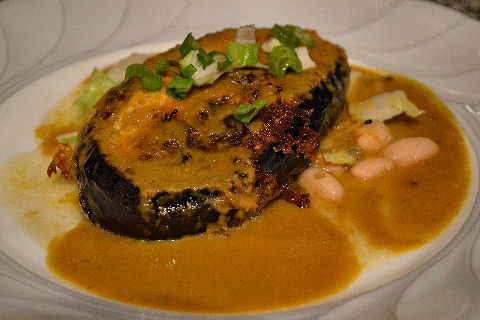 And, a relatively classic Chicken Curry Katsu – a mild carrot based curry sauce packed full of spices, the chicken (and an eggplant version for the vegie folk) breaded in panko crumbs and fried. Instead of the classic rice, served over our medley of white beans and chinese cabbage sauteed in brown butter, miso and shichimi.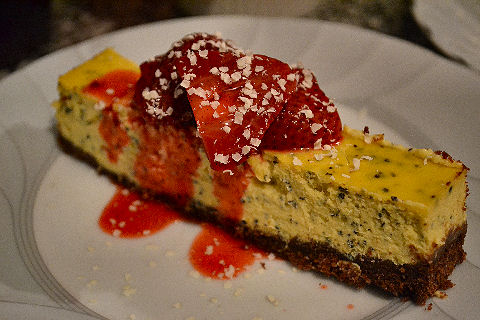 Finishing up with a passionfruit cheesecake, dark chocolate crust, vanilla roasted strawberries and a grating of white chocolate. Now that was an interesting one to cook on our powerless night – our oven is gas so I had to rig up a stove-top oven made out of a covered roasting pan. Fun all around.
On to another busy week. 'Tis the season and all that.