I'm always a bit wary of invited meals with the attached plan that I'll end up writing a great review, because, what happens if I don't like the place? I had that happen last year at the now closed and therefore no longer a concern Club V in Palermo where another food writer friend and I were subjected to what might have been the worst meal we've ever eaten in BA. Given that the only thing positive I could come up to say about the place was that their cocktails were vaguely drinkable, I simply gave them the option and they chose to ask me to let the whole idea of a review rest. So I'm glad to not have any such reservations in regard to today's review, an almost overwhelmingly positive experience.
When you've got three generations of family patriarchs, each named Carlos, it's not a far stretch to go for the contracted gentlemanly form for "Don Carlos" of Don Ca', or, as Carlos Santillan has decided to go for, Donca, as in Parrilla Donca, filling in the former Almanza space at Charcas 4799, corner of Godoy Cruz in Palermo. I was invited by him and his PR person for a solo lunch, which took a bit of time to organize between our various schedules, but finally came off last week. [Closed shortly after this review, unfortunately]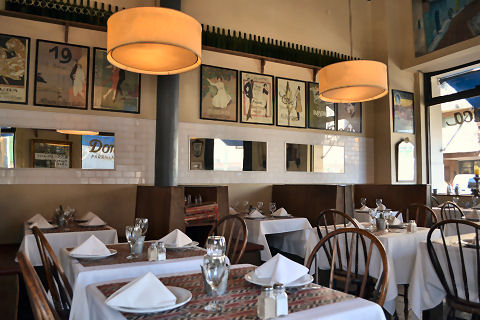 The decor hasn't changed drastically – in place of photos there are bistro-style prints. The white tablecloths are now topped with cloths that give a northern Argentine native flair, and the centerpiece on each table is a small (and, warning, spiny) cactus in a tin pail. Overall the room feels comfortable and familiar. Carlos himself greeted me, and at lunch, he also functions as the sole waiter in the restaurant – he admits that so far lunch business has been lacking, though dinners tend to be well booked. And that's a shame, because in many ways it's a more inviting place to sit and have a steak than the typical smoky parrilla – and for those whose Spanish isn't up to par, Carlos spent 20 years traveling and working in Europe and speaks fluent English, Italian and French. He's also a completely charming and gracious host.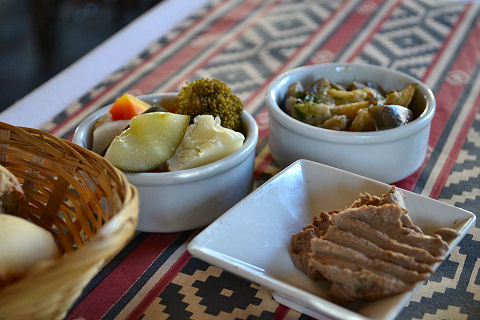 Along with the menu came a basket of bread and a trio of little starters – a delicious chicken liver pate, an escabeche of eggplant, and some pickled vegetables. Great, simple flavors, and a nice touch beyond the ubiquitous nothing that accompanies bread at most steakhouses here.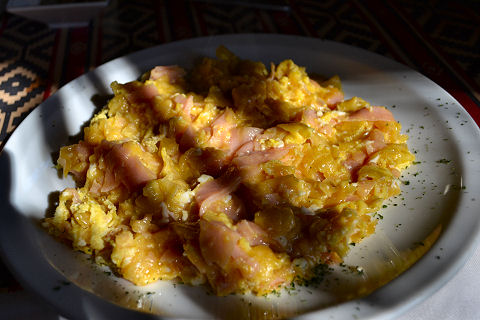 I couldn't resist trying the appetizer portion (which could easily have been a main course portion – consider it share-able) of
revuelto gramajo
,
a dish I've written about in the past
. Donca offers up both the gooey version and the more well-cooked version, he recommended the former and it was delicious – and a fine reintroduction to the dish as I've avoided even looking at one since that whole review series seven months back.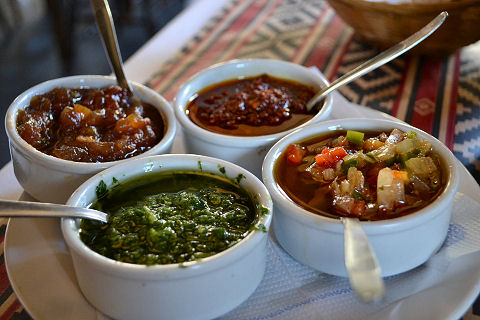 In preparation for the main course a selection of sauces came to the table – both red and green chimichurri, the former with a decided spicy kick to it, along with a fruit chutney that was, for me a bit too sweet, but still tasty, and, a nice little salsa criolla. After tasting them all a few minutes later with my steak, I stuck with the spicy red….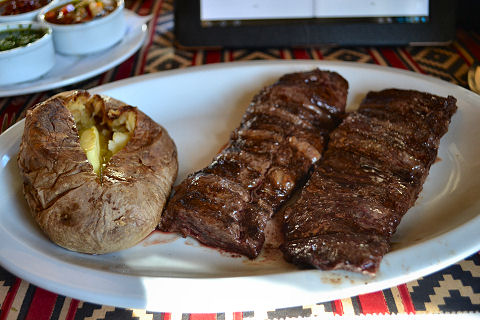 My favorite cut of steak tends to be the
entraña
, or skirt steak, and this one came out the asked for medium rare – perfectly cooked. It was also well seasoned with both salt and pepper – for those who want more, a pepper grinder is on the table, and for those for whom salt is a religion, Carlos offers a Lazy Susan of various types of salts from all over Argentina and other parts of the world, along with some different steak sauces and other condiments – you have to go up to the counter to range through the selection, but they're there. I found the steak sufficiently well seasoned that it needed nothing else – though I thought the Patagonian flake salt that he wanted me to try was amazing and I'll be picking some up – I did end up using that on my baked potato.
That potato was the one let-down in an otherwise delicious meal – even in great restaurants not everything is perfect. It's a rarity to see them offered in parrillas, and often when they are it's for an upcharge, so I was excited to see it on the menu as an option. Unfortunately it was far too over-cooked, to the point where the skin was leathery and the inside dried out and crumbly – not even the large lump of butter and the added flake salt could do much to rescue it.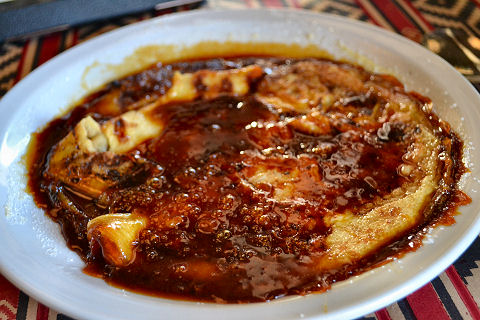 Full as I was, to be fair I had to give a dessert a try, and though I couldn't eat more than a few bites, the
panqueque de manzana
was sweet and gooey and everything it should be. Maybe a few more apples and less panqueque, but that's more personal taste. The caramel was dark and just verging on that lovely burnt flavor that a truly good caramel should have. A nicely made little espresso completed the meal and after thanking Carlos profusely and promising to return on my own dime, I waddled off into the streets – and walked home, followed by a solid hour at the gym, mostly just running off the calories.
Overall – charming and delightful service, comfortable ambiance. The food is classic parrilla, done really well – not as many options as some of the big spots have, but hey, it's a 30 seat restaurant. The wine list is likewise a bit limited, and I'd love to see more options, particularly beyond the usual Malbecs and Cabernets, but then, it is a steakhouse. Pricing is moderate, certainly less than some of the places I typically recommend to people like Don Julio and La Cabrera. And, to be honest, other than taking friends to those places to get a "true taste" of a classic local steakhouse, I'd rather sit in a comfortable room and feel taken care of – Donca moves onto my list as a "go to" spot for steaks here in town. Recommended.