Every now and again all that eating just sort of catches up, you know? It's why I'd probably never survive as a full-time restaurant reviewer. I have my limits. Yesterday started off just fine…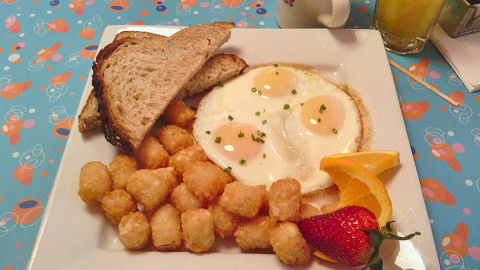 Let's just say that Big Daddy's, 239 Park Avenue South, doesn't seem to do much in the small portions world. I was waiting for an appointment and stopped in for a fried egg on toast and some coffee. Apparently this is what comes of that order – and it was pretty darned good, especially the tater tots – those rock.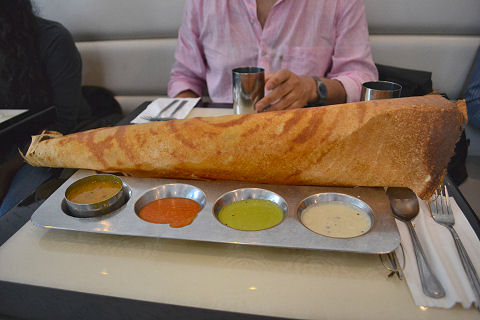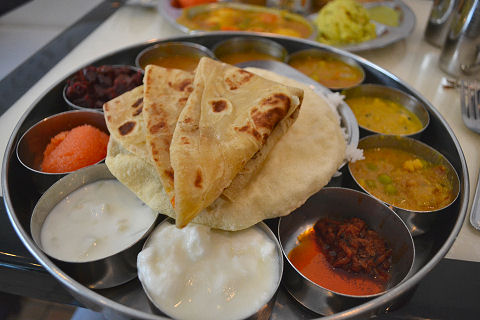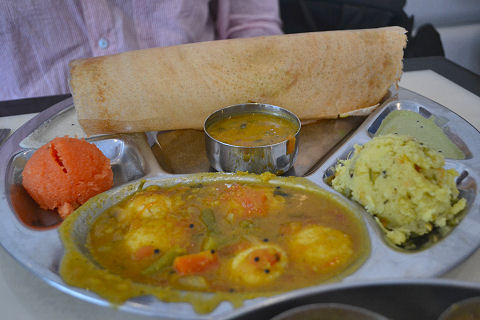 Around about lunchtime I was starting to feel a touch off, but made it to a lunch with a friend at the "South Indian Vegetarian Street Food" palace that is Saravannah Bhavan, 81 Lexington Avenue. I have to admit, not a cuisine I know at all – we started with a dosa, that rolled tube of a paper-thin pancake, served up with a quartet of dipping sauces. Then a thali – rice, papadam and chapathi, with ten different dipping sauces, from mild to spicy, yogurt to tomato to lentil. Some of them I loved, others I wasn't as enthused with – not sure if it was the way I was feeling or the food, but interesting enough to make a return visit one day. The third photo, a mini-tiffin – another dosa with different sauces. All of it good… I think, but by the time lunch was over I was needing a serious nap.
Unfortunately, it was not to be – first off my annual spice shopping at nearby Kalustyan's – and then some other quick errands, followed by a visit to the dojo where I only managed about an hour before I just needed to head out. Went back to the apartment, stopped at a diner where I picked up some plain chicken soup, a bottle of orange juice, drank them and then hit the sack until early this morning. Sometimes, enough is enough.