You might get the whole rest of the trip (so far) over the course of today. It's a rainy day – though at this point more just sprinkling, and I'd planned it as a museum day – but, I can't walk. Don't know what I did, but woke up with what I'd guess is a tendinitis of my ankle/foot and now have it elevated, wrapped and am taking some lovely painkillers. We'll see how the day goes. There's one museum in particular I really wanted to go to, and I'd actually gone by yesterday only to discover they only open a couple of days a week, late afternoon, today being one of them. I might just taxi my way over there, limp through the exhibits and then return to the hotel.
Picking up where I left off on my big walk two days ago, lunch under my belt, I explored the central plaza – which is really four separate adjoining plazas laid out in a square, each of them a "city block", though they're pretty short blocks, and each with a different name, though as a whole I gather is the Plaza de Armas. Two of them are little more than concrete, grass, bushes and trees, and a lot of folk sitting around eating sandwiches. A third is the Plaza de Democracia where there is a market of sorts – most of it looked like souvenirs and things like a place to buy batteries, film, etc. – apparently there's an open air market of some sort on some days, but no one seemed to know exactly when.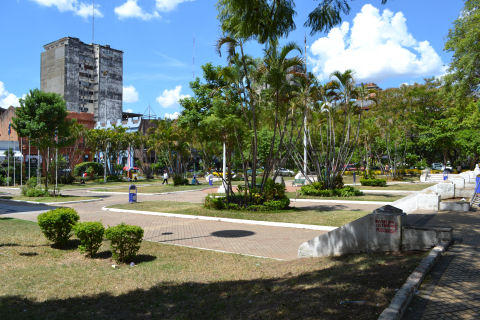 The fourth is the most interesting, the Plaza de los Heroes. Not because the plaza part itself is any different from the others, just sort of poorly maintained shrubbery and trees, but…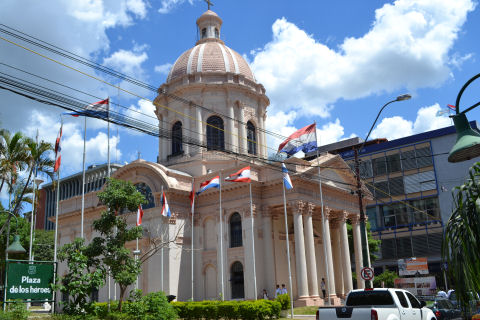 …for the Panteón de los Heroes, where several major historical figures are laid to rest. If the design looks familiar, it's a smaller scale copy of Les Invalides in Paris.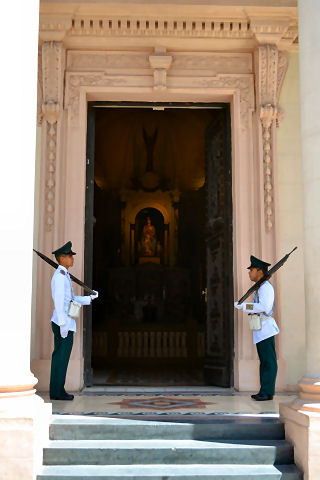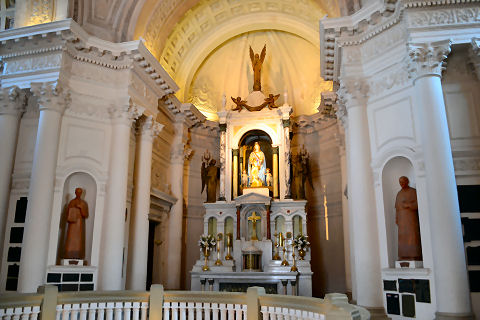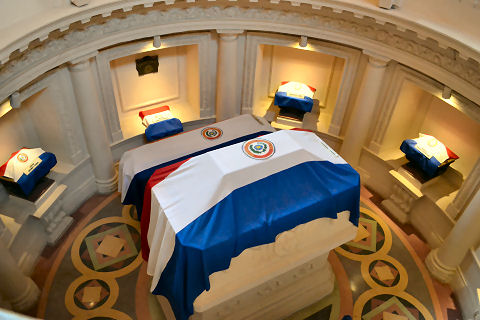 From there it was a short two block walk to the Plaza de la Independencía, which is more or less just the walkway leading up to the old Cabildo, or Town Hall, now a museum for a mix of indigenous art, local folk art, photography displays, harps and guitars (who knew how important they were to the culture, especially harps?) even a display of spinning tops from a children's competition last year for the bicentennial of Paraguay.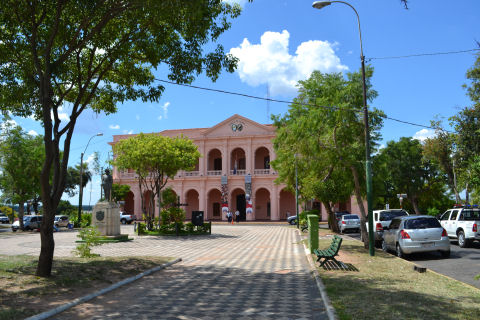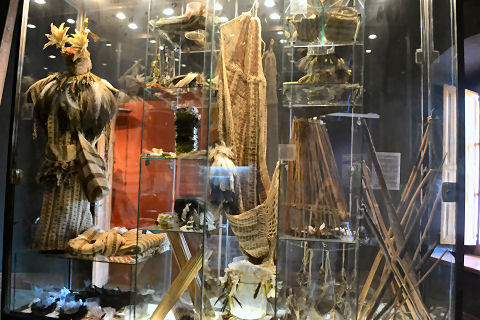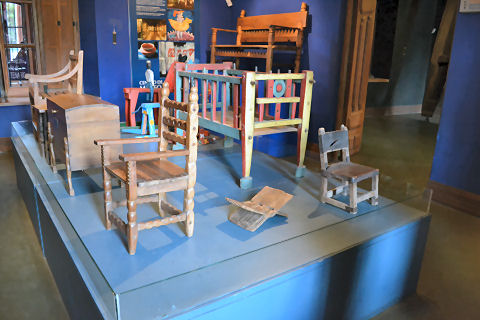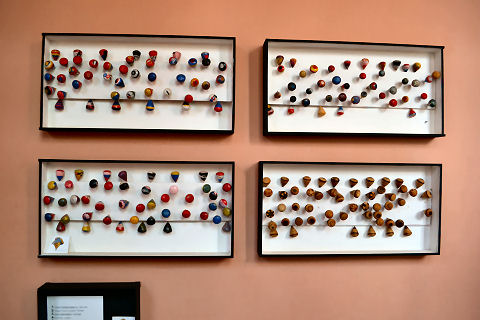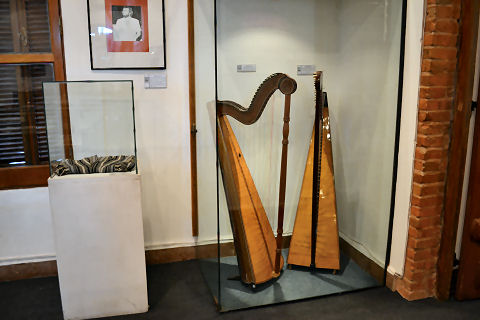 But, there's also a view from the rear and sides of the Cabildo.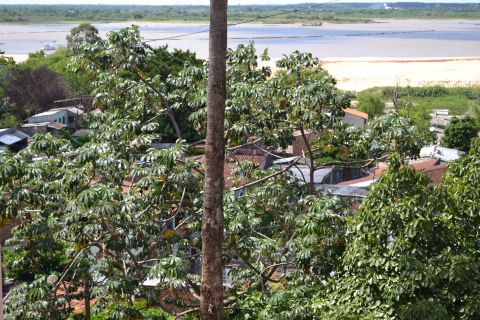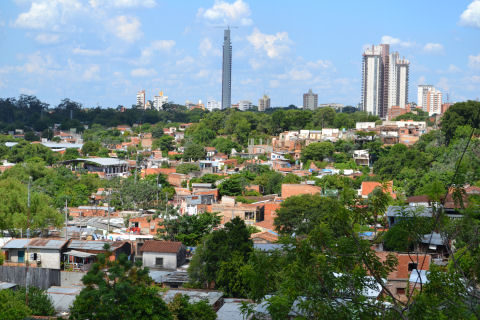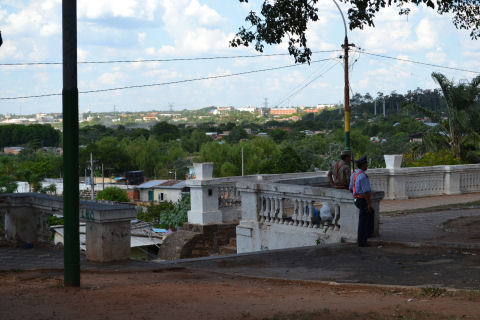 Asunción's only slum, or shanty-town, or villa misería or favela, whichever term you choose to use, La Chacarita is literally located below the cliff from the back of the government buildings that are perched atop it. Imagine, if you will, the construction of a 30,000 person shanty-town on the South Lawn and Rose Garden of the White House, it's literally that close.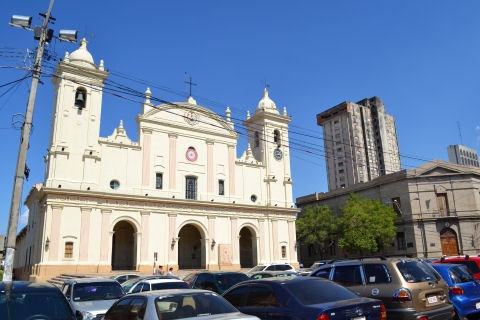 It surprises me that the Catedral Metropolitano is closed up. While I can see that the government isn't putting anything into the infrastructure of the downtown, let's face it, it's not like the Catholic Church has no money. But, the cathedral is closed and the plaza in front of it has been turned into a daytime parking lot where teens and 20-somethings from the villa will guard your car for a few bucks.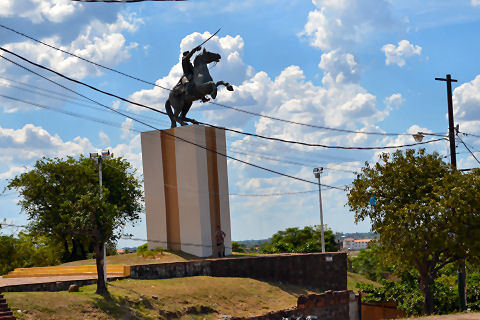 Next to the Cabildo is a monument to Solano López, whom I talked about in yesterday's post. It faces out over the barrio and the bay, and unfortunately you can't get a decent shot of it without going into the barrio, there's not enough space on the far side. The strip, by the way, from the cathedral to where we're headed, the palacio, is guarded by numerous federal policemen with automatic weapons – maybe every 15-20 meters, which I suppose contributes to why people say not to worry about any problems from the barrio, even though you're literally walking a few meters away from it.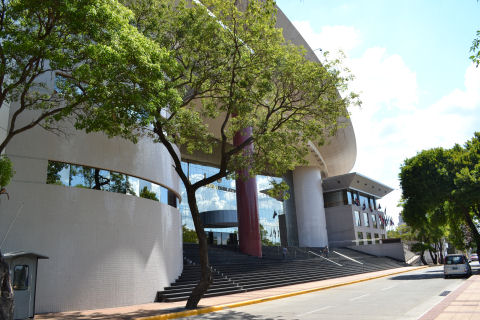 Is it that congresses everywhere give themselves all the perks? The only new, gleaming structure in the entire strip, the Palacio Legislativo (though the new part is just the facade and immediate building behind it, the rest of the congress, which stretches about two full blocks behind the facade is still the old, dilapidated building.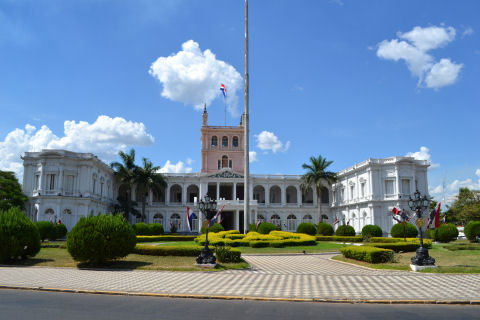 At the end of the strip, the Palacio de la Nación, originally Solano López' private residence. Entry can, apparently, be arranged with a week or two's advance notice for a private tour, but on the spot, expect to have armed guards move towards you rapidly if you step off the sidewalk onto the pathways or open grounds.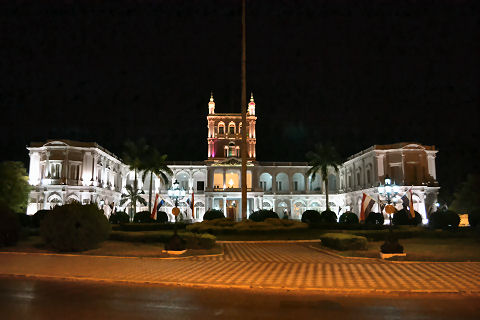 My dining companion and I returned later in the evening just to see it lit up. Quite beautiful. He says the insides are pretty much in a complete shambles and that all they do is maintain the exterior.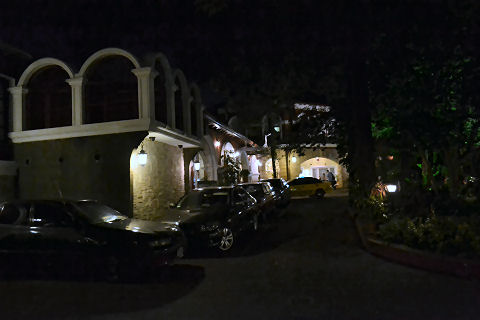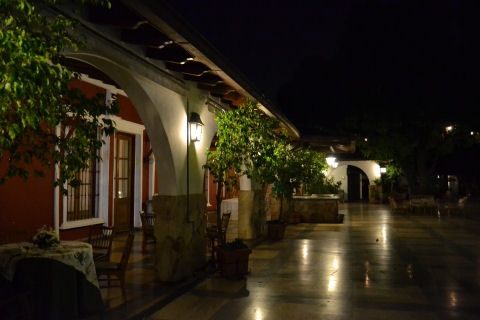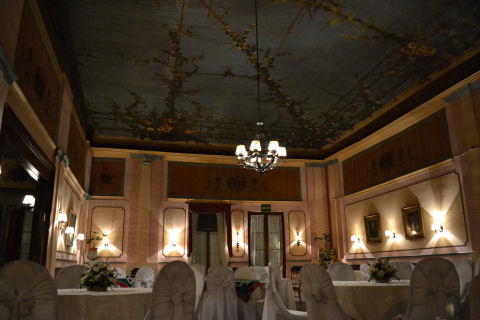 But first, we headed out for a cocktail at what used to be the Casa Lynch. You see, the most famous heroine of Paraguayan history was not the first lady of the nation, Solano López' wife, but his mistress, Elisa Lynch, whom he met while in Paris as a young man and who accompanied him back to Paraguay, where she lived out her life, often providing counsel, and taking care of entertaining dignitaries, tasks that López didn't trust to his spouse. He built her a pretty spectacular house, that is now the Gran Hotel Paraguay, where the rooms run from about $90 to $135 a night, expensive by local standards, but not by international ones.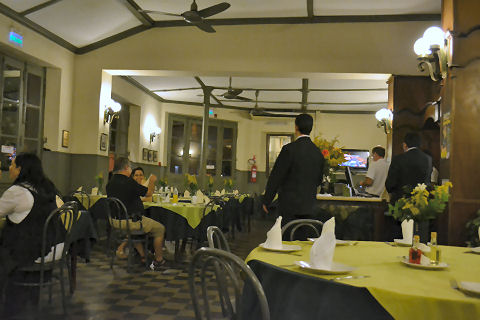 Now, it was a bit of a compromise on my part. My companion, who I had never met until that evening, is the friend of a friend, and he very graciously not only offered to go out with me for the evening, but also to arrange a bit of a tour of the areas outside of the city for tomorrow before I leave late afternoon, and even drive me to the airport. He works for the national airline and had prearranged a great seat on my flight so all was taken care of when I arrived – and while not his doing, I found myself sitting next to a young man of model good-looks who was flying for the first time ever and was alternately panicked and fascinated, sharing what he could see out the window (which required him leaning across me repeatedly… oh well). Anyway, back to dining, I had in mind another of the fancier spots with creative takes on Paraguayan cuisine – with only four nights here I wanted to pack them in, and I was saving the casual, traditional type spots for lunches. But, Bar San Roque was where he really, really wanted to show me, in the heart of downtown.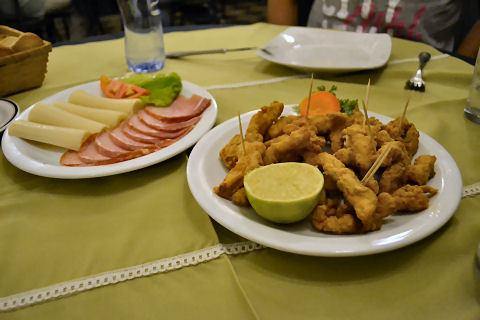 And so, we had appetizers of, for him, ham and palm hearts with salsa golf, and for me, some fried surubí with a sort of take on tartare sauce.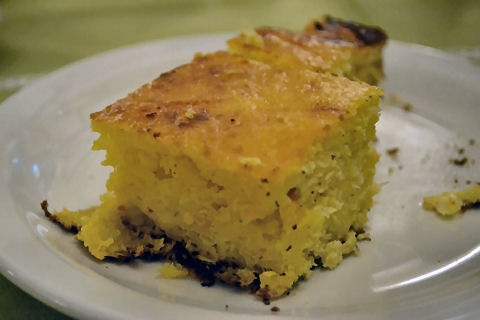 And then our waiter brought us (and everyone else) portions of chipa guazu tradicional – the differences get a bit confusing at moments, but let's see – sopa paraguaya is made from cornmeal porridge, onions and cheese, cooked down until thick, then mixed with eggs and baked to set it; chipa guazu, this one, is made the same way but from grated fresh corn – kind of like Argentina's humita, except then again, mixed with eggs and baked; and, the chipa so'o and other variations that I've seen and mentioned in my first post use a cornmeal crust to enclose their fillings. I think I got that right. More in a later post when I line some different snacks up side by side.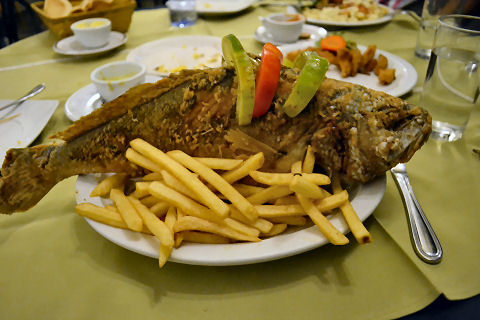 Bar San Roque offers up numerous preparations of the ubiquitous sururbí, but our waiter, a charming older gent who regaled us with stories of history and politics and food throughout the evening, insisted I try the freshwater corvina (a dish also recommended to me by one of the people who sent me a list of spots to try), a bass that's not overly common in the river – but one of the past presidents was so enamored of sea bass that he'd tried on various journeys to other places that he had the rivers stocked with imported freshwater bass. Our waiter asserted that it was at the peak of the season and shouldn't be missed, and took a little bit of time because it was a whole fish, though a small one – this is not a small one, this fish had to weigh in at a kilo, or 2 pounds. He also neglected to mention that the entire thing was deep-fried and served with not only a pile of french fries in front, but out of sight behind it, an equal sized pile of onion rings. I made it through half of the fish and a few of the onion rings, it was just too much food. My companion ordered a piece of chicken and some gnocchi with tomato sauce. Meh all around, but at least I've seen the place. Surprisingly, for just three plates of food and two bottles of water, the tab came in at 243,000pgy, $56, which for the quality makes it a pretty poor value.
We asked for the rest of the fish and fried stuff to be packaged up and Rodrigo asked that it be given to the kids guarding the cars on the street (including his), and the waiter said he would, but that they'd just refuse to eat it because it wasn't what they were used to and that the restaurant, at the end of every night, gives the kids all the leftover empanadas that weren't ordered that evening (and does the same after lunch service as well), so they are fed pretty well, if on a relatively boring diet.
Back to the hotel for a good night's sleep… on to the next day.