"Don't be dismayed by good-byes. A farewell is necessary before you can meet again. And meeting again, after moments or lifetimes, is certain for those who are friends."

– Richard Bach, author
Don't worry, I'm not going anywhere. 'Twas a private dinner for a young couple, he from the U.S., she from Argentina, just married the previous weekend in Mar del Plata, and their families. They'd all spent the week together touring around Buenos Aires and it was their last night together. They wanted a place where they could relax, talk, and enjoy good food. Thanks to them, they picked us. The only instructions – no raw meats or fish and keep the spicing relatively mild.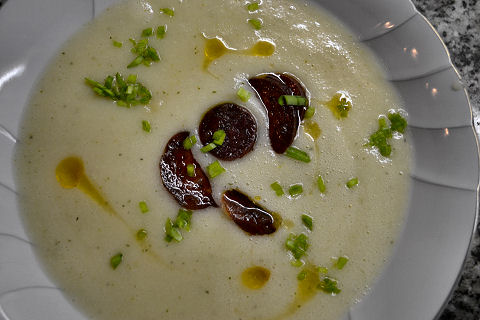 With the success of last weekend's cauliflower gazpacho with litchis and cashews, I had cauliflower on the mind. These things happen. Temperatures had dropped and I decided a warm version was in order, which to my thoughts knocked the litchis out of the picture. The soup, almost the same, though I cut back on the milk and mixed it half and half with the whey from making ricotta for the cheesecake at the end of the meal. Picked out a couple of different favorite cured sausages here – Fuet de Tandíl and a spicy Longaniza – sliced and sauteed and added to the soup bowls. Sesame oil, garlic chives. Yum.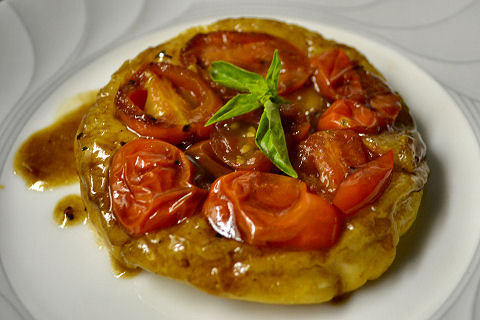 A cherry tomato tarte tatin with the tomatoes caramelized in butter, brown sugar, garlic, peperoncino, anchovy, basil, salt and black pepper.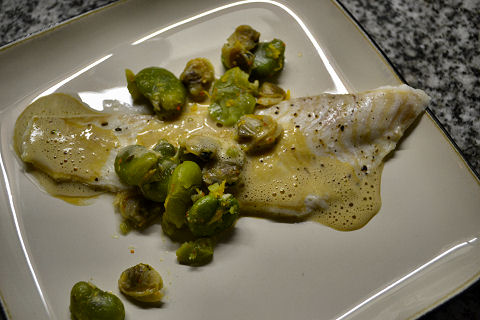 Brought back a fish dish hit from a few weeks back, sole with cockles, favas, and an orange-soy sabayon.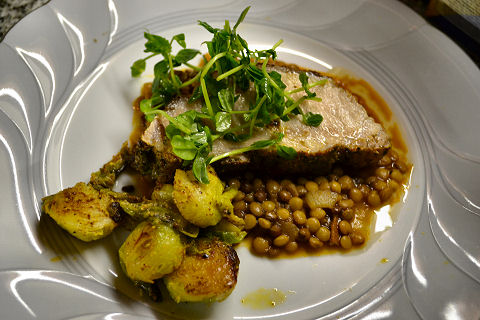 A combination of some elements from various dinners. A herb and spice rubbed pork loin (salt, black pepper, hot paprika, oregano, parsley, cumin, coriander), roasted to medium and served sliced over stewed lentils and accompanied by charred brussels sprouts tossed with stoneground mustard and some fresh pea shoots.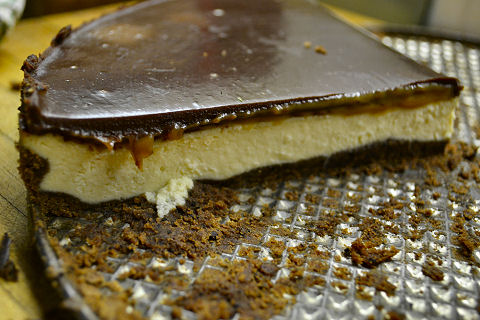 It really is seeming hard to beat the "Milky Way" cheesecake with its malted cocoa crust, vanilla ricotta filling, dulce de leche and dark chocolate ganache. Does one need to beat it?
Several requests for the lentils recipe, one I've used a few times (quote from one of the guests – "My mother makes lentils that are amazing and these are better than hers – I'm not telling her"):

Soak 500 gm (1 lb) lentils in cold water for a few hours.

Saute 150 gm (5 oz) smoked bacon in a splash of olive oil and a knob of butter. Add 1 large onion and 2 stalks of celery, coarsely chopped and cook until the vegetables are softened.

Drain the lentils and add them to the pot, 280 gm tomato puree (10 oz), 1.5 liters (or quarts) stock (pork, chicken, vegetable… your choice, I used pork, it reinforces the bacon flavoring), and 30ml (2 tablespoons) of balsamic vinegar. Stir well, cover the pot and bring to a simmer. Turn the heat down to low and cook for approximately 1 hour.

These are really good accompanied by a couple of grilled Italian sausages…. As a side dish, this makes a lot – like enough for a dozen people. As a main dish, perhaps with the aforementioned sausage, figure dinner for six. For a vegetarian version leave out the bacon, add in 150 gm (5 oz) of mushrooms at the beginning and at the point where you add in the lentils add a teaspoon of liquid smoke flavoring.

How simple is that?