"This is a moment to seize. The kaleidoscope has been shaken, the pieces are in flux, soon they will settle again. Before they do, let us re-order this world around us."

– Tony Blair, UK Prime Minister
If you're not connected to me via our Facebook page or Twitter feed, it's quite possible you didn't read about the changes we've made here at Casa S over the last couple of weeks. First off, after much deliberation, we've decided to eliminate the small table from the equation and only serve at the main table, except when someone asks for the small one (which happens a couple of times a month, a group of 3 or 4 who don't mind mingling at the beginning of the eve, but want to talk amongst themselves over dinner). It's in response to what I would say is the number one negative feedback we've gotten over time – the feeling that some people have that they've been relegated to the "kid's table". It's not an easy decision on a business basis, essentially, even with fitting in two extra seats at the big table to handle ten folk, it means we've just dropped our income by one sixth, and people often forget that this is our main work, while we have fun, it also is a business. The counter to that is that we'll now be scheduling ourselves to be open three nights a week (sometimes four), generally alternating either Thursday to Saturday or Friday to Sunday, depending on what's going on in our lives.
The other thing, in general, no more themes. In fact, no more menus. What you'll see on the website now is a listing of four key flavors that will be used in each dish (and, of course, they may be subject to some change due to availability or some other factor – e.g., guests who are allergic to an ingredient), but what that dish will be is going to be left a mystery until guests arrive. We've done it the last two weekends without getting any objections, and in fact, it's been a fun approach for all involved I think. I'm going to stick with it for a bit and see how it goes….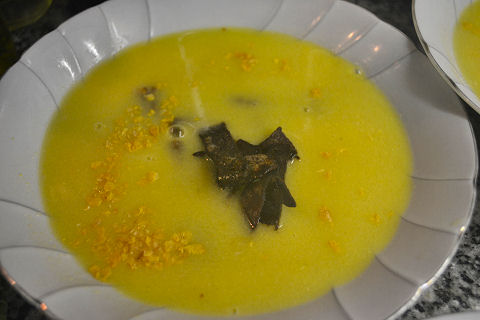 One of the other things I think you'll see is more "evolutionary" dishes, in the sense that I'm going to go back and pull particularly favorite dishes from past menus, that fit in with whatever I'm planning, and tweak them, hopefully to improve them – gee, kind of like a real restaurant or something. So what was posted on the website for our first course was simply: Corn / Coconut / Fig / Bresaola. Now, what I went back to was our recent Basque Modern menu and the corn and coconut soup (our bread for the evening was also the Basque Sheepherders' Bread from that dinner, though in the form of individual rolls rather than loaves). I wanted to spike it up a bit, so in addition to the onion and corn in the base I added in a yellow rocoto pepper, and added flaked coconut and used coconut oil as the sauteing fat just to emphasize the flavor a bit more. The change to Bresaola from Serrano ham was based on a couple of guests who asked for no pork, and in the end, when I couldn't find good Bresaola, I went with venison bacon. The figs were cooked down in Port instead of Moscato which gave them a slightly richer flavor as well. All in all, I liked all the tweaks but the meat – Serrano ham really does work better.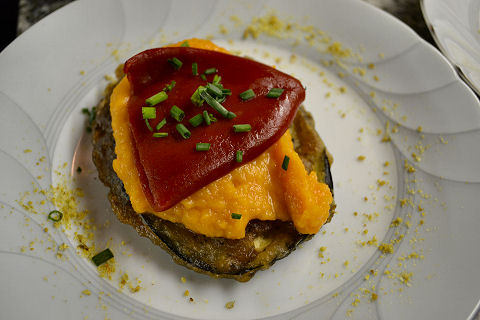 This one is a dish I've brought out a couple of times in the past, a Tian of Eggplant, Squash and Piquillo. I'm particularly fond of it. On the menu it was listed simply as Eggplant / Squash / Piquillo / Pecorino. The base is a slice of eggplant marinated in marjoram and then dipped in beer batter and fried, topped with a squash puree finished with a touch of butter and some cheese – I was going to go with the Pecorino but then happened to spot in the cheese shop that they'd just gotten in some Raclette, which is a favorite cheese for something like this, and it definitely added to the flavors. And, atop, a fire-roasted piquillo pepper in olive oil, and then a scattering of pumpkin seed salt around the plate.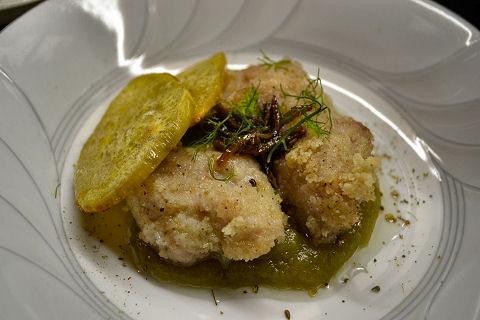 Sweetbread / Fennel / Sweet Potato / Honey – hearkened back to a dish I've done several times in different iterations. It was inspired, and more or less re-created, from a dish I had at a local restaurant. Sweetbreads coated in spiced flour (coriander, fennel, black pepper and salt), crisped up and served over a sort of hash of fennel and sweet potato with a touch of ginger, cooked in a syrup of honey with the same spices. This new version, keeping the same flavors, is a step forward, but it still needs more work. Following up on the use of black fennel puree that I've made a couple of times recently, I went with a more straightforward green fennel puree sweetened with honey (rather than the molasses in the black), and spiced with the above spice mix. The sweetbreads more or less the same except using cornstarch rather than flour for the coating. The sweet potatoes peeled and cut in slices, coated in duck fat and baked – they need to be a little crisper. To bring in the ginger flavor I caramelized threads of ginger in soy, mirin and sugar. A dish on the way to where I want it, but not quite there.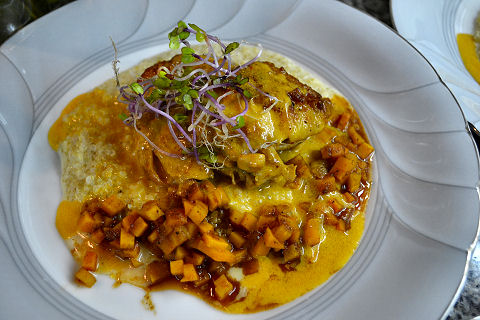 Chicken / Vinegar / Carrot / Quinua – There's a classic French dish that was all the rage in Lyon in the '60s, Poulet au Vinaigre, that I was reminded of reading through Pierre Gagnaire's Reinventing French Cuisine, a book I just finished going through last week (and expect a few more inspirations down the line). In its simplest form it is pieces of chicken browned in butter, then glazed in vinegar, and finished in a sauce of wine, garlic, mustard and tomato paste. There's not much getting fancy with the chicken itself, it's a winner on its own – you brown the chicken (I used thighs) on both sides over high heat in a mix of butter and olive oil with a couple of whole cloves of garlic tossed in. When it's lightly golden you start adding vinegar – I used a mix of red wine and rice vinegars, a couple of tablespoons at a time – then you continue cooking over high heat until it evaporates and glazes that side of the chicken, maybe 2-3 minutes. Then flip the pieces, add another dose of vinegar and repeat – in total four or five times until you've got a shiny, deep golden glaze on all sides. At that point I added a mix of white wine, tomato paste and smoked hot mustard to the pans, turned the heat down low and covered them (best at this point if the skin side is up on the chicken pieces) and let it cook about another ten minutes to finish cooking through. Remove the pieces, set aside, strain the sauce into a small saucepan over medium heat and gradually whisk in a little bit of cream just to smooth it out. Adjust salt and pepper and you're as golden as the chicken! I served this over a quinua polenta, with carrots that have been cooked down in garam masala and homemade tomato ketchup (you can use commercial ketchup, it's still a delicious way to serve carrots), and some radish sprouts over the top. It looks a bit of a mess, but it's really delicious!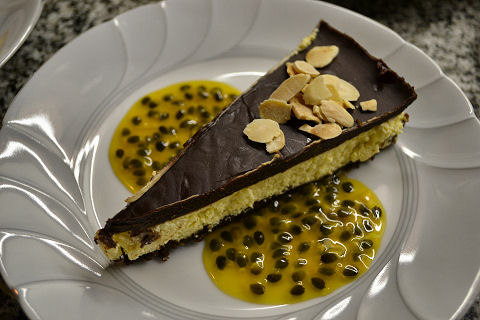 Finally, we came to Passionfruit / Ricotta / Almond / Chocolate – and one of our favorite cheesecakes made with homemade ricotta flavored with passionfruit puree, a splash of lemon juice and a touch of almond extract. The base is a chocolate cookie crust, there's a dark chocolate ganache on top, some toasted almonds, and simple sauce of fresh passionfruit pulp and seeds just quickly cooked with honey and sugar and then chilled.
Overall, great fun had by, I think, pretty much everyone!