"We are, in truth, more than half of what we are by imitation."

– Lord Chesterfield, British statesman
There was a bit of a flutter through the local community about two months ago when a gleaming new lunch spot opened up along Corrientes, at 1743, just off Callao, proclaiming, it was said, to be a branch of La Pasiva, the arguably best chivito uruguayo spot in Colonia… way across the river. Then, suddenly, there was a flurry of interchange that no, indeed, it was not a branch, but merely a copycat, and that there were lawsuits in the offing. Either way, the promise of the fabled sandwich a mere dozen blocks from home was a lure, and finally, I made my way and found a table… not a hard thing given that there are probably 100+ seats in the place and maybe 6 of them were filled at full-on lunch hour. Not promising.
It is indeed gleaming, with most of the right hand wall of the deep, narrow space taken up by polished stainless steel counters and backdrops to the open grill and bar. There's a hostess of sorts at the door, though she does nothing more than open the door for you, if she's paying attention, smiling, and waving an arm at the room – yeah, I saw it already. At that point you're left on your own (not atypical here, where seating is pretty much wherever you want at many places). The waiters are bustling about, loud and abrupt, I'm not sure what all the bustling was about, there weren't enough customers to warrant it, but they were indeed scurrying to and fro and shouting things to the kitchen. They could eliminate the waiters, I think… since it seems that they just come to your table, which already has a menu on it, and then they shout your order to the kitchen from tableside – I could have done that myself. All you'd need would be a person to bring the plate… or maybe just have a window to pick it up at….
The menu is similar, but not the same as La Pasiva in Colonia, and there's nothing, anywhere on it, nor in the restaurant, that indicates a tie to the place. There are a couple of chivito versions available – on bread or on plate, classic or canadiense, beef or chicken. That's it. Some pizzas, and the rest is typical local BA lunch fare. I ordered the canadiense, fully loaded, as a sandwich… so how did it stack up? Let's compare photos (slightly unfair as the one from Colonia is the two sandwich plate – but just ignore the one in the background and concentrate on the sandwich itself.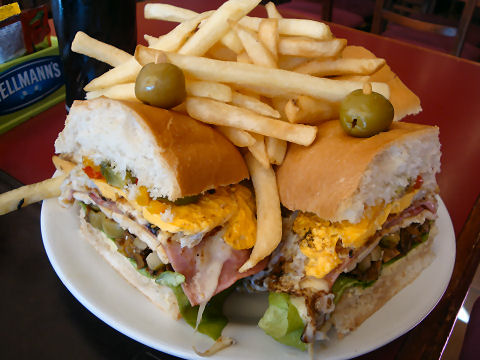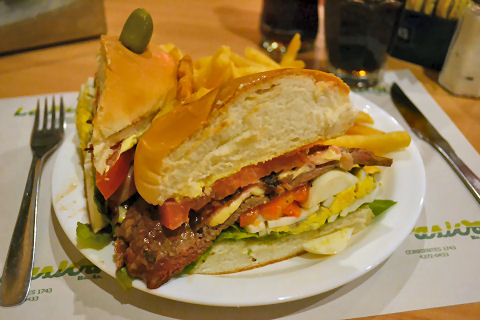 The bread is similar, though I'd say the BA version is a little softer of a bun, still, not all that different. The steaks, both good, the BA one cooked more medium versus the Colonia well-done, though the BA one completely unseasoned (in fact, the waiter brought salt and pepper to the table, announcing that "we don't salt anything"). Where they start to differ is the various things piled atop. The Colonia one starts with the beef and tops it with a soft fried egg, crispy bacon, ham, lettuce, tomato, cheese, pickles, olives and mushrooms. The BA version has an overcooked, hard-boiled egg, soft cooked bacon, lettuce, tomato, cheese, mayonnaise and a single olive atop one half, and isn't quite as, well, stacked. With the addition of salt and pepper, the BA one isn't bad, but the texture of both the egg and bacon was just not my thing for a sandwich of this type. I wanted that crunch from the latter, and the gooeyness of the former. The question is if you could ask for it that way and get it. The fries – crisper and thinner in BA, but both good.
Either way, while an acceptable version, the BA La Pasiva wouldn't win any awards and certainly isn't mistakable for the original if you've ever been there or tried their chivito. It's also, surprisingly, more expensive than the Colonia spot, coming in at 54 pesos for a sandwich versus Colonia's 44 peso equivalent (200 uruguayos), usually BA eateries are less costly. And both are in the heart of commercial districts on main avenues. You'll get a far better version over at La Perlita near to the Once train station.