"No one would have doubted his ability to reign had he never been emperor."

– Gaius Cornelius Tacitus, senator and historian of the Roman Empire
A quickie post before hitting the streets to see what the city holds in store for me today. Had headed up to Corrientes to see if the new La Pasiva chivito uruguayo spot, which according to various news sources has no real relation to my favorite chain in Colonia, just a stolen name, only to arrive and find that they had no power in the place and weren't serving lunch. Disappointed, wandered down Montevideo and stumbled across a new little pizza shop, Los Emperadores de la Pizza, at number 372. It's a cute little place, with a comic mural that's worth the trip as it traces the history of the disappearance of the Roman emperors and asserts that they could be found together, eating pizza at… you guessed it. [Closed]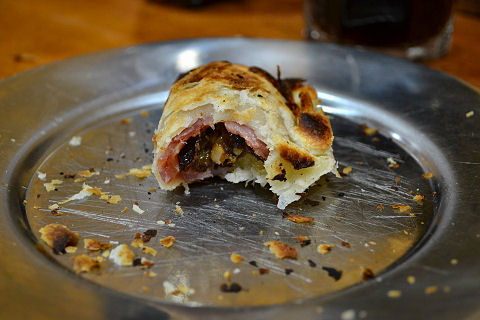 The place is designed primarily for takeout or standup eating – with a high center counter and no seating, though along the walls there are some bolted in bar stools that line the small side counters – not overly comfortable ones, it's almost more comfie to stand. While I waited for a medium pizza (no smalls available, just 6 and 8 slice "mediana" and "grande" versions and a few basic combos by the slice), I nibbled on one of their empanadas. One of my favorite combinations which just doesn't pop up that often is the panceta and plum, and this was one of the better versions I've had, with plenty of each, plus some gooey mozzarella (different – usually this combination comes with ricotta). Light, flaky crust, nice char, delicious.
The size of the pizzas reminds me of a visit to some place that I don't recall where here. It's a de facto standard, if not an actual regulation (which it could be for all I know) that pizzas come in three sizes – chica – 4 slice, mediana – 6 slice, and grande – 8 slice. Period. There are plenty of exceptions to prove the rule, but you can generally find these numbers to be true. The actual diameter of the pizza doesn't seem to be the operative factor. I've had 4 slice chicas that were the size of a bread and butter plate and I've had others that were enough for an entire meal, and similar differences in the other two. Back to this place that we went to, we ordered up a couple of medianas, but there were four of us, so we asked if instead of cutting the medianas in 6, they could cut them each in 8, that way we could each have two slices of each pizza. The response was, "we'd have to charge you for a grande, because it's in 8 slices." I don't even have to repeat the rest of that part of the back and forth, you can imagine it for yourself. We did give a stab at, "how about just cutting each in 4 slices then and charging us for two chica pizzas?" Somehow or other, that one didn't compute the same way and they simply refused and ironically accused us of trying to cheat them… as I recall we ended up asking them to just leave them unsliced and bring us a knife….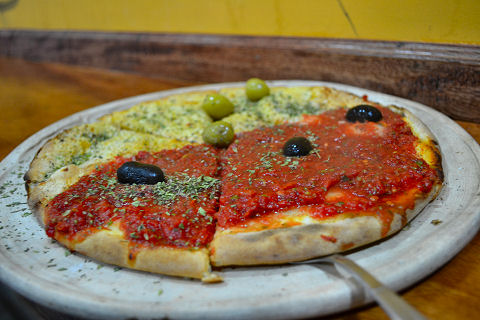 The main thing that many of us expats complain about in regard to pizza is the
overwhelming quantity of cheese on them
. It's the local style. My way around it is to either insist on "half the amount of cheese" (which usually requires telling them that I'm somewhat lactose intolerant as it seems to be the only reason they'll believe for wanting less cheese), or, to eschew the mozzarella altogether and go for something like provolone, which they never put on in quantity – too salty and too expensive. The other thing is the lack of a good, zesty sauce – most pizzerias seem to use a fresh, but not overly seasoned, tomato sauce – with the exception of places that offer a
pizza canchera
, or as this place calls it,
especial de cancha
. It's a cheese-less style, generally with a generous amount of tomato sauce that's then scattered with herbs and garlic. The name, as was explained to me by a local reader after I
first discovered the style
comes from the ambient temperature pizzas that used to be sold more or less tailgate fashion outside the futból stadiums. As a guess, the mass quantities of congealed cheese of classic mozzarella pie just didn't go over well cold and outdoors. What I've taken to doing is ordering half and half at such places, so that I get the extra sauce and the extra zest, and then either a half provolone or minimal cheese. Then, well, I stack them – the cheese slice usually on the bottom and the canchera atop (so that the sauce doesn't get squished out all over) – and that, for me, comes out just perfect. Los Emperadores version was excellent – the crust thin and beautifully charred, the sauce one of the better ones I've had in town – I didn't leave a crumb behind.
All in all, a pleasant serendipitous find for the afternoon.