"Part of the joy of dancing is conversation. Trouble is, some men can't talk and dance at the same time."

– Ginger Rogers, Dancer and Actress
Another longtime favorite of the cinema would have reached her 100th birthday had she not soft-shoed off this planet 16 years ago – Ginger Rogers, dancer and actress. And, there was no way I was going to pass up celebrating her centennial here at the Casa. And, a bit of help was on the way in the form of a cookbook, Favorite Foods of Famous Stars, published in 1934, with a menu lined up for the lady herself: Tomato Ice, Baked Veal Birds, Parsley Buttered Potatoes, Broccoli with Hollandaise Sauce, Hot Rolls and Butter, Cranberry Matchstick Ring, Date Butterscotch Pudding, and Coffee. She also listed off her favorite midnight snack of: Late Supper Salad, Peanut Parsley Sandwich, and Grape Mint Punch. Plenty to work with, no?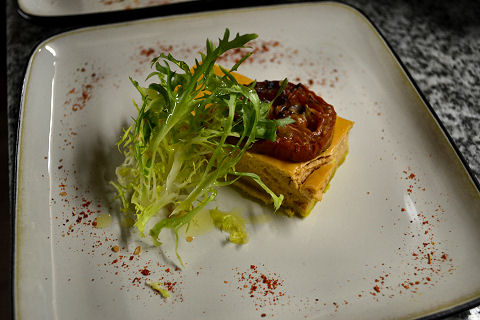 That tomato ice quickly morphed into a completely different tomato dish. A smoked tomato cheesecake over a spiced shortbread crust, oven roasted tomato slices, a little dusting of cayenne pepper and pink sea salt, some frisee dressed in olive oil.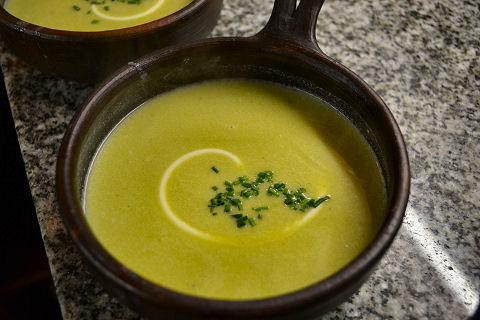 The broccoli with hollandaise became our soup of the evening. Freshly made white chicken stock, blanched and shocked broccoli (including stems), lemon peel, potato, all simmered together until the vegetables were soft. Pureed with just a splash of cream, coarsely strained, seasoned with salt, white pepper and lemon juice. Drizzled with sour cream and chives.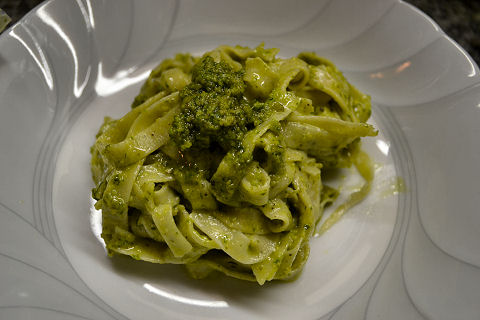 I have to admit, the idea of a peanut and parsley sandwich threw me for a few moments. Actually, I'm still trying to envision it. I wonder if it was peanut butter and parsley? Even that sounds odd, but at least more logistically feasible. Either way, on my end, black pepper semolina fettucine, delicate and just barely cooked, tossed with a pesto of parsley, roasted peanuts, pepato cheese (black pepper-pecorino), shichimi powder, olive oil and salt.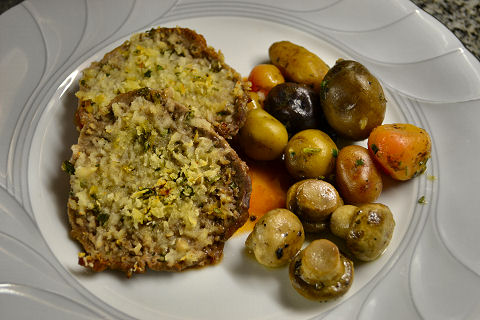 Veal birds are more or less what here are known as niños envueltos, or in Italy a twist on braccioline – essentially veal scallops rolled up around whatever filling one chooses – usually something with breadcrumbs and herbs and beaten egg. Here, left unrolled, and with a crust of panko crumbs, parsley, lemon peel, capers, salt and pepper, then broiled quickly in the oven to crisp up the top a bit. Served over a simple, fresh tomato sauce of slow cooked carrots and onions with star anise and peperoncino, then red wine added and cooked off, and finally crushed plum tomatoes, simmered down – at this angle you can't really see the sauce. Accompanying, Andean potatoes and mushrooms sauteed in butter and olive oil with a mix of herbs – thyme, oregano, rosemary, parsley and chives – salt and pepper.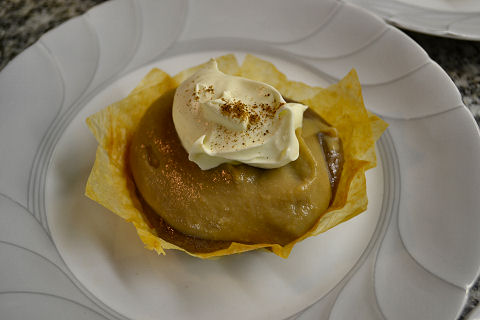 And, a phyllo tartlet with a date puree, topped with dark butterscotch pudding (thank you David Lebovitz – only difference, after trying it out, I used half dark and half light brown sugar because with all dark, it kind of came out looking like something a cow plopped), some whipped cream and cinnamon. Simple and delicious!
Happy 100th Ginger!