Turkey Jackson: I can't go on! No food, no water. It's all my fault. We're done for! It's got me. I can't stand it! No food, nothing! No food, no water! No food!
Jeff Peters: What's the matter with you, anyway? There's New York. We'll be picked up in a few minutes.
Turkey Jackson: You had to open your big mouth and ruin the only good scene I got in the picture. I might have won the Academy Award!

– from Road to Morocco (1942)
Among our various themes, independence days, liberty days, national days, etc., are pretty much the tame ones. They do, however, give me an opportunity to explore different cuisines in my kitchen, play around with them and come up with, hopefully, some fun and flavorful menus. It's been 3½ years since we last had a Casa SaltShaker dinner that fell on independence day for Morocco, so it seemed about time to give it another go. It's also interesting to me to look back at that menu and see how far (at least in my view), we've come in terms of style and what we offer.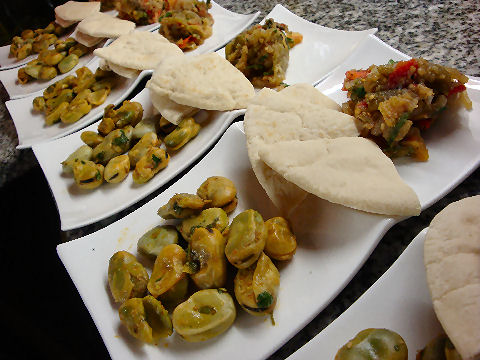 We started off with a couple of tasty salads. Fresh fava beans, that had been nestled comfortably in their pods in the morning, found themselves plunged into boiling water to just cook through, then drained, and sauteed in preserved lemon oil (more in a moment) along with garlic, cumin and sweet paprika, and finally, finished with a bit of fresh lemon juice and chopped cilantro. On the other side of freshly made pita bread, what turned out to be my favorite part of the evening (well, maybe the main course…), a salad of charred eggplant and green peppers mixed with a sauteed mixture of onions, garlic, tomatoes, red chili peppers, tomato paste, ginger, turmeric, cumin, salt, pepper and parsley – a sort of combo play of two salads called zaaluk and taktouka.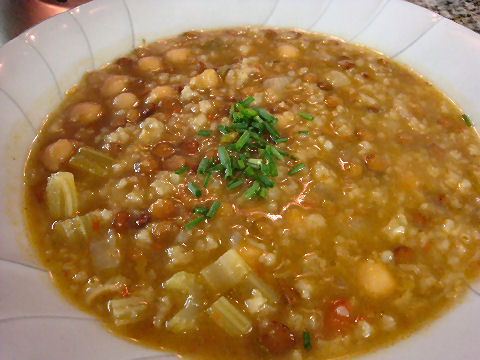 A different take on a chickpea soup from our first go-round. Here, I sauteed red onions in a little oil. Then added chopped celery, lentils and just made, simmering away beef stock. Into that, a pureed mixture of fresh tomatoes, cilantro, parsley, turmeric and ginger. Let that cook until the lentils were nearly done, then added in a small amount of rice and a large amount of soaked chickpeas. Cooked until they were done, then finished with fresh lemon juice, salt and pepper.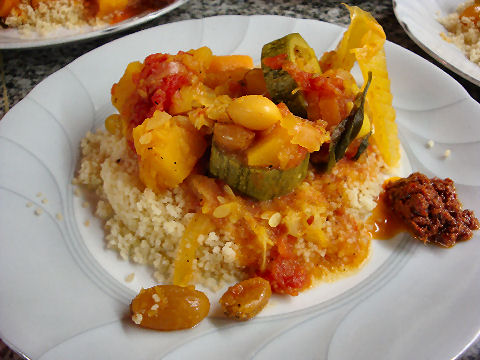 We couldn't have a Moroccan dinner without a couscous dish of some sort. Here, a relatively traditional "seven vegetable" version. The stew atop – 4 cloves of garlic, 1 large yellow onion, a carrot, a couple of fennel bulbs, all sliced, half a cup of golden raisins, a 1″ knob of ginger, finely shredded, a tablespoon of coarse salt, 2 teaspoons each of cumin, smoked paprika and sugar, a teaspoon of turmeric, a large pinch of ground cloves, half a teaspoon of cinnamon, and two cups of water – all into a pot, covered, and brought to a boil for ten minutes. Then I added about two cups of diced squash, a couple of sliced zucchini, a large can of fat, white beans. another of peeled plum tomatoes (squished up) and about half a cup of chopped parsley. The lid back on top and cooked until the squash was done. Served over couscous – not traditionally steamed, but added unceremoniously to simmering water with a good knob of butter and some salt, a handful of chopped, toasted almonds, then covered and left off the heat to absorb the liquid, fluffed, and ready to go.
On the side, a spoonful of fiery hot harissa paste – 50 grams of dried red chilies (I had a mix of Chinese ones and Peruvian ají panca), reconstituted in warm water, 2 cloves of garlic, 1 teaspoon caraway seeds, 1½ teaspoons cumin, 2 teaspoons coriander, 1 teaspoon dried mint, enough olive oil to create a smooth paste, and salt to taste.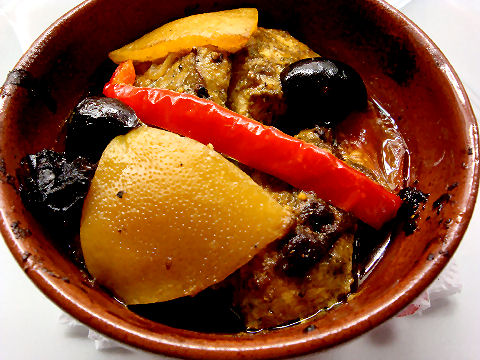 On to the main course… a tagine! Well, mini-tagines. Lots of steps to this one. First, make preserved lemons… I followed this recipe because it's brilliant, with only two minor changes – I added some chopped lemongrass to the mix, and I only cooled the mix down to room temperature each round. Oh, and making a bigger batch. Next, the chermoula – into the blender with a good bunch of cilantro, stems, roots and all, 4 cloves of garlic, 2 tablespoons of hot paprika, 1 of cumin, a teaspoon or so each of salt, ginger, and red pepper flakes, a 1/4 teaspoon of ground saffron, the juice of a lemon, and just enough neutral oil to get it to all blend smoothly. Poured that over pieces of fish, palo rosado, also known as gatuzo – the "Patagonian Smooth-Hound". Hey, I didn't name it. Left the fish to marinate for about 8 hours.
To cook – layered into little casseroles – a drizzle of olive oil, slices of onion, grated carrot, slices of potato, salt and pepper, slices of tomato, the fish pieces along with whatever marinade could be spooned over them, a strip of red bell pepper, pitted black olives, and two pieces of preserved lemon (each an eighth of the original whole lemon). Covered tightly with foil and into the oven to bake for about an hour and a quarter. Served as is. Delicious!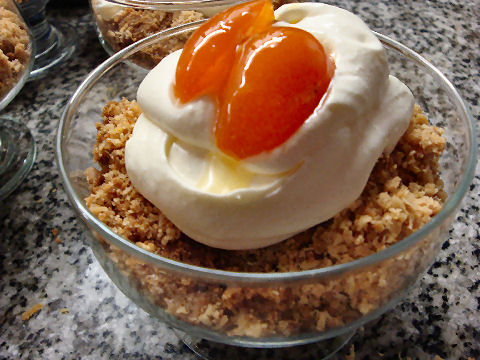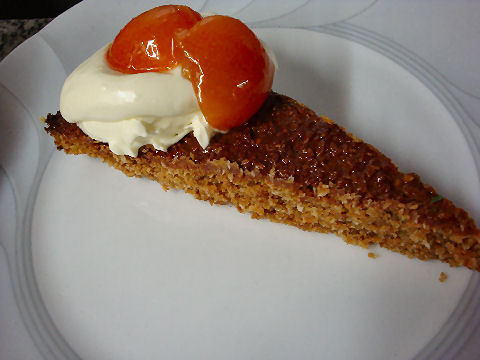 I liked the sound of zucre coco, literally, coconut sugar. I followed the linked recipe to the "t", but ended up with a crumbly mixture that while tasty, wasn't what I was looking for. Still, the first night it served, with a good amount of whipped cream and some candied kumquats. Thinking about it, in essence it's coconut and very thick dulce de leche, so night two, I simply combined the grated coconut with dulce de leche, a little lemon rind and butter, a couple of spoons of flour, and a couple of eggs, smoothed it into a coconut cookie tart shell, and baked it. Closer, but still not quite. Night three, lightened up the mixture with an equal amount of sour cream to the dulce de leche, and that's pretty much where I come down on it – came out just as I'd envisioned it.
Now, time to turn my attention to just what I'm going to do to Mongolian cuisine this coming weekend!