"The word "Hungarian" is thought to be derived from the Bulgar-Turkic Onogur, possibly because the Magyars were neighbours (or confederates) of the Empire of the Onogurs in the sixth century, whose leading tribal union was called the "Onogurs" (meaning "ten tribes" or "ten arrows" in Old Turkic; see below).

The "H-" prefix in many languages (Hungarians, Hongrois, Hungarus, etc.) is a later addition. It was taken over from the name of the Huns, a semi-nomadic tribe that briefly lived in the area of present-day Hungary and, according to medieval legends, were the people from which the Magyars arose. The identification of the Hungarians with the Huns has often occurred in historiography and literature. Hun names like Attila and Réka have been popular among Hungarians to this day. The identification began to be disputed in the late nineteenth century. The nature of the connection between the Hungarians and Huns is still a source of major controversy among scholars.
One more dinner post in a row and then it's time to post a few restaurant reviews, walking tours, etc. It's been a busy couple of weeks, but I'll get back on track…. It was National Day in Hungary, and for the waning days of winter, it seemed like a good theme.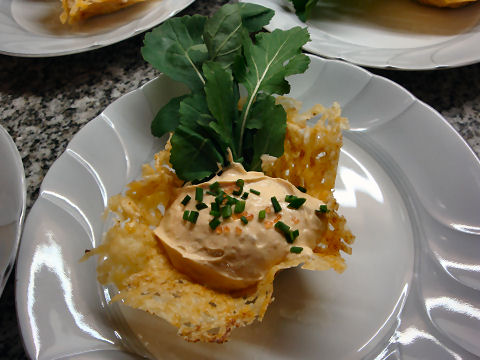 There are not a lot of traditional Hungarian appetizers – not that there aren't little nibbles and such, but the meal structure tends to be different, launching right into soup and/or the main course. Still, there are plenty of party snack sorts of things, and one of the most popular seems to be körözött, a cheese spread for which there are, I'm quite certain, more recipes than there are grandmothers in Hungary. Wildly different versions too, so i can only assume that the name simply means something like "cheese dip". My version here, homemade cream cheese, caraway, sweet paprika, chives and salt, served up in a basket made from grated romano cheese and adorned by a sheaf of arugula leaves. Henry thought that nobody would consider "just plain cheese" to be an appetizer until I reminded him that the provoleta is one of this country's most popular starters, and all it is is a slab of provolone tossed on a grill.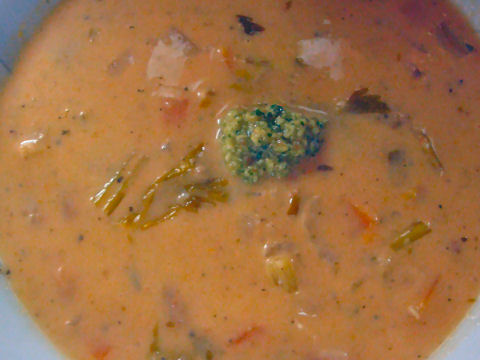 Cranberry bean season is winding down here, so when I saw that a popular Hungarian soup was one made from these legumes, I decided to play around with it. A roasted vegetable stock came first, then into it some onions, celery, carrot, garlic, plum tomatoes, parsley, sage, bay leaf and lots of fresh cranberry beans. Cooked until the beans were done, then pureed about a third of the soup to give it some thickness, added in some cream, and the results were delicious! Even the normally soup-phobic porteños who came loved it.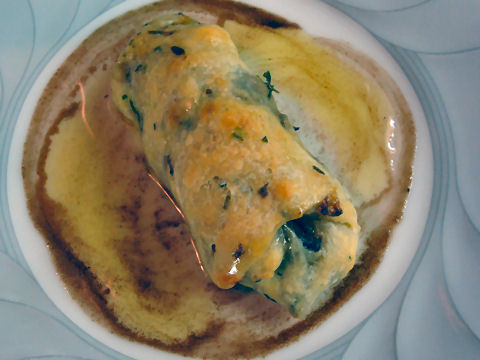 I've made mushroom strudel before, but it's an ever-evolving dish. Now that I know how to make my own strudel dough, courtesy of the pastry program I'm still taking, I thought I'd give it another shot. The filling, sauteed portobellos with rosemary and hot paprika. Served atop a swirl of butter flavored with cocoa and salt, and a drizzle of herb oil. Not bad, it still needs more work, but it's getting there.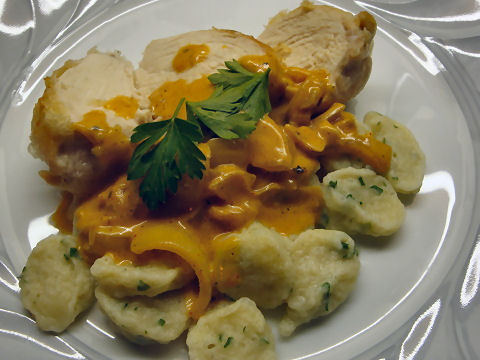 A slightly reformed chicken paprikash – I sauteed the chicken breasts after dusting them in cornstarch, salt and hot paprika, to give them a nice crispy outside. Then sliced them and served them with parsley-nutmeg spaetzle, and the paprikash sauce, a blend of sour cream, lots of smoked paprika, sauteed onions, garlic and ginger, with just a touch of bay leaf. Also made the same dish in trout version for a couple of people who laid claim to pescetarian status.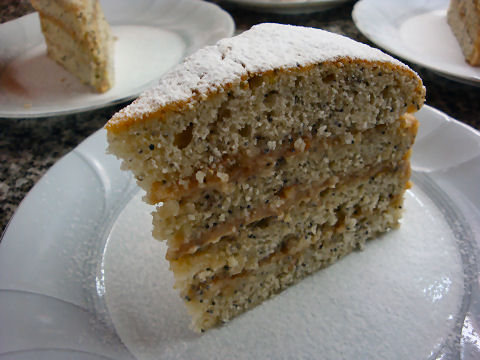 The only dish left as a completely traditional one, as really, it's so good I don't think it needs improvement – a poppyseed torte from a recipe given me eons ago by a Hungarian friend, passed down through the generations of her family. Actually, the spaetzle that I used on the main course come from her as well. Thanks Janice! Delicious as always.