"The actual origin of the superstition, though, appears also to be a tale in Norse mythology. Friday is named for Frigga, the free-spirited goddess of love and fertility. When Norse and Germanic tribes converted to Christianity, Frigga was banished in shame to a mountaintop and labeled a witch. It was believed that every Friday, the spiteful goddess convened a meeting with eleven other witches, plus the devil — a gathering of thirteen — and plotted ill turns of fate for the coming week. For many centuries in Scandinavia, Friday was known as "Witches' Sabbath/"

– one theory about the origins of Friday the 13th superstitions, Charles Panat, authori
Private dinner, gluten-free requested for one or two of the guests, who in the end didn't come to the dinner because one, at least, decided to give birth a couple of weeks early. Maybe we could chalk that up to the diet….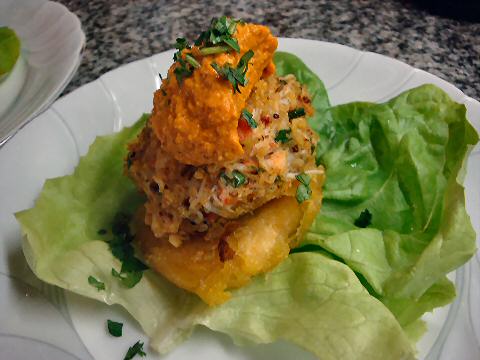 The hosts have been to previous dinners, and one of the requests was for a repeat of our crabcakes. Not being able to coat them in breadcrumbs, I went with crumbs made from crushed tortilla chips. Served them over tostones, double fried smashed green plantains – and a mildly spicy romesco sauce.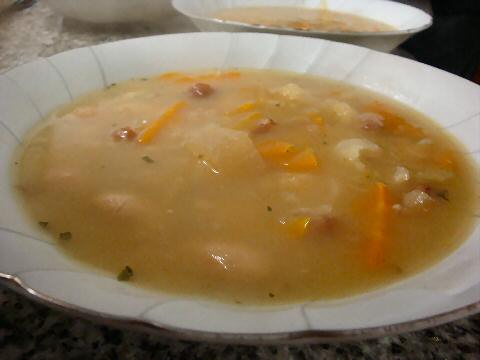 The soup of the evening, a classic minestrone d'asti, just leaving out the pasta and instead adding in a bit of diced yuca root and potato to the mix.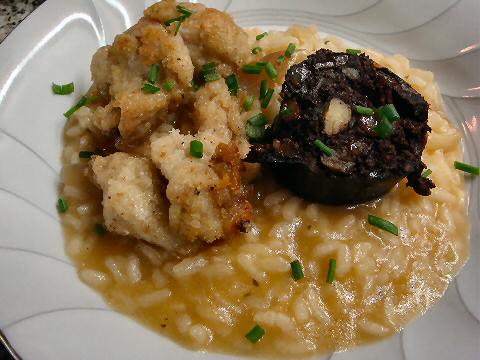 Playing around with combining a past risotto favorite with a past sweetbread favorite, here a caramelized shallot risotto made with brown chicken stock and finished with goat cheese, and topped with crispy fried sweetbreads coated in a mixture of cornstarch, black pepper and coriander, and morcilla sausages that, instead of frying up in slices, I baked whole and then sliced at the end, which helped them maintain their form.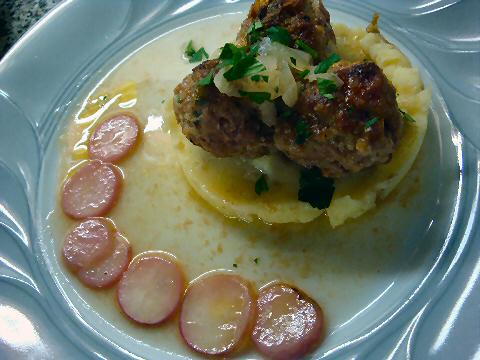 My favorite pork meatballs in onion gravy, over horseradish mashed potatoes and accompanied by butter poached radishes.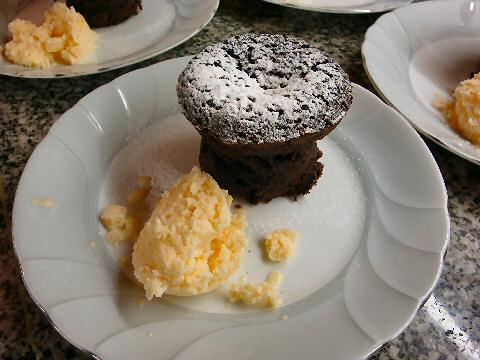 And, finishing off with a flourless chocolate cupcake dusted with powdered sugar and accompanied by a coconut milk and tangerine juice granité.
Not much to be a-feared about here… y'all.