"But my humble opinion is, I'm not quite sure where I stand on the legalization of drugs – though, if tequila is legal, pot should probably be legal."

– Ted Demme, Director
Still catching up – I'm going to skip over last weekend's private dinner, it was all dishes we've done before selected from amongst our favorites – salade olivier, ajoblanco, gnocchi di semolino, spicy green olive chicken, and coconut cakes in dulce de leche and chocolate. In general I think it went over well, with the possible exception of the chicken dish – I had no idea that the group coming was all porteños, the host had communicated with me all in flawless English and hadn't mentioned it, and the spice was a bit much for them I think – at last minute we decided to serve the sauce on the side to everyone rather than burying the chicken into it – there was a bit of tentative dipping, and one or two folk did actually go through most of their sauce, but most left it aside.
On to this past weekend and our celebration of National Tequila Day, merely an excuse for a bit of Tex & Mex influenced cuisine.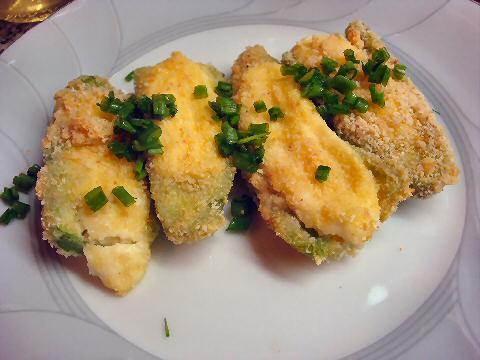 There's nothing quite like a jalapeño popper to get the appetite going. These stuffed with homemade cream cheese, a bit of grated cheddar and fontina, and then "breaded" in almond flour and breadcrumbs. They went like the proverbial hotcakes.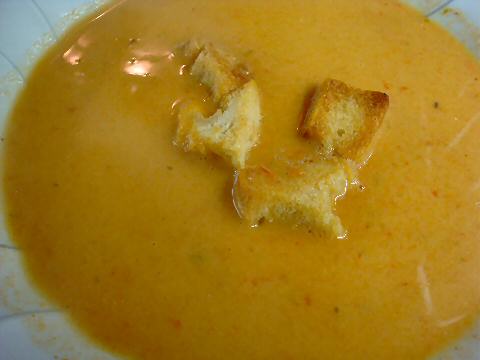 A nice winter warmer – roasted tomatoes, red bell peppers, garlic and onion, pureed and added to the whey from making the cream cheese, spiked with a bit of ancho chili powder and tequila, smoothed out with a little cream and brown sugar. Yum!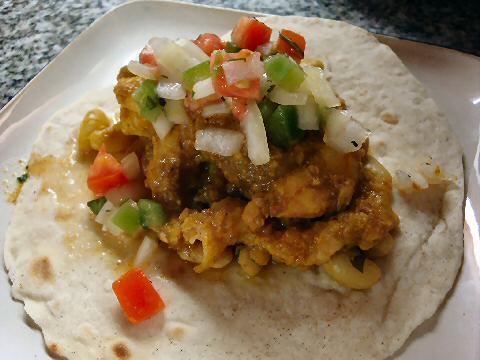 This dish got everyone excited. In layers from the bottom up, fresh wheat tortillas charred on the grill, and then a layer of white beans cooked with a yellow mole sauce and finished with cilantro, and then a trio of good-sized prawns simmered in the same mole sauce. The whole thing topped with a fresh pico de gallo – tomatoes, onions, green bell peppers, lime juice, salt and black pepper. The sauce was what made the dish – a simple version of a mole amarillo – into the blender with an onion, a few cloves of garlic, a knob of ginger, 2 tablespoons each of toasted cumin, coriander and turmeric, a teaspoon each of three different chili powders – de arbol, guajillo and pasilla, salt and pepper to taste, and enough water to smooth it out. Also one night made a portion with hearts of palm in place of the prawns for a couple of vegetarians.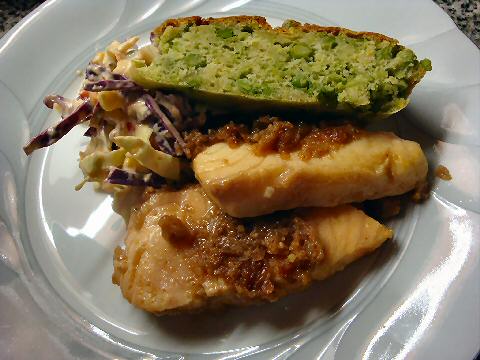 This dish, however, was the hit of the evening – I did, however, make a change in the process between the two nights and unfortunately in a computer glitch, lost the photo from the second night. First off, a slaw – shredded green and red cabbage, red and green bell peppers, carrots, green onions and corn – all tossed a little while before service with a dressing of half mayo and half yogurt with a good dollop of chipotles in adobo, zest and juice of a lime, a little vinegar, sugar, salt and pepper. To the side, a fairly traditional budín de chicharo, or pea pudding/bread, other than that I didn't completely puree the peas for it as I like to see a good number of them scattered throughout the bread. The surubí, the Brazilian tigerfish – a type of catfish – the first night I battered it in a beer based batter with lots of spices, but for whatever reason, the batter didn't hold, it stuck to the pan and fell off the fish, so I ended up with scraps of batter scattered about for flavoring – tasty, but not pretty. The second night I went a different route – I dry-rubbed the fish in the spices – chipotle chili powder, salt, mustard powder, granulated garlic, sweet paprika – and then blackened it, traditional cajun style. That was pretty much perfect. And, for the vegetarian version, did the exact same thing with slices of smoked tofu.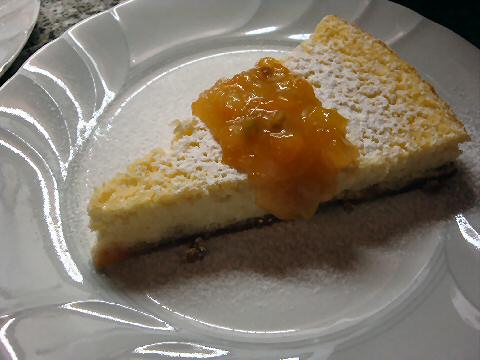 And, finished off with a margarita cheesecake – flavored with lime and orange zests and juices and a splash of tequila. A bit of powdered sugar, and a just made marmalade of kumquats and limequats to finish it off.