Continuing along Av. Rivadavia, the "spine of Buenos Aires" from where we left off in Congreso, to the next good stopping point, at Plaza Miserere…. Most of this section is very commercial, with little of interest in terms of well-known buildings or sites of note. But there is some quite pretty architecture, particularly if you look past the faded and crumbling facades of many of the former great homes.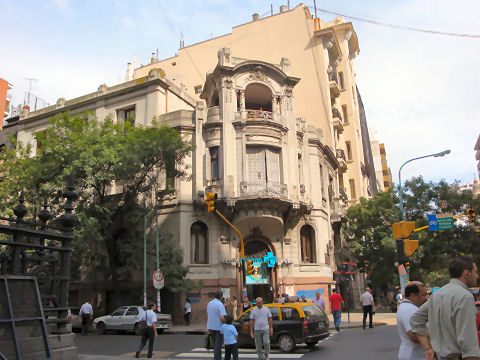 Some are still in great shape, and it's worth keeping in mind that, like much of Av. Rivadavia, many of these edifices were built as single family estates – quintas, if you will, before their surrounds were built up over the last century. Here at #1902, also addressed at Combate de los Pozos 23, a private eye clinic associated with the Italian Hospital, in a building that was once a family home.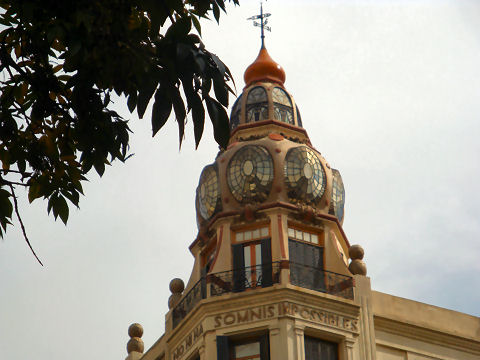 The top of this building at the corner of Ayacucho, #2009, caught my eye mostly for the quite pretty dome consisting of what turns out to be 952 pieces of mirrored glass and the inscription "No Hi Ha Somnis Impossibles" – "There are no impossible dreams" – designed and built in the early 1900s by Eduardo Rodríguez Ortega, in tribute to Gaudi.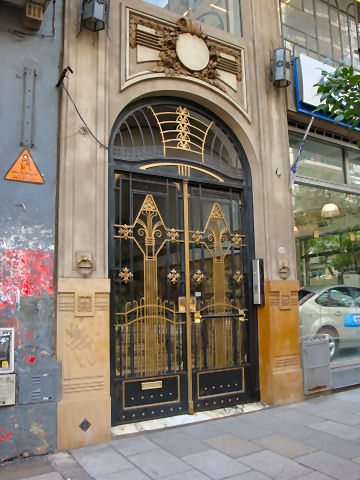 The door to the same building with a very art nouveau style.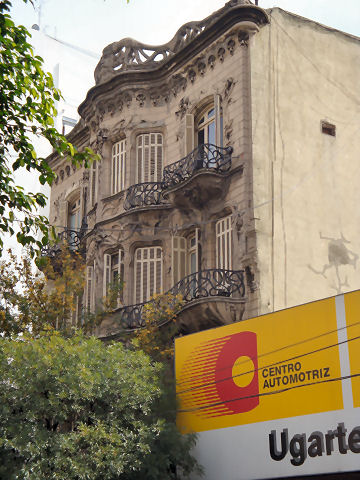 Just down the block, at #2031, also designed by the same architect, the Palacio de los Lirios ("Palace of the Lilies") with Gaudi-esque features. Much of the detail is apparently inside or hidden behind the temporary scaffolding, with a replica of Gaudi's famous Güell Dragon's Gate being one of its notable features.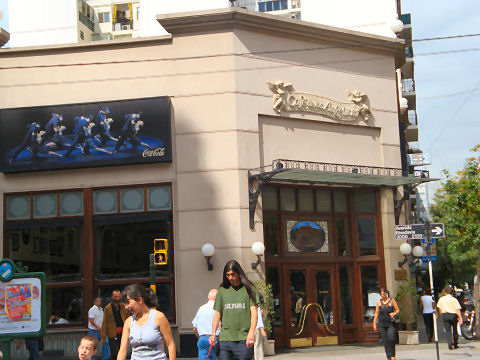 The Café de los Angelitos was originally called Bar Rivadavia – built in 1890 for Italian restaurateur Batista Fazio, bought in 1920 by the Spaniard Angel Salguiero who renamed it and added the decorative cherubs throughout, and operated until 1992, when it was closed down. Fifteen years later it was reopened as a tango show and dinner theater. The original bar had a dirt floor, was famous for its habitués, amongst whom were many famous poets, tango singers, comedians, and politicians – and is noted as the spot where Carlos Gardel signed his first contract to perform along with his partner José Razzano – they even wrote a tango in tribute to the place. Recording here.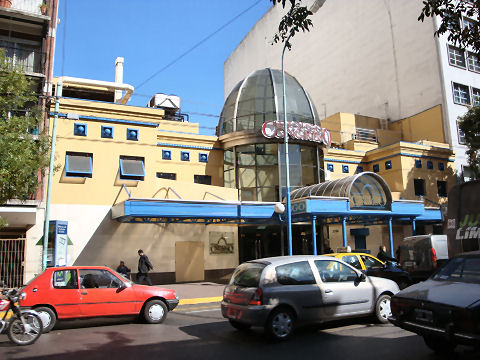 Not every building can be attractive, even the ones that standout simply because of what they are – such as the massive Bingo Congreso hall at #2250 – where you can try your luck with the eponymous game, or fritter away your change in any of the myriad one-armed bandit machines.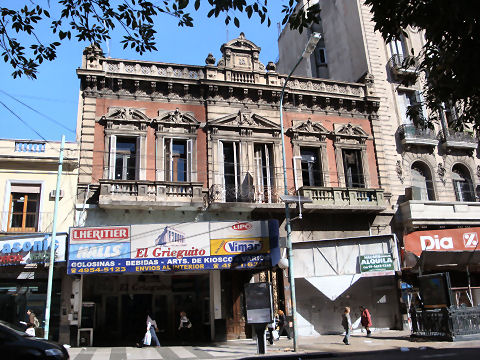 Here at #2434, hidden away on the floors above a couple of uninteresting stores, is the "private blue collar men's club", Oba-Oba. According to the sign below it's a cafe and bar and pool hall, but apparently it's a place where "you should look tough and speak fluent Spanish", not to mention being interested in Paraguayan ladies of the evening. In the 1950s and 1960s this building was home to La Escuela Argentina de Periodismo, the Argentine Journalism School, and many of the country's most famous journalists of the era learned the basics of their craft here. The building was originally constructed in 1902 though I was unable to find out any more about its first 50 years of existence.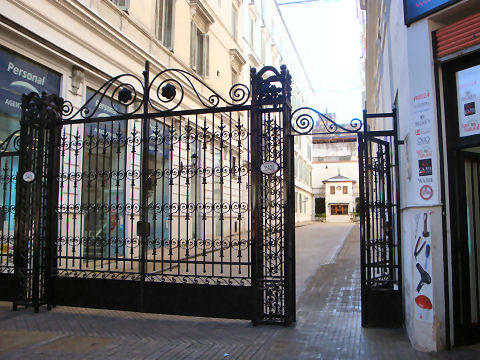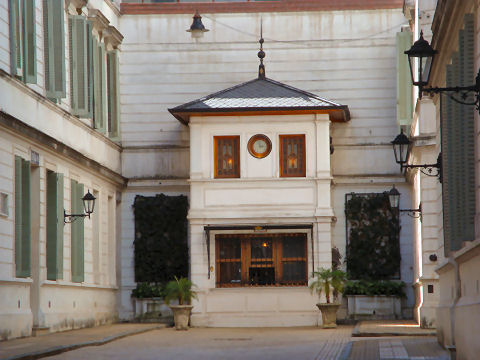 This spot at #2431 has always fascinated me. It's the site of the quinta, or estate, of Antonio González Varela – nicknamed "Miserere" – more or less "mercy" or "charity" – who along with his wife, Josefa Ramírez, donated much of the land surrounding their estate to form the basis of the community that later became known as Balvanera, or more commonly, Once. His nickname is remembered in various spots throughout the area, including the well-known Plaza Miserere, the site of the Once train station. The estate building itself is now home to CanalAR, a daily technology newspaper. Wouldn't it make a great site for a very cool, elegant restaurant? Just musing….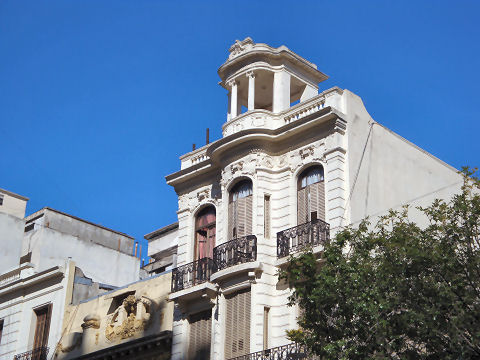 Another that I particularly like is this gazebo topped spot at #2556. Currently a bank on the ground floor and a trio of offices/apartments above (including the top floor one with the rooftop terrace as its own, which recently sold for a mere US$160,000).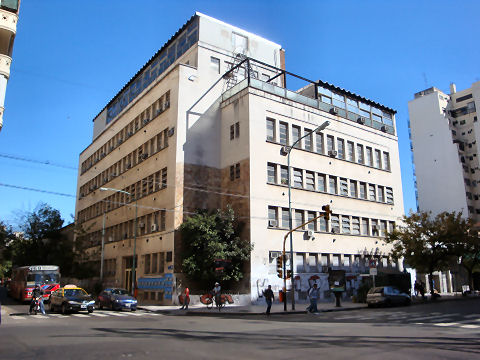 At the corner of Saavedra is the rather ugly, "state academic" style building – personally I think it just looks like a big concrete block. I gather it is currently (and probably always was – based on the moniker carved into the lintel) offices for the Ministry of Education.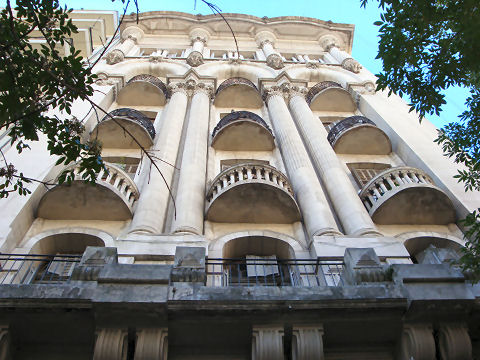 This Italianate style building at #2625 was built by Mario Palanti, a famous Italian architect and painter, in 1914. It was originally the home of one Bernardo Vila. Palanti was also the architect who designed the amazing twin Palacios Barolo and Salvo, respectively in Buenos Aires and Montevideo. As to Vila, I didn't find any information of note.
At the corner of Av. Pueyrredón we find Plaza Miserere – more info here at the bottom of the post on my walk along that avenue. Since no doubt these ten blocks have made us hungry, I think a stop around the corner at La Perlita is in order.