"One should either be sad or joyful. Contentment is a warm sty for eaters and sleepers."

– Eugene O'Neill
While the origin of the Seven Sleepers myth is back in Roman and early Christian times, there is no major festival associated with the myth, with the exception of one country – Germany. Somehow, from a deeply troubled religious mythos, the Germans have created a holiday akin to Groundhog's Day where once a year, should the Seven Sleepers awaken and find it raining, they return to sleep for another six weeks in anticipation of continuous rain. And, ominously, as this weekend arrived, it was raining here in BA as we set about a German influenced Casa S menu.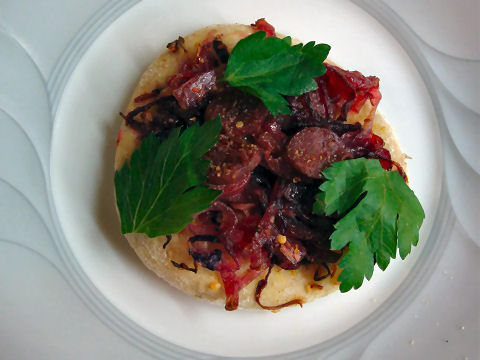 Inspired by a traditional onion pizza, as well as one of my favorite Italian breads, fitascetta, I put together little pizzettas topped with caramelized red onion, red and green cabbage, and red beets, slices of smoky venison sausage, salt, pepper, chili flakes and a drizzle of olive oil. Something tasty to awaken to and ignore the rain outside.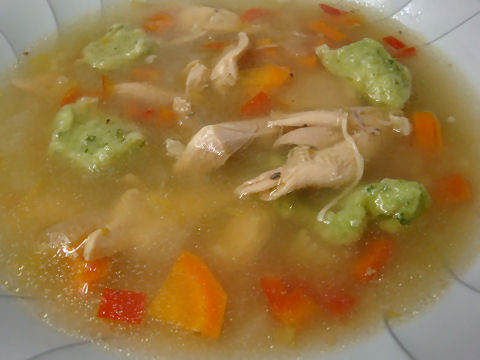 I'm a big spaetzle or really, any kind of dumplling, fan. The base of the soup – the whey from making ricotta used in the upcoming cheesecake, chicken, carrots, celery, onions, bay leaf, salt and pepper, all cooked together to create a rich stock, the chicken removed from the soup, the meat shredded and the bones tossed (in the trash, not for any sort of spiritual reading), and a bit of fresh parsley added. At last minute, I piped dumplings made from eggs, flour, salt and parsley into the soup using a pastry bag and scissors. Yum!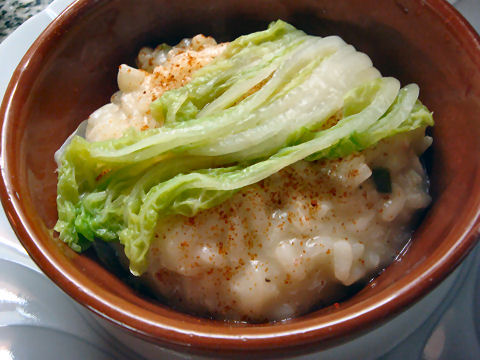 It's a mouthful to say – Smoked Trout, Lamb Bacon and Caramelized Shallot Risotto Stuffed Cabbage – not your grandmother's stuffed cabbage, good as it likely was. Blanched Napa cabbage laid out. A risotto flavored with caramelized shallots, finely chopped lamb bacon, smoked trout, green onions, smoked paprika and fish stock. Finished with creamy fresh goats milk cheese. Ladled over the cabbage, sprinkled with spicy paprika and the top end of the cabbage folded over the top. Sorry, no sugary sweet tomato sauce….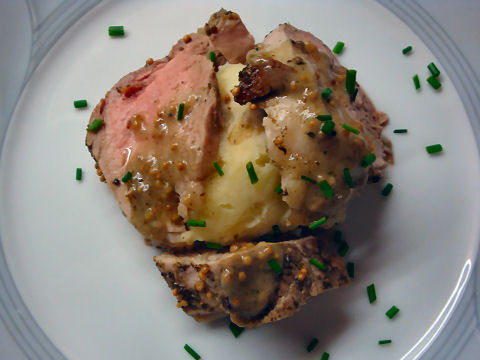 Pork loin, rubbed in peanut oil, sage, mustard seed and salt and left for a few hours to absorb the flavors. Browned atop the stove and then into a very hot oven to cook to a pink medium-rare/medium. Pan drippings sauteed with flour and then finished with milk to create a spicy, creamy gravy. Skin-on mashed potatoes with plenty of grated horseradish, butter and milk. What's not to like?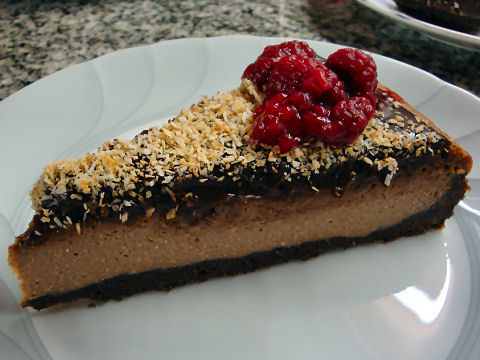 And, based on a traditional Black Forest Cake – layers of cocoa crust, milk chocolate and macadamia ricotta cheesecake filling, dark chocolate ganache, toasted coconut, and raspberries simmered in framboise (raspberry liqueur).
Hey, if we can stay in and eat like this, let it rain!