"Syria has long scowled at the idea of Lebanese sovereignty. It never admitted to Lebanon's independence, officially gained in 1943, nor did it concede to the French mandate's separation of the two countries. And today, regardless of its diminished presence in the country, the recent rise of "diplomatic relations" between Beirut and Damascus, and their exchange of embassies, Syria continues to exert influence over Lebanon through its local proxies, has put off demarcating borders and has not redressed unfair bilateral agreements skewed in its favor."

– Hanin Ghadar, NOW Staff
I suppose there's always something a trifle odd about a nice midwestern Jewish boy picking various independence days of arab states as themes for our dinners – but, those are just "this day in history" sort of markers that allow me to play with cuisines that I enjoy – no politics intended – and I like my cooking that way – apolitical. So, with Syrian independence day rolling around this last weekend, it was a chance to jump, once again, into ideas inspired by the Aleppo. Syrian Jewish, community.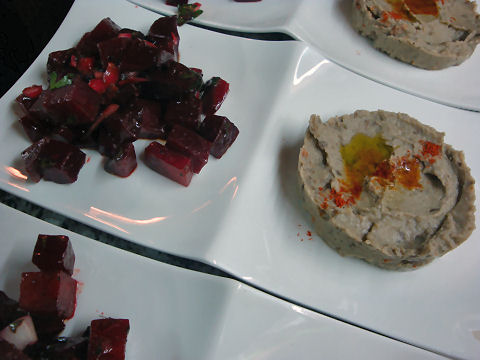 Whipped up some fresh out of the oven pita bread and served it up with two "salads" – a fava bean hummus, made the same way I'd make a chickpea one – tahini, cumin, lemon, chili flakes, olive oil, salt and pepper – and finished with a little green lemon oil and smoked paprika; and the other, a roasted beet salad with finely diced white onion, toasted cumin, ufer biber, parsley, lemon juice and rind, olive oil, ou (reduced tamarind juice to a syrup), salt and pepper.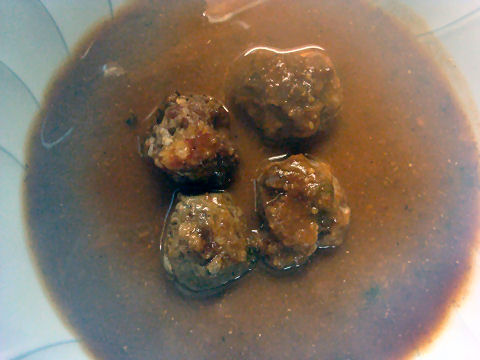 A fairly simple soup – inspired by combining two different traditional soups of the canon – red lentils, garlic, coriander, cumin, black peppercorns, tomato paste and pulp, and fresh tomatoes – all simmered together until the lentils were soft and the tomatoes falling apart, then blended with a good amount of fresh cilantro just before serving. The meatballs, finely ground rump roast with onion, a little bread soaked in milk, salt, pepper and plenty of allspice.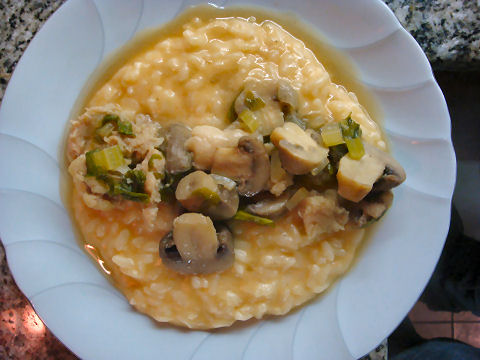 This dish had mixed reviews. No one disliked it that I know of, and several people over the three nights of dinners liked it quite a bit, but sweetbreads, and other organ meats, always have a certain amount of innate controversy attached. Several porteñas who came on the different nights (all women this weekend, at least amongst the argentines), informed us that the only way to eat sweetbreads is grilled, with lots of lemon. Of course, that may be local tradition, but it's certainly not the only way they're served worldwide. Here, I took a fairly classic braise of onions, celery, mushrooms and sweetbreads, simply seasoned with salt, white pepper, hot paprika and smoked paprika, and served it, rather than over a plain white rice as it might be served in Syria, over a pretty classic saffron risotto.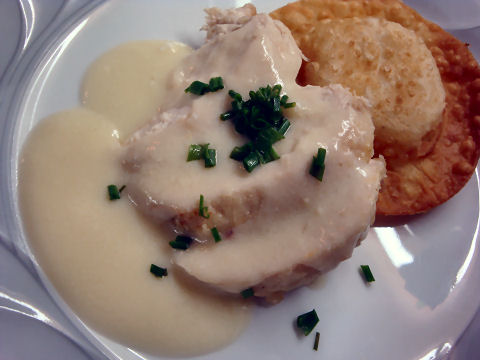 This was my personal favorite course. The chicken breasts lightly coated in flour mixed with ground, toasted cumin, coriander, cayenne and salt, then oven baked with a drizzle of neutral oil. The lemon sauce – juice of two lemons beaten with two eggs and two cups of freshly made chicken stock, when it comes to a simmer, add in a paste of two tablespoons of flour mixed with just enough stock to make a thin paste, brought to a boil and cooked until thickened. Good as that was, the really fun part for me was playing with the ravioli. I've made fried cauliflower as a classic Syrian side dish before, but I mixed it up and simply blanched and shocked the cauliflower, then finely chopped it and mixed it with pecorino cheese, toasted hazelnut oil, salt and white pepper. Put a heaping spoonful of that mixture into a pasta dough made with just flour, water, and a touch of margarine (works better than butter for this pasta). Then deep fried them in a mix of neutral oil with a little more of the hazelnut oil. Delicious!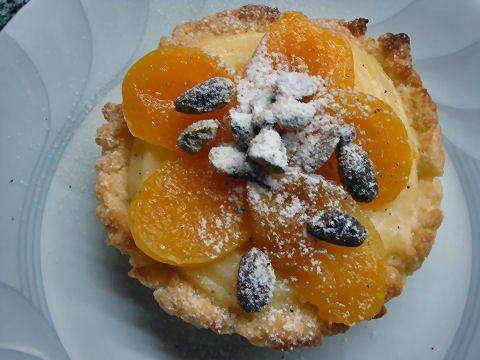 Finished off with a little tartlet – left the edges raggedy – or "rustic" on purpose – filled with pastry cream flavored with orange blossom water and cardamom; topped with dried apricots that had been plumped up in sugar syrup, toasted pistachios, and then dusted with a mix of powdered sugar and cardamom.