Just a final post for the last day in Santiago, then on to northern Peru….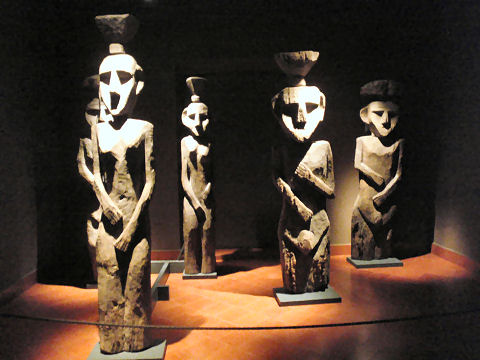 Started the day with a visit to the Museo del Arte Precolombino, hmm, it occurs to me that so often I hear from Latin Americans how much they dislike the whole conquistador thing which they lay the beginning of at the feet of Christopher Colombus, but how many things are referred to in pre and post his time period… Anyway, fascinating, if small museum, that covers quite succinctly many of the most important cultures in Latin America. Organized into rooms that cover geographic regions from north to south and then east, so starting in Mexico with the Mayans and their contemporaries, moving into a very small section on Central America, then Colombia, Ecuador, Peru, Chile, Argentina, and then up across the Amazon basin into Brazil. Spent most of the morning there.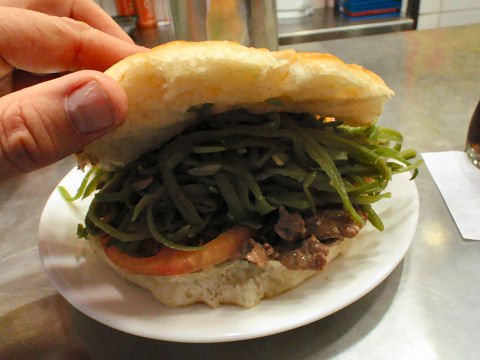 By which time it was the moment for a sandwich, this time a chacarero – thinly sliced, tender beef sirloin, topped with fresh tomatoes, blanched and slivered green beans, and in its true form, slices of fresh green chilies, though all the places I found in the downtown area only had hot sauce available to be added as you liked. Picking one of the many fast food sort of stands seemed an impossible task, so I simply asked the person most likely to know where to get the best cheap grub – the police officer at the corner of the Plaza de las Armas – who directed me to Ravera, one of a series of several stands along one side of the plaza that seems to be the spot for quick eats – each stand was packed with its own devotees. The sandwich, delicious, though the hot sauce could have been a whole lot hotter for my tastes.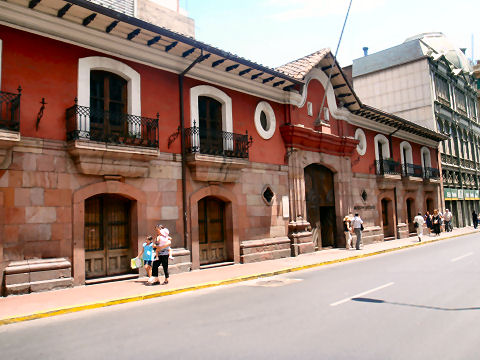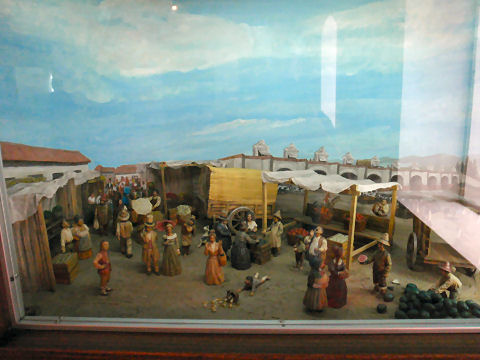 On to the Casa Colorado, a former government house which is now the municipal museum for Santiago – mostly filled with interesting little dioramas of early Santiaguena life.
Then… back to the mercado central because I just couldn't stay away, and some close ups on some of the weird creatures people asked me about…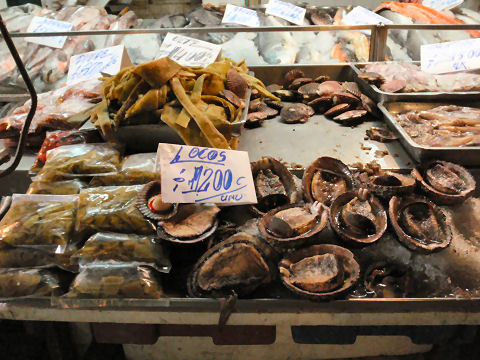 Locos, the Chilean abalones or false abalones; and behind them, those pale brown shafts, the ulte, a type of kelp.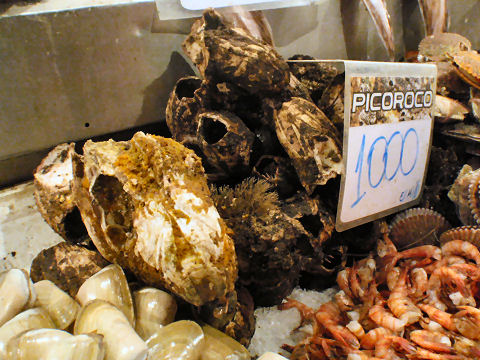 Picorocos, which I believe are a type of barnacle.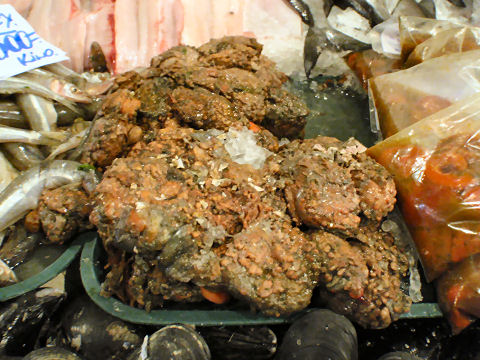 And the truly ugly, at least in their collapsed form, piures, or sea squirts.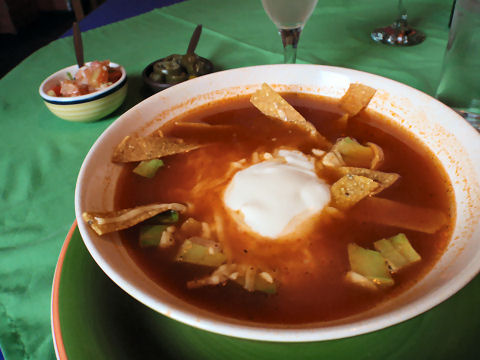 On the recommendation of Wayne, of the Moon Guide, I decided on a night out for something a little more picante, and Plaza Garibaldi, a Mexican-Chilean spot run by a woman who worked in Mexico and later as Salvador Allende's chef. The food, pretty authentically Mexican, certainly better than anything I've eaten in BA in a long time. Here, Sopa de Azteca – delicious! And plenty spicy.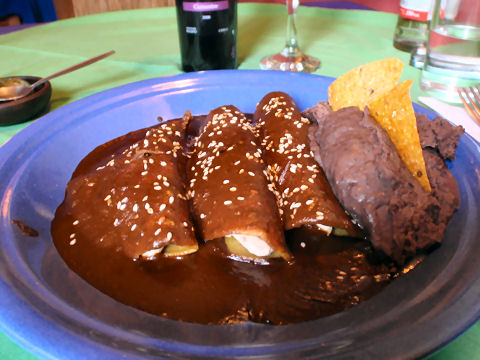 And, slightly less exciting, the Enchiladas con Mole – the sauce just a little too sweet for my tastes, and lacking in chilies, but the kitchen sent out a bowl of jalapeños to add to the plate and I was perfectly happy. A nice end to my Santiago adventure, if not particularly Chilean.