Fascinating as Mercado La Vega is, and how much time I'd probably spend there shopping and eating if I lived here, I was truly looking forward to the fish market at Mercado Central. It's one of the things I miss the most in BA, access to really good seafood. (By the way, though I'm waxing poetic about the charms of Santiago on the last few posts in contrast to BA, it has places where it doesn't compare – coffee, bookstores, cultural outlets, green space… just to name a few that pop to mind easily.)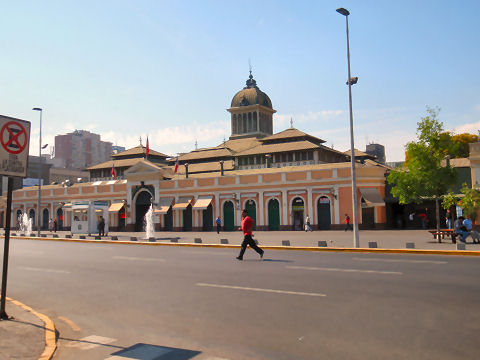 This is the building – it takes up pretty much a space that's close to 2 x 2 blocks….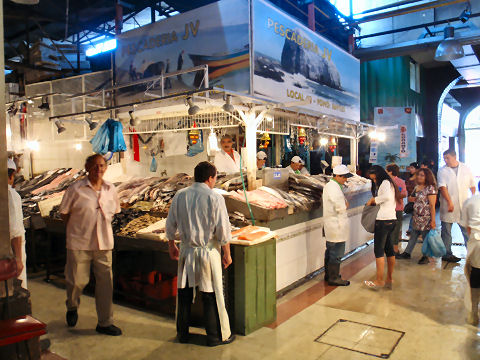 Though there are a few non-seafood stands, I'd say 99% of the market is dedicated to fish and shellfish. This is, as it was explained to me, where Santiguenos shop for seafood. Punto.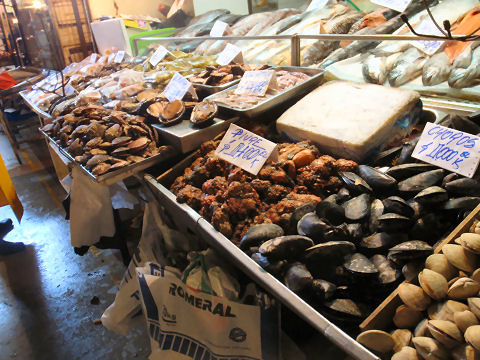 There are things here that I had no idea what they were. Some of them I've simply never seen in a seafood market. The
piure
, there in the center of the photo, looked like grotesque blobs with various protuberances that I didn't even want to think about. They turn out to be urochorates, or, sea squirts, sometimes referred to as sea pork. I'd never seen
locos
in the shell, they do pretty much look like an abalone.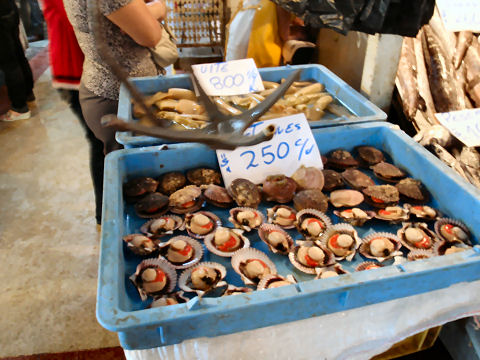 Simply gorgeous bay scallops. Behind them something called
ulte
, which I gather is the base part of the fronds of a type of kelp called
cochayuyo
,
Durvillaea antarctica
.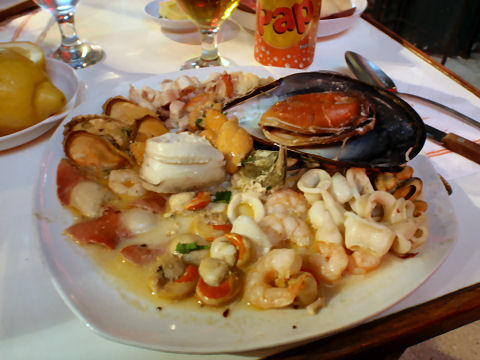 Now, virtually every source I read recommended visiting
Donde Agosto
, the dominant restaurant in the
mercado
– it takes up a massive amount of space. But all, also, admitted that it was touristy and pricey. Liz came to the rescue again with the assertion to head for one corner and the restaurant
Richard, El Rey de Mariscal
. Most of it is located on the second floor, but there are a few tables on the main floor as well. Richard was there, and joined me at the table for a good hour long chat about how he got started (spent time working in Buenos Aires and Miami restaurants, then returned and opened a three-seat oyster bar in the middle of the market, 20 years ago). As his business took off he took on the space next to the oyster bar and added a few tables. He still maintains both spaces, the original one is now where he has 1-2 workers spending the day shucking oysters and clams, cleaning seafood, etc. The space that was tables is now a cold storage locker for his fish. He can now seat around 60 people at a time, from 5 a.m. until 5 p.m. (the hours of the market). 
[Closed]
Everything looked so good on the menu, and the waitress recommended this jardín de mariscos, a seafood garden, packed with samples of shrimp, squid, clams, three types of mussels (including what has to be the biggest one I've ever seen – the shell on that was almost as big as my hand, which also gives you a sense of the size of the platter), picorocos (barnacles), locos (false abalone), machas (a type of clam), sea urchin and bay scallops. The choice was as a raw and semi-cooked sampler, or as a cooked sampler with spicy pil-pil. I opted for the latter, and Richard concurred, noting that while most tourists want the raw stuff, that in summer months, cooked shellfish is safer, and besides, the pil-pil is delicious! I concur! Oh, and, less than half the price of the same platter at Donde Agosto, with a water and a soda it came to 16000 Chilean pesos, 123 argies, $32. In BA, were such a platter to exist, I have no idea what it would cost. Fish and shellfish tend to be expensive, so it might be fairly comparable, though likely at least a bit less. On the other hand, it probably wouldn't be as fresh and high quality. Though, I should point out, the jardín is a platter for two – that's a 12″ dinner plate packed with seafood there – and it was more food than one person should have been eating at a sitting. Thank god I didn't have an appetizer.