"At the peremptory request and desire of a large majority of the citizens of these United States, I, Joshua Norton, formerly of Algoa Bay, Cape of Good Hope, and now for the last 9 years and 10 months past of S. F., Cal., declare and proclaim myself Emperor of these U. S.; and in virtue of the authority thereby in me vested, do hereby order and direct the representatives of the different States of the Union to assemble in Musical Hall, of this city, on the 1st day of Feb. next, then and there to make such alterations in the existing laws of the Union as may ameliorate the evils under which the country is laboring, and thereby cause confidence to exist, both at home and abroad, in our stability and integrity.

– NORTON I, Emperor of the United States.
Buenos Aires – I'm going to leave you to do a bit of research on this one, but there was, indeed, a self-declared emperor of the United States back there 150 years ago as of last weekend. Nuts? Perhaps. But for a lunatic, he managed to garner quite a following, both in life and after, when 30,000 people attended his funeral. We felt it only fitting to honor the sesquicentennial of his acension to the throne with a dinner of Cal-Mex cuisine (shortly after the above proclamation he added in to his title "Protector of Mexico") – plus it gave a good excuse for a nice, picante dinner of some personal favorites, and try a few new ideas.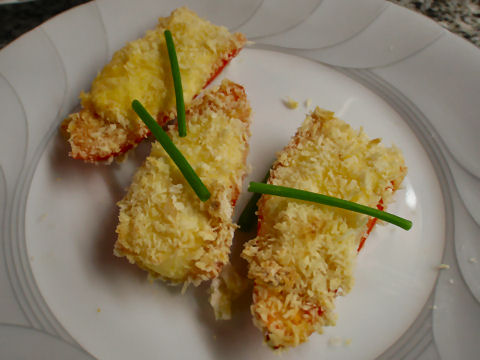 Are jalapeño poppers not just about the most addictive thing on the planet for those who like some spice in their addictions? A mix of green and red jalapeños, stuffed with homemade cream cheese blended with bacon, cheddar, mozzarella and fontina, then the whole thing dusted in flour, dipped in beaten egg, rolled in panko crumbs, spritzed with oil, and baked until golden brown. We couldn't stop eating them…. Tried a couple of wines – first night the light, creamy champagne style Cuvee Limantour Extra Brut 2007 from Bodega Lariviere-Yturbe – good, but not quite as light and crisp as I wanted, so the next night went with the Nieto Senetiner Brut Nature, which worked beautifully.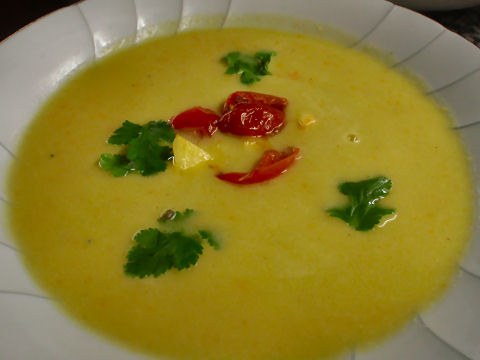 Guacamole had to figure in somewhere, or at least avocados, and why not a warm avocado soup (originally planned to be a chilled soup, but then the weather turned cold and rainy, so we went with warm) – a quick vegetable stock made from carrot, onion, celery, garlic, cilantro, parsley, salt and pepper, plus chipotle chili powder, then coarsely pureed it with ripe avocadoes and some yogurt, brought it up to a simmer, let it go about 10 minutes, then finished it with fresh lime juice and ladled it into bowls with some charred cherry tomatoes, diced green mango, and cilantro leaves. Again, two tries at the wine – first night I thought that the soup would be spicier and went with Finca Celia's La Consulta Torrontés 2007 to balance that, but the herbal and avocado flavors come through stronger in this soup, so the next night went with Alfredo Roca's Tocai 2008, a minerally, citrusy dry wine with just a touch of a honeyed note.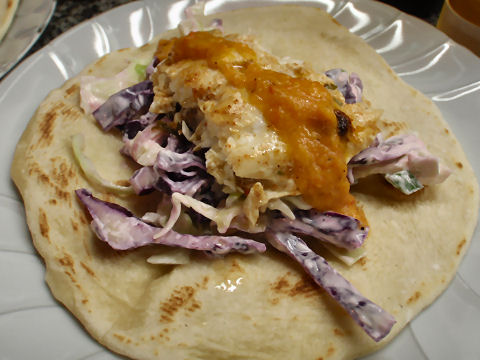 Despite the addictive nature of the poppers above, my favorite dish, actually, I think most people's favorite dish, of the evening, was the fish taco. Fresh, warm and soft wheat tortillas, topped with a slaw of white and red cabbage, white and green onions, cilantro and sour cream, then a baton of salmón blanco, really a type of perch, which had spent the day marinating in olive oil, lime juice, guajillo chili powder, ají lima peppers and cilantro, then baked. A drizzle of hot sauce made from roasted tomatoes, garlic, onion, jalapeños, oregano, salt and pepper finished off the dish. Just roll 'em, pick 'em up, and eat! Alfredo Roca showed up again in this pairing with the Merlot Rosé 2008, a perfect foil for the dish with fresh fruit flavors and a good amount of body.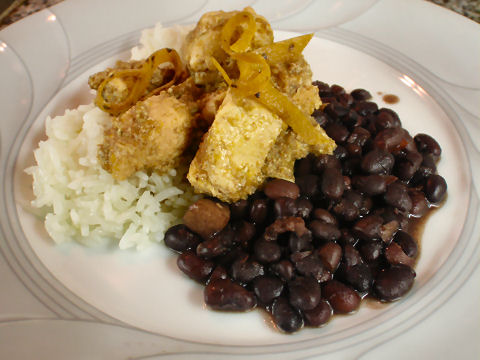 There are as many moles in Mexico as there are places to live, probably more. No claims, really, that this is a "Tijuana style" mole as we billed it, we just knew we wanted a good, lighter mole. Ground and toasted green squash seeds, sesame seeds, cinnamon, clove, cumin, dried de arbol, habanero and guajillo chilies. When that was all nice and aromatic added peanut oil to make a paste like consistency and continued cooking a few more minutes, then added water and a small piece of bitter chocolate, let that simmer for about an hour, keeping it a thick sauce consistency, adding splashes of water as needed. About an hour before serving, added diced chicken breast and let it cook slowly in the sauce. Served over white rice flavored with onion and garlic, and black beans flavored with bacon, jalapeños, red bell pepper, onion and garlic. Tried two different Malbecs, both of which worked well, the first night, the Ayres de Cafayate 2006, the second night, Trivento's Otra Vida 2007 – both classics, the first one a little lighter given the climate up in Salta, and both great pairings for this dish, standing up to the spice.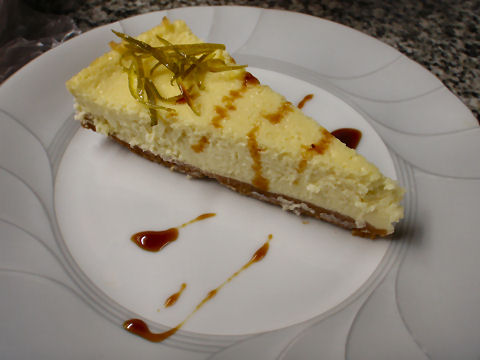 We'd begun the evening with a shot-style margarita for our evening cocktail, and came full circle back to it for dessert. Our basic cheesecake recipe with the addition of tequila, triple sec and fresh lime juice, then topped with caramelized lime peel and a drizzle of syrup from reduced cactus pear juice. Finished off with one of our favorite dessert wines, the San Felipe Tardío 2008, a blend of Chardonnay, Semillon and Gewurztraminer that goes really well with cheesecakes, of any sort!