"We love Sicily. It is the perfect place to just relax – eat, read and not worry about the stress of work. And we always come back with so many ideas. It is very magical."

– Domenico Dolce, fashion designer
Buenos Aires – Many, many moons ago, there was the Kingdom of the Two Sicilies – the island currently known as Sicily, plus most of what is now southern Italy. And they were quite good at fighting off attempts to make them a part of the larger union that eventually became the Italy we now know. This last weekend, we commemorated the 160th anniversary of the last time they successfully fought off the republican government forces, with a dip into the flavors of Italy, Casa S style.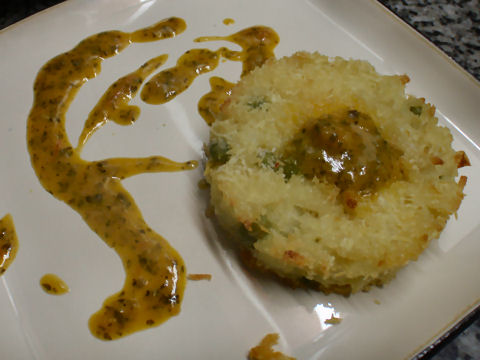 An arancini is a cheese filled deep-fried rice ball. Not having a good way to deep-fry, and wanting to lighten up the dish a bit, I decided on a baked approach – not unheard of in modern day. First the risotto, made with onions and garlic, white wine, vegetable stock and crushed peperoncino peppers. When nearly finished, I topped it off with a little cream, grated parmesan and added blanched and shocked peas, then spread it out to cool. When the heat had died down, I mixed in a couple of beaten eggs, let it sit a little while to absorb, then packed the risotto into ring molds on a silpat. Sprinkled the top with panko breadcrumbs, drizzled them with olive oil, and into the oven to lightly brown. The sauce, a light roux of butter and flour, to which I added pureed tomatoes, basil and parsley, salt and pepper to taste.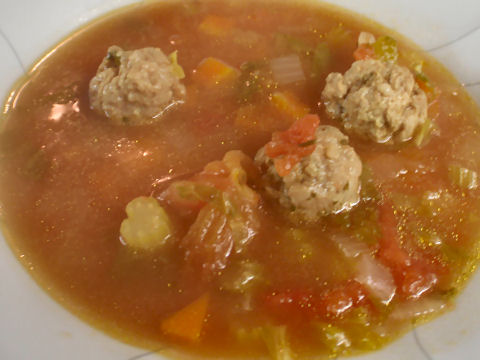 First, the Sicilian sausage meat – ground pork shoulder with a good amount of fennel seed, crushed red pepper, garlic and parsley, salt and pepper. Instead of stuffing it into casings, I made it into little meatballs. The soup base, freshly made chicken stock to which I added chopped onions, carrot, celery, crushed plum tomatoes, fennel seed, salt and pepper. When the vegetables were softened, I added the meatballs a few at a time and let them poach in the liquid. A traditional Sicilian sausage soup also has ditalini pasta added, but since the next course was pasta, I left it out.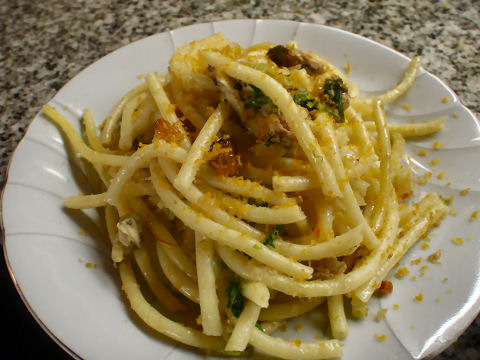 A favorite pasta dish – but then, aren't they all? – twice cooked bucatini with sardine sauce. Cleaned and filleted a dozen sardines, coarsely chopped half of them and cut the rest in bite sized pieces. Blanched and shocked some whole fennel bulbs in salted water, reserving the water, into which I put the bucatini (too hard to make homemade ones, dried pasta works better for this anyway), and cooked them until just barely al dente. Sauteed onions, the chopped sardines and some anchovies in olive oil until they more or less formed a paste. Added pinenuts, black and gold raisins, saffron, salt and pepper, sauteed a little longer. Tossed the bucatini with this mixture, then spread about half of it out in a baking pan. I chopped up the blanched fennel into bite sized pieces and scattered that over the pasta layer, along with the reserved pieces of sardines. Topped with the rest of the pasta. Sprinkled the top with breadcrumbs, drizzled with olive oil, and into the oven to bake until the top was lightly browned. Served with a grating of bottarga, pressed and salted fish roe.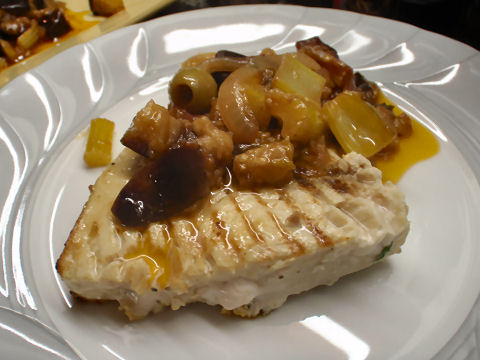 Fresh swordfish steaks were available in the fish market – I don't cook with them much, but every now and again they're a nice treat. Grilled on a stovetop grill with just a dusting of salt and pepper and rubbed with olive oil. To accompany them, caponata – fried eggplant and celery mixed with a sweet and sour blend of green olives, capers, red wine vinegar, sugar, salt, pepper and a bit of this and that…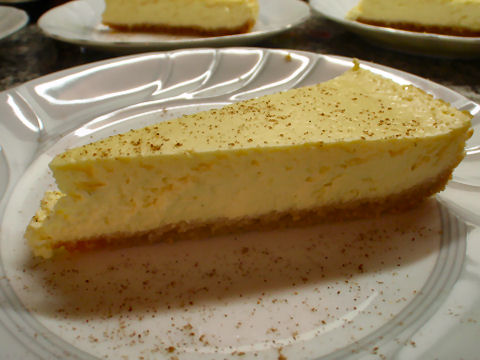 Sicily is justly famous for its lemons, and while cheesecake isn't traditional on the isle, it is here in our space – so a simple cheesecake flavored with the zest and juice of a couple of lemons, then dusted with five spice powder – not Italian either, but it works well with lemon!