"Our great challenge, our great battle, is to produce food in Nicaragua. We have to fill Nicaragua with food, even in our yards at home, we have to plant a little bit of beans and corn. This will mean income, and will assure us food… it will allow us to export to international markets, to the rich countries that have money to pay for these products."

– Daniel Ortega, President of Nicaragua, at the recent Food-Security Summit in Managua
Buenos Aires – So here's the thing. Our theme this last weekend may have been a bit of a mixup. You see, it was the 160th anniversary of Elizabeth Blackwell becoming the first female graduate of a medical school, and therefore the first licensed female physician. The original source material I read about this in asserted that she was refused the opportunity to practice in the United States, where she'd graduated, and so she up and went to Nicaragua, founded a clinic, and lived most of her life out there. So I decided on a Nicaraguan theme for the weekend. But then, other sources asserted that she a) either refused or not refused her medical license in the U.S., b) was or was not allowed to practice in New York, c) went to Nicaragua, France, England, Africa, or stayed in the U.S., and/or d) opened her own clinic or not, or opened one in tandem with Florence Nightingale, or not. It seems the woman's biography is a bit speculative. But I decided to "stay the course" and just forge ahead with a Nicaraguan theme, and leave Elizabeth to languish by the roadside.
I contacted our friend Henry, a young Nicaraguan man who lives in the U.S., and got some suggestions on the menu (though I'm still waiting on those recipes from mom, you know Henry?), did a fair amount of online research, and even bought and downloaded what turned out to be a very useful e-book The Beauty of Nicaraguan Cuisine, well worth the $5 cost, though it could use some strenuous editing of its English grammar. In the end, we had three nights of what I think were quite successful stabs at semi-reinterpreted Nicaraguan cuisine – given that I've never actually tried the country's food before.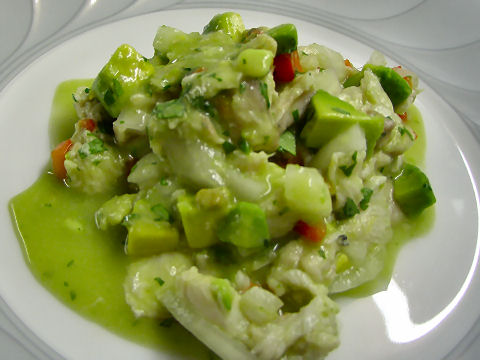 Ceviche de Corvina, or Sea Bass Ceviche, led off the evening (actually, a welcome cocktail of pureed, simmered starfruit with rum and sugar got things rolling) – as best as I could determine the key differences between the Peruvian ceviche that we more often make was the lack of the starchy accompaniments – toasted corn, potato, yuca, and yam – and the addition of tomato and avocado into the mix. It also seemed a bit lacking in the spicy department on the first night, so I upped the levels of chilies on nights two and three to be a bit more like we're used to. We certainly didn't leave any uneaten!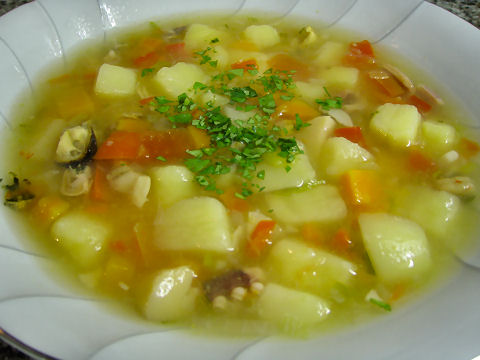 The soup was, as it often is, the winner of the evening (when, or when, will I simply open up a "soup kitchen", it is what I do best… one should know one's strengths, no?) – a Sopa de Siete Mares or Seven Seas Soup – into the pot a large quantity of diced potato and carrot, sauteed in a little oil until starting to soften, then a good amount of chopped green onion, a few minced chilies, some diced red bell pepper, and finely chopped garlic cloves. Continued cooking that for about ten minutes and then filled the pot with fish stock, bringing it to a boil and letting it simmer away for about half an hour. Then I added a couple of diced tomatoes and a mix of coarsely chopped shellfish – mussels, scallops, cockles, shrimp, and squid. Let that simmer away for about another half an hour and then served it topped with fresh cilantro.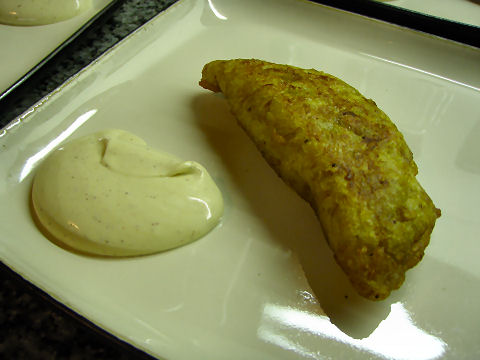 Most of the recipes for Empanadas de Platanos Maduros or Ripe Plantain Empanadas, asserted that all you needed for the crust was some boiled or baked plantains mashed together and chilled. No additions. But a few recommended a bit of flour and some salt to help them hold together. I opted for that approach, though at some point I may go back and try it the other way, these were really good. I took the plantains and cut a slit in the skin, then tossed them on a baking tray in a hot oven and baked them for about 50-55 minutes – the skin blackens, the plantains swell up and bubble (which is why the slit, so they don't burst all over the place) – then pulled them out and left them to cool. Then I mashed the plantain (without the skins) and added a bit of flour and salt (a dozen plantains, 1½ cups of flour, 2 teaspoons of salt), and put the mixture in the refrigerator to chill. When I was ready to make the empanadas I pulled the mixture out, took a piece about the size of a golf ball and mashed it flat between sheets of plastic wrap, to form a rough round about 3″ across and maybe ¼" thick. I peeled off one side of the plastic and in the center of the plantain disc I put a mix of grated cheddar, mozzarella, and fontina cheeses (not a traditional blend, cojita cheese would be), then folded it over and sealed it, using the plastic wrap on the opposite side to help mold it all into place. Then peeled that off and right into hot oil to fry up on both sides. I served this with sour cream flavored with instant espresso and ancho chili powder, also not traditional.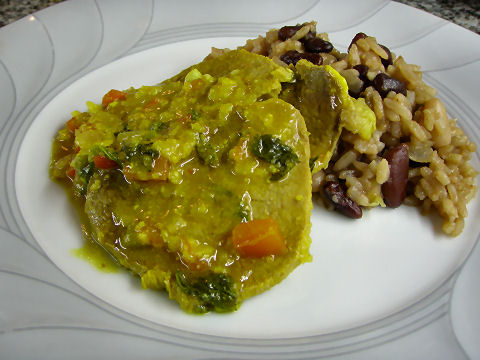 Combining two of the country's national dishes seemed a good approach for the main course – first off, we couldn't very well not serve up some form of rice and beans, and the ubiquitous gallo pinto, or spotted rooster, was the only real choice. For this, I cooked red and white beans with a bay leaf until nice and tender. Separately, I cooked some plain white rice. And, in a third pan, made a sofrito of sauteed white and red onion, green and red bell peppers, garlic, and tomato, all diced and cooked together (tomato added more or less at last minute after the others were well cooked), and all flavored with salt, pepper, and cumin. Then I mixed all three pots together to create the multi-colored rice and bean dish… and hence its name. To accompany, Henry (the one noted above) had suggested that we really had to serve Indio Viejo, or "old Indian" – I don't know the origin of the name – which is normally a stewed, shredded meat dish. I decided to use thin slices of steak, basically those used for milanesas here, more for presentation than anything. I cooked the meat with a good quantity of finely chopped garlic, diced onions and green pepper, lightly browning it, then adding enough fresh orange juice to cover, covering the pot and letting it braise over low heat for about 2½ hours. Then I removed the meat and set it aside, strained the liquid and set it aside. I sauteed up some more green peppers and onions with a bit of turmeric and hot paprika (substituting in for the traditional achiote or annatto, which I couldn't find here), then adding the reserved liquid and some diced tomato to that, along with finely julienned uncooked corn tortillas, which, with a bit of simmering, fell apart and thickened the sauce. Just before serving I added a huge handful of fresh mint leaves, stirring them in just enough to wilt them into the sauce.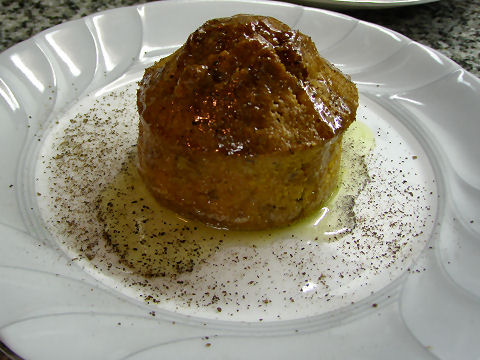 As to why this dish has the same name as Pope Pius V (16th century), Pio Quinto, I don't know. There's a river in the country that has the same name, but as to the various connections between the three, I haven't a clue. Basically it comes down to a walnut, vanilla and rum cake, and I decided not to follow a traditional recipe, but to go with my own basic white cake recipe – 2 cups + 2 tablespoons of cake flour, 1½ cups sugar, 3½ teaspoons baking powder, 1 teaspoon salt, ½ cup of melted butter, 1 cup of milk, and 4 eggs. To that I added one package of instant vanilla pudding mix (which seems to be a defining part of the traditional recipe, though probably it wasn't instant prior to a few decades ago), ½ cup of chopped walnuts and about 1/3 cup of dark rum. I baked them up individually, let them cool, and then soaked them in a glaze of ½ cup butter, 1 cup sugar, and a splash of water, all boiled together and then ¼ cup of dark rum added at the last second before pouring over the cakes. We served them with more glaze drizzled around and a dusting of cinnamon.