"What the hell do you think Leona really puts in that pizza?"

– Lili Taylor as JoJo in Mystic Pizza
Buenos Aires – Those of you who've been reading awhile might remember the fiasco I considered the much lauded Guido's Bar in Palermo. I know, I know, I hear regularly from people how amazing it is, how much food you get, how incredible the food, the atmosphere, the people. I don't get it. From my perspective, anyone who likes a place like that probably loves hanging out in Little Italy in NYC, one of the biggest jokes on the "Italian" food eating public that's ever been perpetrated. I have been back to Guido's once more to see if it was simply an off-day – it wasn't, the menu was virtually identical that we received, and without being asked for additional plates, we were cut off after simply receiving antipasti and a couple of mediocre pastas – asking for more didn't elicit any scorn, and we received, once again, a small plate of meat to share, but for the price, we shouldn't have had to ask, they should have been asking us. I standby my rip-off assessment.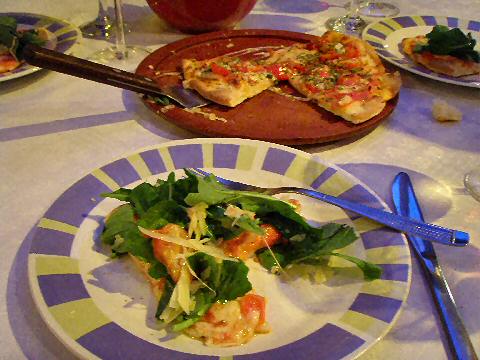 Given that, I made no special plans to check out Carlos' son's place around the corner, Lucky Luciano, Cerviño 3943, Palermo, 4802-1262 [They've renovated and renamed the restaurant as Guido's Restaurant, as opposed to the above referenced Guido's Bar, and, I hear, changed the menu – so it's due for a revisit]. A shame, because, despite the fact that it was opened in order to handle the "overflow" from dad's restaurant, the place offers a completely different menu of wood-oven fired pizzas and handmade pastas, at reasonable prices, that are well worth seeking out. The room is good sized, well-appointed if a little filled with knickknacks and such, there's a large patio style garden with more tables in the back, and we settled ourselves under the twilight sky and ravenously ate our way through a half-and-half napolitana paired off against arugula with fresh tomatoes and shavings of parmesan.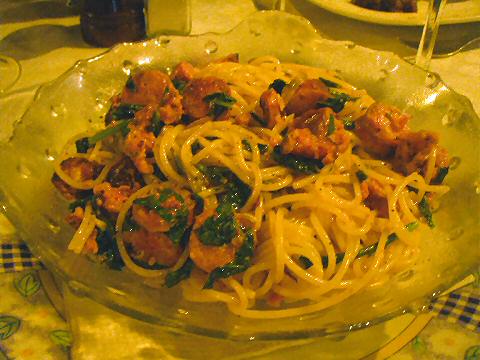 We moved on to main courses, my companions both ordering the one meat dish on the menu, a veal saltimbocca that was fork tender and delicious, and my perfectly al dente spaghetti with smoky grilled sausage, chicory, and fontina cheese. The portions were good sized, the prices fair. The winelist is extensive and well-selected. They do have a slightly steep 30 peso a bottle corkage charge, but then, they've put a lot of effort into an excellent wine cellar, and no doubt they'd prefer folk don't bring wine as we did – we had a bottle of Bodega Chacra 55 Pinot Noir 2007 we'd wanted to try – a pricey one at nearly 300 pesos normally. Disappointing actually – light, fruity cherry and raspberry flavors with a little smoke and bramble on it – pretty much an average Pinot, and certainly not worth the price, other than to have just checked it off the list, so to speak.
Overall, recommended for a very nice evening!