"Oh this is the night, it's a beautiful night
And we call it bella notte
Look at the skies, they have stars in their eyes
On this lovely bella notte.
Side by side with your loved one,
You'll find enchantment here.
The night will weave its magic spell,
When the one you love is near!
Oh this is the night, and the heavens are right!
On this lovely bella notte!

Lyrics to Bella Notte from Lady and the Tramp
Buenos Aires – Amongst the cognoscenti, I've heard whispers now and again about "the experience" at Guido's Bar, Repubíica de la India 2843, in Palermo, 4802-2391. While no one ever directly equated it with the experience at La Boca's Don Carlos, it had the ring of the same sort of setup, but significantly higher class. I have to beg to differ. Actually, I don't have to beg, this is my blog. I differ.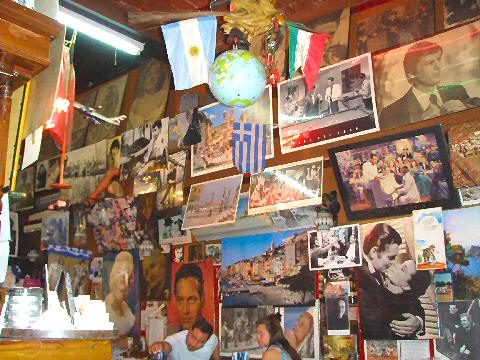 The ambiance, a cross between Moonstruck and Lady and the Tramp. It's a moment to moment surprise that no one breaks into song with "That's Amore". The red and white checked plastic tablecloths beg for it. The zillion and one movie posters from the 40s, 50s, and 60s, cry out for it. The staff, good looking Italianate boys with long aprons, dark eyes, and casual off-hand manner, the patrón, another Carlos, look as if they're going to deliver an aria with your plates at any moment. The few tables inside are filled with tourists, the fewer tables outside packed with locals, regulars, chatting away with Carlos and any passerby they might happen to know.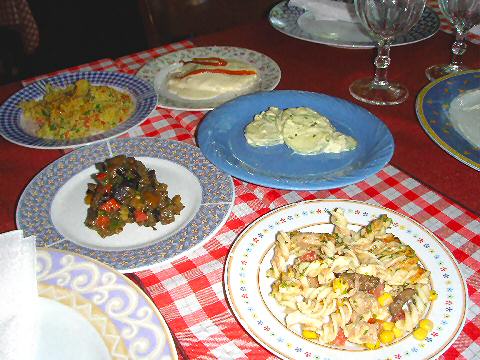 The approach – a flat priced menu – 80 pesos at lunch, perhaps the same at dinner, we haven't returned to check it out, because that's… pricey for lunch. Not if we were treated to a feast of grand proportion, but we're not. For a trio of us we receive a half dozen small antipasti plates to share – a cold pasta salad with tuna, corn and mushrooms, rich eggplant caponata, couscous, or another teeny spherical pasta, with some bits of vegetables, a vitello tonnato, cucumbers in a mayonnaise sauce, and mini-triangles of cheese pizza. All good, none exceptional, and combined about equal in volume to two fairly standard sized appetizers. Followed by two medium bowls of pasta to share – a passable garganelli in tomato and basil sauce, and the one highlight of the meal, a delicious bowl of orecchiette in a creamy mushroom sauce tinged with truffle oil. Lesser note – both pastas were pre-covered with grated cheese… a whole lot of it…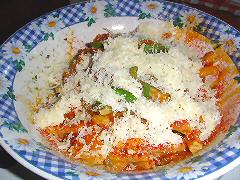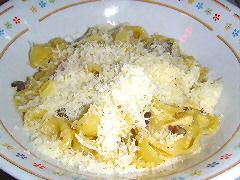 Coffee is offered… for 80 pesos apiece, 240 pesos, we got that…? Do we look like we just fell off the nabo truck? Okay, a plate of a solomillo, a roasted loin of pork, is brought to the table, enough for a few bites apiece. Coffee is again offered. Bluntly, I feel ripped off and share that with my lunching companions. One assents, the other "newbie" to Guido's, the other seems to feel it was a great experience, but he's a friend of Carlos' and has been many times, I sense a bias, or perhaps I've just missed something – maybe for some, the atmosphere is the thing.
There is a menu if you request one, from which I gather you can order plates as you please, at equally high Palermo prices. My sense is that whatever this place once was, it has become a spot for separating tourists from their money. I noted none of the regulars/locals crowd ordering food – just wine, beer, coffee… and then wandering away, presumeably to have lunch elsewhere – which is what I think I'll do in the future. A return to La Boca and Don Carlos seems in order – a near unlimited supply of quite good Italian home cooking at a far more gentle price.