"The history of intellectual growth and discovery clearly demonstrates the need for unfettered freedom… the right to think the unthinkable… discuss the unmentionable, and challenge the unchallengeable…

To curtail free expression, strikes twice at intellectual freedom… for whoever deprives another of the right to state unpopular views… necessarily deprives others of the right to listen to those views."

– C. Vann Woodward, Pulitzer Prize winning historian, of the American South
Buenos Aires – Joining the ranks of our centennarians is Comer Vann Woodward, one of the preeminent historians of the United States during the 20th century – with a specialization in race relations south of the Mason-Dixon Line. Woodward was born and raised in Arkansas, so that gave us a starting point for our Casa S dinner – it's not one of the first states I think of when I start thinking about American regional cooking, but like the other 49 states, it has its unique quirks, flavors, and recipes. Game, fresh trout, tomatoes, watermelons, and fried pies all popped up time and again in researching ideas – it didn't take long to come up with an Arkansas inspired menu – quite probably nothing that would be directly recognizable (other than the fried pie) at your average roadside cafe oustide of Little Rock, but we didn't hear any complaints…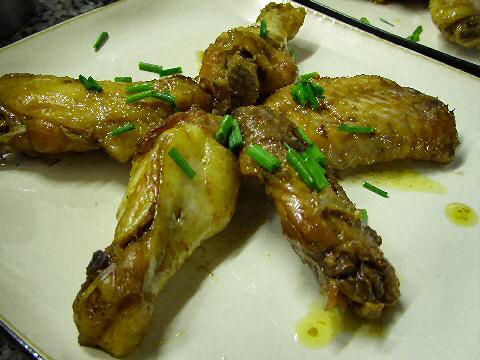 Now, I'd venture to guess that we're all familiar with buffalo wings, those red spicy hot finger-lickin' good bites of chicken with a little ranch or blue cheese dressing on the side. But how many of us knew about Buffalo River Wings – presumeably a tongue-in-cheek name reference based on the national river that flows through northern Arkansas, and a completely different take on this epicurean delight. While I'll always be one of the first in line for something spicy hot, these have a more sweet spicy tang that everyone seemed to enjoy. A little messy, like the other style, but they disappeared fast. Cut about 4-5 pounds of the wings into their separate joints – set aside the wingtip section (I stuck them all in the freezer to use for chicken stock), and then brown the other two sections (the drumstick-ette and whatever one calls the two-boned other one) in a deep dutch oven. Combine a cup of soft brown sugar, a cup of soy sauce, ½ cup of rum (the original recipe called for brandy, but I didn't have any cooking brandy on hand), 1 tablespoon each of dry mustard powder, ground chipotle pepper and ground ancho chili peppers. Pour over the wings, mix them up, cover and simmer over low heat for about two hours – stirring them up every now and again. After somewhere between an hour and an hour and a half, take the cover off so that the liquid evaporates down to a glaze – it also prevents the wings from completely falling apart (which almost happened on the first night as I waited too long to remove the lid).
The second course, our soup, you've seen before – with Arkansas reputation for good tomatoes, I thought about the wonderful sun-dried tomato soup that I'd made a couple of months ago for our umami dinner.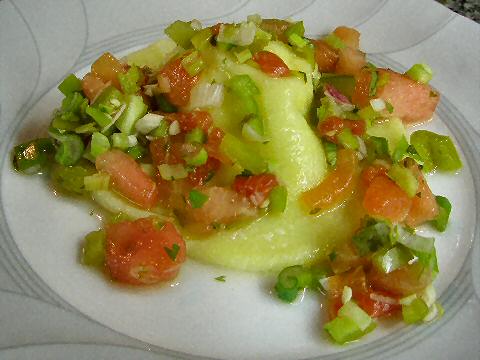 I spotted several references to "modern Arkansas" cuisine that talked about Fire and Ice Salsa – I presume it's a twist on some sort of classic recipe, though I didn't find that information – or maybe it's just a twist on the idea of a salsa given the Arkansas penchant for watermelons. The raviolones, or large ravioli, are filled with a mix of homemade ricotta that I flavored with a bit of white miso paste and some shichimi, or seven-spice powder, then boiled up after being left to dry for an hour or so. The salsa was a mix of diced watermelon, green bell pepper, and green onion with finely chopped cilantro, garlic, and jalapeño peppers, a good dash of lime juice, and some salt. I warmed the salsa up to ladle over the ravioli. The watermelon makes a refreshing stand-in for tomatoes, and it can actually be hard to tell the difference unless you know what it is. The pasta dough, by the way, which I realize I forgot to give the recipe for the other week when I made agnolotti, is a mix of 1¾ cup of pasta flour, 1 whole egg plus 6 egg yolks, 2 teaspoons of olive oil and just enough milk to get it to come together – roughly 2 tablespoons, but it will vary depending on the absorbency of your flour.
The main course was a minor twist on the oven roasted trout that I've made before with the charred tomato sauce – the trout were skewered in a ring shape, then drizzled with olive oil and baked in the oven – no pumpkin seed crust. Underneath, some buttermilk mashed potatoes (I had the suero, or whey, from making the ravioli handy – I used most of it in the tomato soup, but kept a cup or so to flavor the potatoes, and then the sauce drizzled around.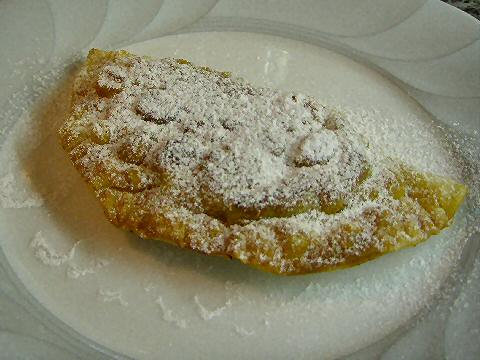 The final note for the evening, a Fried Peach Pie – probably should have whipped up some vanilla ice cream to go on the side, or maybe something lightly spiced like cinnamon or nutmeg. The dough, pretty much the same as an empanada dough, but with sugar filling in for salt – 1 pound of cake flour, 6 tablespoons of neutral oil, 1 egg, 2 teaspoons of sugar, and just enough hot water to get it to come together into a soft, easily kneadable dough. Let it sit an hour, then roll out small nuggets into rounds, fill with a mix of diced peaches that have been cooked down in butter, brown sugar and nutmeg, then cooled – fold it over to create a half moon shape, then fry in very hot oil until brown and lightly puffed on both sides. Sprinkle with powdered sugar and realize that this is what Hostess Fruit Pies® only dream of being.