May 31, 1678 – The Godiva procession through Coventry begins."

You may not know all the details of the legend. Lady Godiva was concerned with the great amount of taxes her husband was levying on the people of Coventry. She spoke to her husband who agreed to lower the taxes if she would first ride completely naked on horseback through the center of town. She agreed and all of the townspeople were ordered to stay indoors and shutter their windows. Everyone did as they were ordered except one man named Tom. He peeped. And was struck blind. People called him Peeping Tom from that time on.
Buenos Aires – While there's no question that over the years British food has improved, even excelled, it is still the butt of many a culinary world joke. So the idea of a West Midlands inspired dinner to celebrate the annual Lady Godiva procession (with no reenactment on either our part, nor requested of our guests) raised the question… what exactly are we going to eat? I have no doubt that our potential guests had visions of some sort of suet pie, bangers and mash, and a toad in a hole. I admit, I actually considered just going with some classic jokes of the culinary world – sort of a British white trash dinner… updated of course. Instead, I decided on a more "inspirational" approach, using some of the typical combinations and flavors and coming up with my own ideas. Some of them worked… one or two of them… well, not so much as I'd have liked.
The famed Earls Barton Leek Pie, a sort of misnomer in that the leeks provide little more than a backdrop for a whole lot of extra fatty beef and streaky bacon, gave way to simple shortcrust tarts filled with caramelized leeks and a custard mixture of eggs, cream, gruyere cheese, hot English mustard, salt, white pepper, baked in the oven until puffed and golden brown.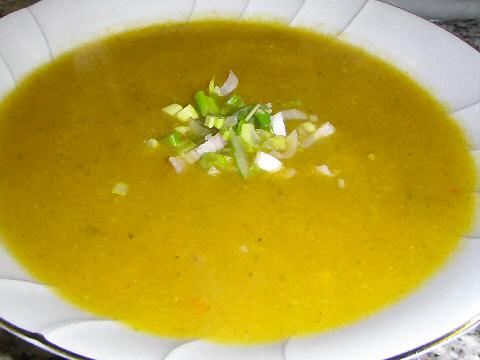 A variety of root vegetable soups, all sounding heavy and packed with, well, more fatty beef and streaky bacon, and possibly cream, led to the best success of the night, at least given the response of our guests. A hot, nourishing and tasty soup – the base was the whey from the cheesecake that I was making for dessert, packed with celery and its leaves, onion, carrot, sweet potato, squash, and one little hot pepper, and seasoned with black peppercorns and coriander seeds – all cooked together until the vegetables were done, then pureed and served hot with chopped green onions.
The least successful dish… to my mind pretty close on disastrous… was the middle course. The flavors were fine – I had in mind a potato zucchini croquette of sorts – the first night I tried to make it as a potato zucchini pancake, and they simply fell apart, making for a very patched together presentation. The mixture was just too soft. The second night fared marginally better – instead of boiling the potatoes and zucchini together, I baked the potatoes and left the zucchini raw, but squeezed as much moisture out of it as possible – then mixed with eggs, flour, and seasonings as the night before, only then I baked in a flat baking dish to firm it up… a bit… Again, it just never seemed to set well, and I ended up serving squares of browned potato zucchini casserole, more or less. I surrounded them, both nights, with a lightly spiced roasted tomato sauce. Embarassing, really…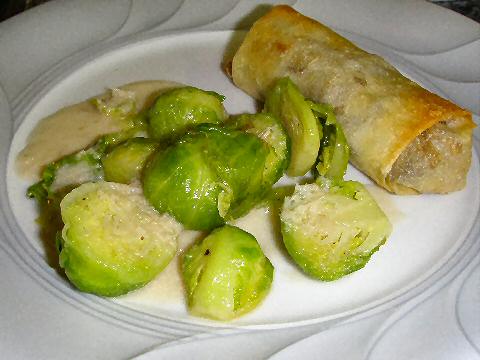 Sometimes something sounds interesting in spirit, but the execution falls short. That often happens with country style comfort food – rustic, hearty, and often as unappealing to look at as can be.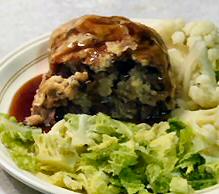 And thus we have a classic Northamtonshire Clanger which to my mind is nothing more than an unappetizing pile of suet pastry, beef, and fruit with overcooked cabbage and potatoes on the side. Instead, I cooked down some diced apples and quince with golden raisins, salt and pepper, all in a bit of butter. I diced some good steak, lomo, or sirloin, and sauteed that along with some diced beef kidney. I mixed the two together and then rolled them up in buttered phyllo dough, finishing them off in the oven to crisp and brown them. A simple puree of fresh horseradish with just enough white wine to make a pourable sauce, and some blanched, shocked, and then butter sauteed brussels sprouts complete the dish.
And, we finished off with a tangent from a simple chocolate mousse (I had to go chocolate – the "other" Godiva connection and all) – probably not so traditional to the region, but a common dessert at many a restaurant. I turned mine into a chocolate mousse cheesecake flavored with fresh orange juice and peel, and drizzled it with a simple syrup infused with cardamom seeds. All in all a successful couple of nights, though I'm really going to have to work on my potato pancakes…