Three faces wears the doctor:
When first sought,
An angel's and a god's the cure half-wrought;
But when, the cure complete he seeks his fee,
The devil looks less terrible than he.

– Unknown (quoted in Bartlett's Familiar Quotations)
Buenos Aires – A few weeks back I ran a post about my sausage making and meat curing class. It was a short, five session class, that covered the basics of the processes, and the different styles of sausages and cured meats. From there, it's just recipes… I hadn't forgotten about it, I know a couple of people wanted to hear more, but only the first type, the fresh chorizos, were ready to post about within a day of making them. Everything else needs to cure – so I've had chorizos colorados hanging up curing, and as of yesterday, a bondiola was added to the mix. While I don't have a nice, dark, cool, basement, I do have a center, kitchen patio, that has its shaded parts, and keeps nice and cool. It seems to be working, and, we've just delved into the first of the cured sausages…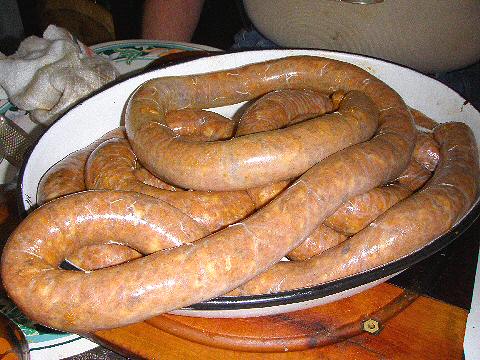 Just Stuffed – the sausages are ready to be tied off and then cured, a relatively simple process that involved leaving them in a cool, very humid spot for 48 hours, and then hanging them up for 15 days in a semi-humid location. If you look back at the post on the non-cured version, you'll see these are far redder in color – there's a ton of paprika in them.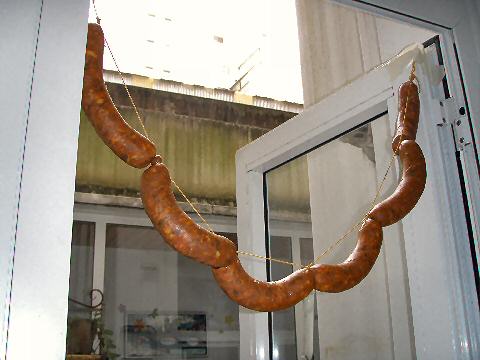 The best I could come up with was the doorway to my kitchen patio – it doesn't get any direct sun, it stays cool, there's good air circulation, and while humidity's been pretty good, I used a spray bottle of water and misted them every few hours when I passed by to prevent the casings from drying out too fast.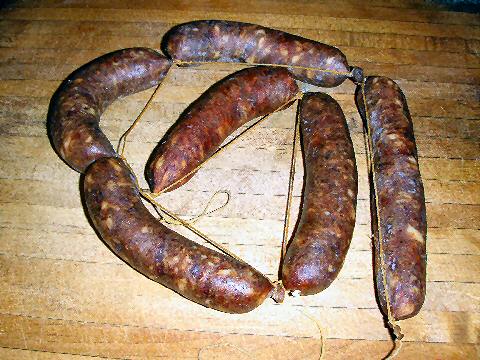 After 15 days, the meat cures and turns darker, the sausages are fairly firm, and they've got a fine white mold growing on them – much like you would see in any good sausage shop – a natural part of the process.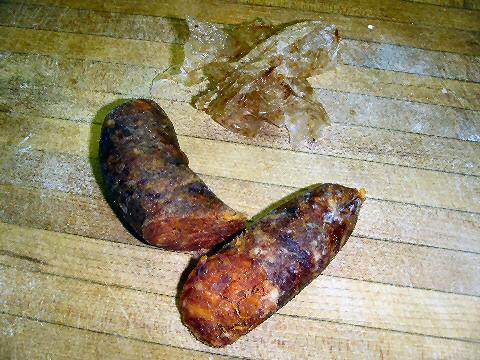 The casing does, indeed, dry out, and, just like a salami or other long cured sausage, you peel it off. These can be eaten as is, and they're fine that way, though I found them a little soft still for that – perhaps in another week or so. In the meantime, I've always liked cured chorizos sliced and cooked…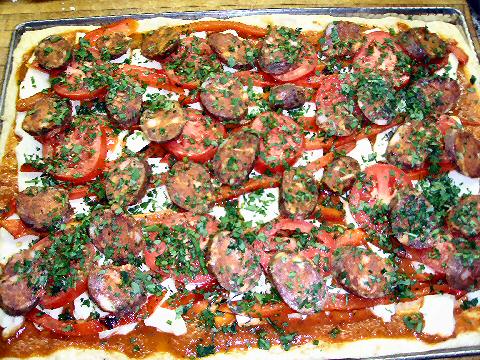 …and I thought, they'd make a great topping for a pizza, no? So a nice multi-grain crust, spicy roasted tomato sauce, fresh tomatoes, roasted peppers, herbs, and slices of the sausages. I tried a local cheese called cuartirolo which has a nice, slightly smoky flavor.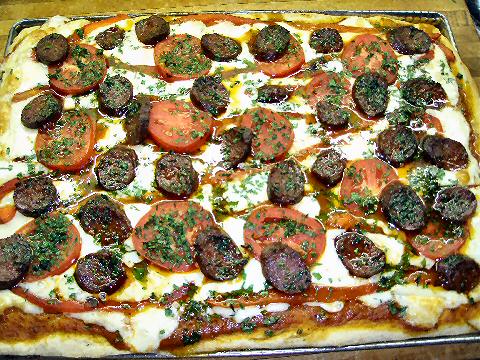 The flavors, great. The cheese, melts a bit too much, it was nearly liquid, and the crust was barely even done, which made a mess. Re-do… with a better cheese for this, though I did love the flavor combination.