"It takes an endless amount of history to make even a little tradition."

– Henry James, Writer
Buenos Aires – The other night, Henry and I were in the mood for something a little different, and decided to check out another of the Brasilian spots on my list, having crossed one spot off the list already. So, off we trotted… well, if the cab had had a horse in front of it rather than a taxista, I suppose we'd have been trotting, to the far reaches of Palermo. Now, we'd called first, to make a reservation, and the man on the phone, while friendly, made a grand (verbal) show of "trying to fit us in". We got there at about 9:30, and there was one other couple in the room, who were just finishing their coffee. During the time we were there, over about two hours, another couple, and a party of three came in. Maybe the guy on the phone was just trying to decide if they really wanted to bother staying open. Strangely, the guy sitting behind the counter and answering the phone… well, not that it rang while we were there, looks just like the pictures of the chef of the place. He never got up to go in the kitchen. That said, we enjoyed, thoroughly, our dinner at Maria Fulô Resto, Cabrera 5065, 4831-0103 – and it'd be a real shame if this place closed up for lack of business. [As of mid-2008 this restaurant has closed. The chef, whom I took some Brazilian cooking classes with, has moved back to São Paolo.]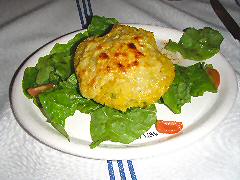 I actually thought it might be fun to once again try out a couple of the same dishes I'd prepared in our Brasilian seafood dinner, as I did at the other place, but the dishes at Maria Fulô are, for the most part, different. I'm guessing that they're simply from another part of the country. I only spotted one of the dishes I'd prepared, the Casquinha de Siri, and immediately selected that as my appetizer. A good sized portion of crabmeat, though, like the other spot, packed with a lot more breadcrumbs than crab, and, strangely, instead of being served up in a crab carapace, was served up broiled atop a scallop shell. I guess they're more durable and reusable…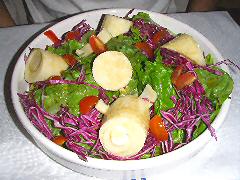 Henry opted for something a bit more basic, and feeling in the need for some green leafy stuff in his life, ordered the salada fresca do dia, which, while described, just from the name, as the fresh salad of the day, is actually laid out in detail on the menu, so probably doesn't really reflect much daily change. It was huge – and I ended up helping him eat it, easily a main course size all by itself, with plenty of greens, tomatoes, red cabbage, and a whole lot of hearts of palm, which he's not fond of, so I got to have them. Best part about it, a really good vinaigrette made from passionfruit juice, or concentrate, it didn't specify, but they're just starting to come into season, so I'm guessing the latter unless the chef found a source where he could get them early… but then again, as noted, it's listed that way on the menu (which doesn't look like something reprinted on a regular basis), so… do the math, as they say.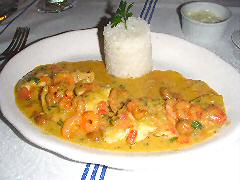 Since they didn't have the vatapá that I was hoping to try, I ordered what appeared to be… the next best thing. Actually, the dish caught my eye immediately when I was reading the menu – just from the name – xinxim de galinha. How can you pass up something with two X's in the title? It turned out to be a really delicious saute of chicken with a rich shrimp and cashew based sauce that I wouldn't hesitate to order again. Not to mention, I see this one being tried out at home… Chicken and Shrimp, together, that's my kind of food.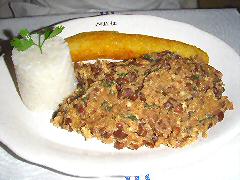 Henry's was, at least for me, less successful. He enjoyed it, and it was what he was looking for – I think it sort of fits into the category of Latin American Comfort Food – much like mac and cheese might be for us, something with rice and beans as the core of the dish. Feijao de Tropeira is described on the menu, quite accurately, as red beans scrambled with chard, eggs, optional bacon (he ordered without), and taro root flour, accompanied by a breaded and fried banana and white rice. Yup, that's pretty much what it was. For me, a bit bland and uninteresting. The bacon might have added an edge to it, but really, for me, what it needed was some sort of spice, or a hot sauce to go with it. I was actually surprised he didn't order some hot sauce, as he usually likes stuff spicy as well, but he seemed to enjoy it as is, saying it reminded him of dishes his family used to make in Perú. A cultural "to each his own".
We skipped dessert, neither of us having a speck of room for it, though things like the passionfruit mousse and the coconut flan with cherries stewed in red wine syrup sounded really good, if not overly traditional. The place is, perhaps, a touch pricey, though no more so than most restaurants out in that part of Palermo. The ambiance is casual and relaxed, service was attentive (though hard to say how it would have been had their been more people there), and the room is pretty. There's also a small garden patio in the back for those who want to dine al fresco.