"Attention K-Mart shoppers, there's a blue light special on…"
Buenos Aires – It was more than a moment of indecision, it was days of indecision. Two events on the calendar for the weekend – Independence Day in Mexico and the traditional New Year's Day in Persia, long before it became Iran. Was it to be one or the other? Alternating days? Alternating courses? Fusion? I finally decided to go with alternating courses and just make sure the ingredients connected in some manner or another… the menu was planned and set. And then, I find out that it wasn't traditional New Year's Day in Persia, the information I had was simply… wrong. Too late to change the menu, not that I couldn't, but I've already shared it with the guests coming. Better, we simply celebrate one holiday with a touch of another. Besides, there must be a Persian expat living in Mexico somewhere, no? Celebrating his new home's day of independence and introducing new friends to some dishes from the old country? Let's just eat.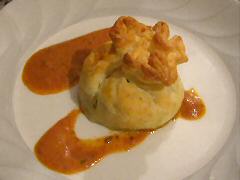 So we were off and running. First up, from the Mexican side of the menu, and with fresh zucchini now in season here, I wanted to do something with them (zapallitos redondos are all well and good, but despite their similarity, they do taste different from a zucchini). I was looking at a dish from Diane Kennedy's The Essential Cuisines of Mexico that was basically a sort of zucchini and tomato stew, and it sounded delicious as a nice side dish. I decided to split the components up and make a few minor modifications… well, no, really, kind of wholesale modifications. So inside the beggar's purses, or ataditos (bundles) is a sauteed mix of diced zucchini, red onion, and cilantro. The sauce is a riff on the roasted tomato sauce I've made a few times, changing around some of the flavors – in this case tomatoes, a couple of chilies, mint, cinnamon, and cloves, with a little reduced red wine, and then finishing the sauce by blending in some nice salty goat's milk cheese.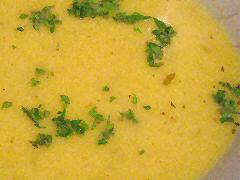 Turning to the Persian side of the menu, and I found this recipe for a Persian Onion Soup. Initially, I thought I'd just make it as is, give credit where credit was due, and move on… but it was not to be. First off, limes aren't in season here right now, and second off, I had… other ideas. I started thinking about how in some ways there was a similarity to the panade I made recently – a thickened onion soup, only this one using flour and eggs… but flour and eggs go into bread, sometimes anyway… and I had some leftover stale bread… and then there's this sharpness from the lemon and lime and I've got all this vinegar tinged whey from making ricotta (coming up for dessert), that could be used as a stock base… and suddenly I had a different soup. I diced and toasted the bread in butter, much like for a panade, though less of it as I didn't want a really thick soup, and then let it soak in the whey along with some dried mint, the rind and juice of one lemon. Meanwhile, I slowly sweated a bunch of thinly sliced onions along with turmeric, cinnamon, and black pepper. When they were all nice and cooked the right way an hour and a half or so into the sweating, I added them to the pot and then coarsely pureed it with a hand blender. Salt to taste, served with lots of chopped fresh mint.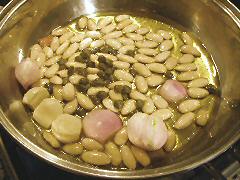 Back to Mexico and an alcaparrada – one of my favorite sauces from the Mexican repertoire… well no, make that one of my favorite sauces from the Mexican repertoire outside of all the picante sauces. It's a great one to show, however, that not all Mexican food is about bugs and chili peppers. The sauce is pretty simple, and really delicious on fish in particular – though you can vary the broth used and the flavors will mesh well with chicken, or vegetables, or… well you'll see… In a saute pan I put a bunch of raw, peeled almonds, some whole (peeled) cloves of garlic and shallots, and a decent scoop of capers (rinsed). Then I just cooked them over medium heat until all nice and golden. Into the blender with a good handful of fresh parsley, and as it's blending, slowly thin it out by pouring in fish stock through the top until you have the consistency you want. Season to taste with salt if needed (the capers add a fair amount already, along with the stock), and you're good to go.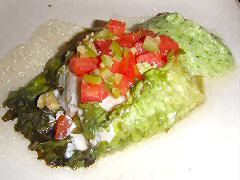 This dish got to have a couple of versions to it. It's based on a traditional pescado blanco alcaparrada which uses robalo, or pike, but that's near impossible to find here. A good substitute, and what I used on our first night of dinners was mero, or sea bass fillets. On the second night, no sea bass was to be found in my local markets, go figure. I decided on atún blanco, or albacore tuna – a much meatier fish, but I thought it would pair well with the sauce. They both have their charms – one version more delicate, the other heartier… more indecision. Anyway, I cut foil squares, lightly oiled them with olive oil, put in a nice red oak leaf lettuce… leaf… which I made sure was coated nicely with the oil on both sides. Top that with the fish fillet, salt, and then some diced tomato and chopped green olives. Roll the lettuce leaf around the fillet, and then close the foil packet to steam them in the oven. Serve with a dollop of the almond caper sauce and be happy. I even made a third version on the first night for a vegetarian visitor, using a nice "fillet" of eggplant, lightly sauteed before steaming, and the sauce made using a little vegetable stock to thin it out.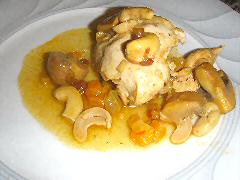 I like slow cooked stews and braises and such, and in general, I love the flavors of fruit with meats. Not everyone does, I do hear on occasion about not mixing sweet with savory, but I think that's a matter of balance, it should really taste sweet if it's done right. This is a fairly simple stovetop "braise" off the Persian side of our menu. In a mix of butter and olive oil, over medium heat, cook a good amount of chopped fresh ginger for about two minutes. Add some quartered mushrooms and saute for two minutes. Then add raw cashews, golden raisins, and chopped dried apricots – all in equal proportions. Cook for a couple of minutes and then add some brown sugar (not too much – I used about 2 tablespoons to a cup each of the above, with the plan of adding in around 4 pounds of chicken), and a spoonful or two of paprika – your choice sweet or hot, depending on how you want the dish to turn out. Cook for a few more minutes to meld the flavors, and then add the chicken pieces in – I used halved breasts in this version, but you could leave them whole, you could use dark meat pieces, a mix, whatever you prefer. Stir to coat with the juices, cover, and let cook for about 3-4 minutes. Then add in some vegetable broth – not quite enough to cover the chicken, cover again, and let cook, stirring occasionally, until the chicken is cooked through. I suppose, traditionally, this dish is probably served over or alongside something like a rice pilaf, and as a sole course in a dinner, I probably would too. By the way, both nights we had some folks who didn't eat chicken. I took some firm tofu, froze it solid, then thawed it in a strainer over a bowl – why you might ask? I'll tell you – it changes the texture and the tofu becomes almost like a slightly crumbly sponge. You can even gently squeeze the water out of it, which is what you're after. I then cooked it the same way – just without the stirring, more flipping it now and again, in a separate pot. Great vegetarian dish!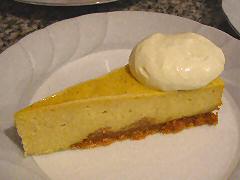 Well, we have the answer to the question we were discussing in the comments after my cream cheese making post last week. Yes, the homemade cream cheese works for making cheesecake. It works really well. Really Well. I already thought I made a pretty spectacular cheesecake, but here's proof that basic ingredients have a major influence. The texture comes out creamier, richer, and denser than using "filadelfia", just simply "wow". I had wanted to make a sweet potato type dessert off the Mexican side of the menu, so to my basic cheesecake recipe I added some cooked batata, the local yam. And to spice it up a bit I used a half teaspoon each of cinnamon and ancho chili powder, just enough to give it an illusive zip. Did I mention that using the homemade cream cheese works out really well? Oh, and it left me with a couple of liters of whey to use in the soup above…