"…a splendid artichoke of anecdotes, in which not merely the heart and leaves but the thistles as well are edible."

– John Leonard, Australian Poet
Buenos Aires – On August 24th, 1853, chef George Crum, of the Moon Lake Lodge Resort in Saratoga Springs, New York invented the Saratoga Chip, the very first potato chip. He did this because he had a fussy customer who thought french fries were to thick, and as he gradually thinned them down and received plate after plate returned to the kitchen by this customer, they got crispier and crispier. Eventually, exasperated, he made them paper thin, cooked them completely crisp, and sent them out to the customer, figuring that he may as well go for broke. The customer loved them, and food history had another timeline entry. Such an event seemed fitting to remember by offering up one of our vegetarian themed menus, and, it was off to the drawing board. At random, more or less, I picked Charlie Trotter's Vegetables book off the shelf and just flipped through it for inspiration…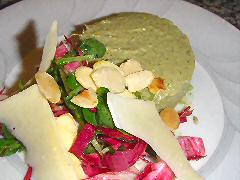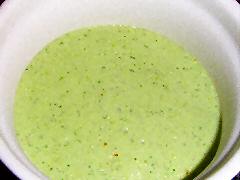 This started off as a salad of green and white asparagus, radicchio, purslane, and toasted almonds… but first, the asparagus went by the wayside when I couldn't find any – just last week it was in every market it seemed, but not a stalk to be found this weekend. Purslane, as best I know, doesn't exist here, but some nice fresh pea sprouts were in the market… and what to do instead of asparagus…? Fresh artichokes had just come in, and I decided to continue my mousse making trials to see what would come of an artichoke mousse – I sauteed artichokes, cut down to the heart and inner leaves, with lots of garlic, orange and lemon peels, then pureed in milk and parsley, added agar (no gelatin for a vegetarian weekend), and finished by blending in some of the cremoso cheese I picked up at the Italian cheesemaker the other day. Then served it up with a little salad of radicchio, pea sprouts, toasted almonds, and shavings of sheep's milk cheese in a light sherry vinegar vinaigrette. Here's the problem, well, two of them. The artichokes are too young, or too old, or something – they had too much purple in them, which had the mousse turn a sort of grey-green color that only a drill sergeant could love; and, they were stringy, which meant that the mousse came out with a very rough texture that I just didn't like. So, night two, in the photo on the right, I went with jarred artichoke hearts, and simply did the same process, adding a little extra parsley to make it extra green. It came out much smoother and prettier (plated the same way, I just wanted to show the color in the photo).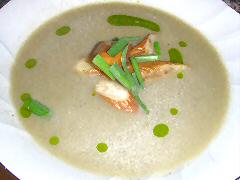 This is so simple, and so delicious… I think it was my favorite part of the meal. The soup, originally in the recipe, made from white eggplant, which weren't around, but I used small purple eggplants – is made by roasting them, cut in half and face down on a sheet pan with a little olive oil, water, salt, and black pepper. When soft, scoop the flesh out of the skins and puree it with water. I had some Japanese shishito peppers that I'd picked up, and sauteed a handful of them quickly to turn them lightly golden and tossed those into the blender as well. Strain through a coarse strainer, and then adjust the seasoning. That's it. Just the pure flavor of eggplant with a touch of peppers. In the center, pickled eggplants – the original used little baby eggplants whole, I used very thin Japanese eggplants and then after they were pickled cut them in slices. The pickling process is simple, bring to a boil 2 cups of water, 1 cup of rice vinegar, ½ cup sugar, 3 tablespoons of coarse salt, 3 cloves, 2 teaspoons of mustard seeds, 2 teaspoons of black peppercorns, 1 tablespoon of shredded fresh ginger, and a julienned rocoto pepper. When boiling, pour it over the eggplants (just cut off the stem end) in a large bowl, and leave for 3-4 hours to infuse. Delicious pickles! For the dish, I just sliced up one pickled eggplant (rewarmed in a little pickling juice), put it in the center, ladled the soup around it, drizzled some basil oil, and topped with flat chives.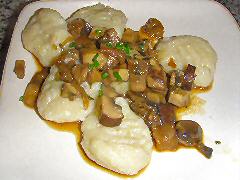 Started out with the idea of a potato mushroom torte, but quickly morphed to something different using the same flavors. Night one, delicious. Night two, not so much. What was different? This is a photo from night one, the gnocchi were made using baked potatoes, like I've made them before. Night two, whatever possessed me, I've even commented on it, I made them using boiled potatoes, the way Lidia Bastianich's original recipe calls for – I have to ask her some time what she does that doesn't have them turn out, well, a sort of gluey mess. Maybe not quite that bad, but I found them to be, while lighter than with the baked potatoes, also more, well, watery, and some of them falling apart. The sauce, the same both nights, and really quite good – saute down chopped portobellos, oyster, and common mushrooms until most of their liquid had evaporated. Then, I'd saved the potato peelings and simmered them in some water (more about why in an upcoming post…), pureed that, strained it, and then added the peelings water and some thyme to the mushrooms, along with a splash of soy sauce. Cooked until about half the liquid was absorbed and the mushrooms were cooked through. Ladled over the gnocchi.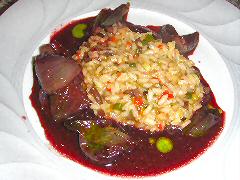 This is a near copy of the original recipe, or, well, near enough. It's a very simple risotto made with leeks, green onions, and shallots sauteed first, and then cooked into the risotto, with the addition towards the end of the cooking of some regular and some flat chives. At the last minute, mixing in chopped black Greek olives and reconstituted sun-dried tomatoes. Season with salt and black pepper. The sauce, a reduction of a bottle of red wine and the liquid from reconstituting the tomatoes, by about two thirds, at the last minute mixing in a heaping tablespoon of black olive tapenade and a mix of red, white, and pearl onions that had been roasted in the oven in olive oil until they were lightly browned. A little parsley oil drizzled on the plate for color. I like the sauce – I think I'll use it on a steak… it makes a great contrast to the risotto, but wow, what great flavors for red meat…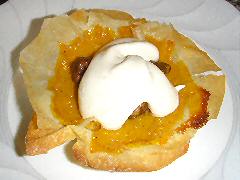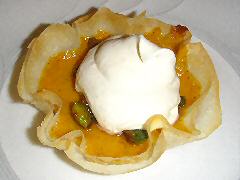 Not overly different looking, are they? An experiment with two different crusts. Originally planned to be a sweet potato tart, I somewhere got the idea of making it a pumpkin and pistachio tart… I don't see the original recipe in the book, so I must have spotted it somewhere else and just thought about it. The filling, a simple mix of pureed pumpkin (after boiling), softened butter, eggs, cinnamon, vanilla, sugar, a pinch of salt, and, hmmm… we're in Argentina, and the original recipe called for condensed milk… so why not, dulce de leche?. The crusts are where it was different. The first night, I used phyllo dough, cut in squares, butter below, between, and above, trimmed into tartlet forms, and baked for 10 minutes first. Then the filling, baked until done. The problem… if you're not serving it right out of the oven, filo dough absorbs moisture from the filling very quickly. By the time they're cooled, the bottom of the tarts is soggy, even if the upper edges, free form, stay nice and crispy. So, the second night, tried the same with strudel dough – strudels stay nice and crispy even with filling, right? But they didn't. I followed the same procedure, and the strudel dough gets very tough, almost leathery, and I'm not sure why – though, you can see it holds its form well. So the key, I guess, is to serve these hot, right out of the oven, using phyllo, and maybe something atop besides whipped cream… oh, and some candied pistachios – cooked down in butter, sugar, cinnamon, and a pinch of salt.